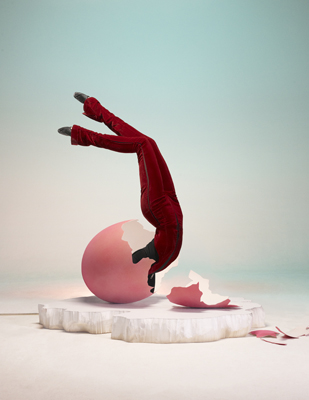 Photo by Tim Gutt
After graduating from Brighton University with a degree in fashion design in 1997, set designer and art director Shona Heath unleashed her imagination to full effect, creating fantastical worlds for magazines and fashion brands. From constructing a set full of oversized birds for Mulberry, to crafting an air balloon dress worn by Coco Rocha for British Vogue and an enormous handmade swan for Japanese Vogue. Crane.tv visits Heath at her studio in Dalston as she was working on a story for British Vogue (published in the June Olympic Issue), before following her to the shoot at Big Sky Studios. Here, she tells us about the project, why she's great at working with so many different people and if she ever wants to take the picture herself.
Tim Walker, Paolo Roversi, Serge Leblon, as well as her husband Tim Gutt, are among the photographers our fashion hero works with regularly. Heath explains to us why she feels comfortable working with so many different worlds. "I think my aesthetic does fit in with a lot of different people, because I feel I'm always responding to fashion really, that's what is happening at that time, and I think that will always affect or influence the set."
For their widely imaginative "Paper Plates" shoot, Heath and her photographer-husband Tim Gutt offer us their interpretation of the athletic world via a series of paper-cut tableaux inspired by Wedgwood's chalky ceramics. "The main idea really is to produce quite illustrative tableaux that somehow represent sports in a feminine way."
Finally, Heath, whose work is always shown in perfectly and very precisely staged pictures, tells us that even though she sometimes wishes she could take the pictures, she's finally happy for someone to do it. "And I think also, at the same time that would really ruin what I love about photography… For me it's a lair of magic that I can't do. I think I really like the end result being somebody else's cause I can then like it."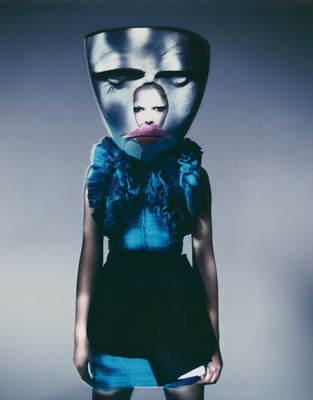 Photo by Paolo Roversi
Text by Paul Rappaport for Crane.tv
Crane.tv App now available for Nokia devices from the OVI Store