More than 50 million tourists a year visit Spain. Upon their return home, I am sure they are asked, "What did you see? Where did you go? What did you eat? What did you do?" I wonder, though, how many are asked, "Whom did you meet?" One of the benefits of eco-immersion travel is meeting that right local person; one who can connect the normally diverse elements of something like a trip to Spain into a cohesive, coherent whole.
My introduction to eco-immersion, Andalucian style, was meeting Stephen Hill, one of the few flamenco guitar makers left, in the bucolic fishing village of La Herradura, off the beaten path about 40 miles due south of Granada, a gem of a city nestled amidst the towering Sierra Nevada. Unlike most of those 50 million tourists, the majority of whom undoubtedly saw a flamenco performance, I was getting a fascinating inside look at the authentic, genuine culture around flamenco. This art form of song, dance, guitar and rhythmic clapping is a fusion of Moorish, Gypsy, Jewish and other local influences with many variations.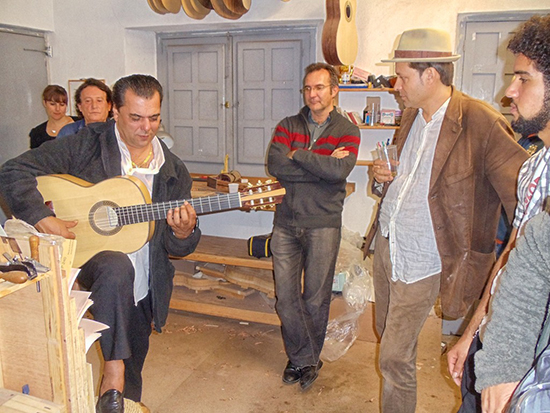 Stephen runs month-long workshops throughout the year during which each student under his expert guidance (the age range was 18-80 last time I was there) builds from scratch a flamenco guitar, which is made from cypress. Remarkable! I arrived at a party four stories up on a village rooftop, under a Halloween full moon, as the students celebrated the completion of the course and broke in their new guitars. Joining them were some amazing musicians from the region and the result was a phenomenal jam session late into the night. Some of the guests were distinguished flamenco guitarists who honored students by asking if they could try out what they had made with their hands. The looks on the students' eyes, as these maestros first strummed and then smiled with satisfaction, was sublime. It was quite an evening.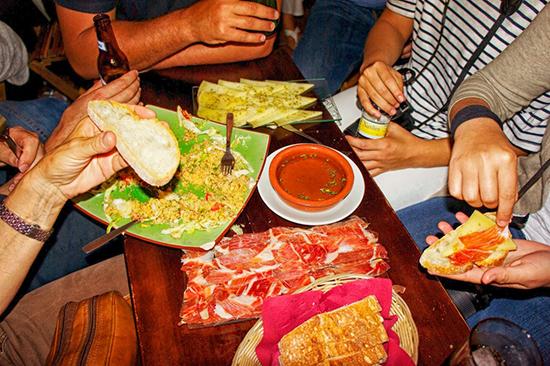 The next day, after showing us his woodworking and guitar building workshop, Stephen gave us some cultural history over a few cafés con leche at the charming little café below his rooftop. As we hiked that afternoon amongst wildflowers and old cortijos above the village in the Alpujarras foothills, we processed what we had seen and heard, anticipating an interesting evening of local flamenco. We later headed to a barrel vaulted little venue up in Granada, Le Chien Andalou. We got a table up front through Stephen's connections and were entranced by first the 80-ish male singer, then the dexterous guitarist and finally the beguiling dancer. As we quaffed local red wine, the extraordinary jamon Serrano -- cured nearby -- and a delicious assortment of regional cheeses, we were immersed in this unique swirl of Andalucía in the perfect venue with enough context provided to truly enhance what was already a wonderful experience.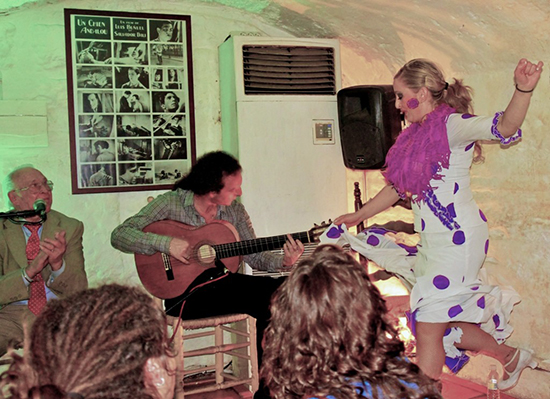 We were far off the tourist path experientially, although there were many tourists walking by oblivious outside on the bustling streets of cosmopolitan Granada, which is as pedestrian friendly a small city as there is. They had no idea of what was going on inside nor the benefit of Stephen's insights, which enlightened our limited time and created for us something beyond a vacation. I was so inspired by this flamenco experience that this now is all I do for a living. I find the best local Stephen Hills to elevate travelers' limited vacation time to the level of an eco-immersion. More and more travelers are interested in what lies beneath and creating a more profound learning experience out of their vacations. Through eco-immersion, travelers see a place through local eyes and really own the experience in a powerfully personal way -- not your typical tourist experience, anywhere.
Wherever you aspire to travel, there are such local folks who can add value to an otherwise ordinary tourist experience. While with enough time, luck and effort (really, though, who has that?) you can find ways to create these experiences for you and your family yourself. There are however only a few outfitters who excel at doing this as more and more travelers wish to experience something beyond a vacation. I left a wonderful teaching career after 35 years to start Chill Expeditions which fuses my two passions -- education and travel! We call it eco-immersion and we happen to do it in Andalucía, Ecuador and Costa Rica. Of course, this approach can be applied anywhere once you find those compelling local guides!
Next time you're thinking about taking a vacation, a good way to frame the planning of your trip might be to imagine how you would respond when asked, "Whom did you meet?" It could make all the difference in the world.