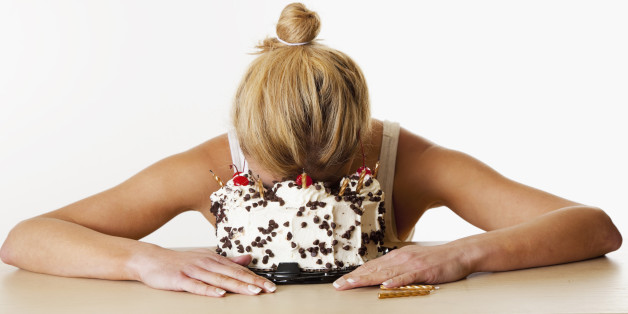 After Matt "The Megatoad" Stonie quaffed 14.5 pounds of vanilla buttercream birthday cake at the Palm Beach Outlets World Birthday Cake-Eating Championship, West Palm Beach mayor Jeri Muoio mentioned on the microphone that it would be a long time until she ate birthday cake. At which point she was presented with a birthday cake, as it was also her actual birthday. This might be called synergy or irony or something that ends with a "y" (it was a Sunday in case that matters), but on the Major League Eating circuit, it is an common occurrence that a public official is both impressed and mortified at competitive eaters' consumption and that The Megatoad, all 110 pounds of his skinny jean-clad body, could hold a stomach that can expand to eat 7 ½ Whole Foods cakes.
I ate a respectable 5 pounds, but it was only good enough for a fifth place finish. At the buzzer I was fairly deducted two plates due to the glove of frosting that coated my right hand. Later at the after-party at Tootsies (all nude, all friction dances) while I smoked a large Cuban exiled South Florida cigar brand and dealt with some buttercream issues, I thought about those dense cakes. My good friend next to me, in conversation with "Princess" (she was bejeweled in dazzling cubic zirconia and not much else. Her skin was the color of a Disney animated character from the wrong side of the animated tracks.) He explained that we do not need to live in an "either/or" world - that a man need not be a breast or an ass man - I assume he was referring to chicken and pork butt. I agreed, however, one area that confounded me in the haze of thick cheroot smoke and three-dollar Miller Lites was that it seems that most of the world is divided into either cake people or frosting folk. I have always been a cake fan, but dislike the hardened sugar of frosting. While on the show Cake Boss, I unfurled the iced fondant searching for the fluffy yellow sponge cake (spoiler alert - their cakes also have PVC piping for structural purposes but if you are polite to the Hoboken baking gang, pastry genius Big Frankie will show you how sfogliatelle is made.) While eating a cab-shaped cake at the NYC car show for The Jay Thomas Show, I peeled the yellow frosted doors off to get to the backseat of chocolate loaf. However, never have I had to deal with so much frosting as it spackled my extremities and later my lower intestine. Tootsies was enjoyable despite the dyspeptic dilemma and as my glazed eyeballs stared at the toned body of yoga porn perfection on the main stage, I, like Palm Beach Mayor Muoio, thought it would be a long while before frosted cake graced my lips or stomach. (Note - it is an election year and the yoga-porn enthusiast vote cannot be dismissed lightly.)
Marie Antoinette would have made a terrible competitive eater - for more on this please consult with Henry "The Historian" Hatau (13 bowls of Hutspot in ten minutes) who has meticulously compiled a list of all major historical figures and their chances on the pro-eating circuit (i.e "Marco Polo strong in ice cream, weak in dense meats", "William the Conqueror a casual diner only, good with drink", and "Amelia Earhart ravenous except for large crustaceans.") Marie Antoinette, despite movie portrayal, preferred simple bread to cake. The bread she chewed might have been kipfel (Austrian bread similar to a croissant) or kaisersemmel (fancy-schmancy name for a Kaiser roll) but was nothing made by Sara Lee. Also at swanky dinners she was known for simply pushing her food around the plate. Still, she really went for thick chocolate so perhaps she was a frosting girl after all.
History was made at the West Palm Beach Outlets upon their first-year anniversary (hence all the birthday cake). The Megatoad won $2,500 enough for the slim fit chaps at Wilsons Leather Outlet or some plus-sized lingerie at Torrid (it was Valentine's Day) while my $200 could be spent buying Speedps at Aqua Beachwear or perhaps a really high-end crock pot at Le Creuset. (It is South Florida.) The Whole Foods which supplied the cakes doesn't open for a couple of weeks, but one can predict with certainty that never again will that much buttercream be decimated in a ten-minute sugar frenzy - that is until The West Palm Beach Outlets' two-year anniversary in February of 2016.
Crazy Legs really doesn't like frosting at www.crazylegsconti.com