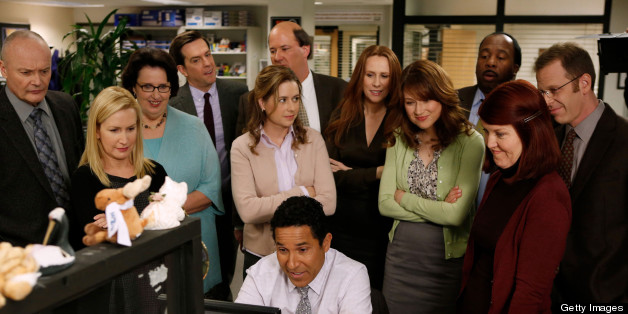 Well, that's that. Tears have been shed. Stories have been finalized and Creed ends up right where he belongs... jail.

I am here today to say that for the last nine years I have had the privilege of working at one of the most temperature-fluctuating offices on the planet. Sometimes the days were long, sometimes the coffee was odd, but the company was always... hmm, well, odd also. I have come to truly love this family that we have formed. The team behind The Office is a collection of genuinely talented folks.
The world of Dunder Mifflin has changed a lot over these nine seasons. Co-workers have come and gone and we've been sad to see them go. Ratings have dropped and come back with a vengeance. We've spent many long days in conference room meetings, on lunch room breaks, scheming in the hallway, and generally avoiding doing any "real work." It has been a truly incredible experience, and I know how lucky I was to be involved.
Filming this finale over a 10-day period, we worked nights and weekends. We were so far behind we didn't have a script or a shooting schedule. But we were giving it our all because we knew what was on the line. And we were just trying to do it justice. In the end, I could not be more proud of the final product.
So, I want to extend a sincere thank you to everyone involved in the making of this brilliant story... especially the writers and creators of these fascinating characters. I am so proud to be a part of their expertly orchestrated tale. I believe the real beauty of this series was in the care and attention to detail. Because our writers did more than just tell stories, they created moments.
When I boarded this ship nine years ago, I had been signed on as an extra. I pitched the character of Creed Bratton to Greg Daniels and he decided to give me a shot. I will be forever grateful for this role, the ridiculous one-liners, and the things it has taught me about stealing. Though we are all moving on from this project, I am confident that the character Creed will never be far from view.
In fact, I think he said it best: "No matter how you get there or where you end up, human beings have this miraculous gift to make that place home." Dunder Mifflin has been my home for the last nine years, and what an amazing home it was. Thank you to my family, the cast and crew, and thank you all for watching. It is as much your show as it was ours.