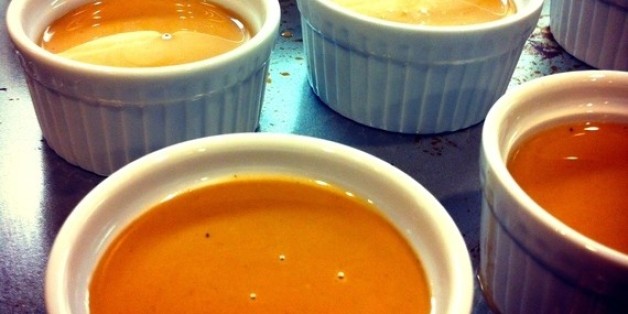 Co-written with Dominique Cuenca, blogger and social media strategist at Jumpstart - Knowledge Adventure, Inc.
Imagine a Thanksgiving dinner that everyone looks forward to and where the star attractions are inventive dishes prepared by our children (albeit, in their 20s and 30s). As an immigrant, I appreciated the importance of the Thanksgiving holiday as a uniquely American tradition. Our extended family adapted to the fervor that came with preparations for this holiday. The turkey soaked in brine for days to ensure a moist bird; we mastered side dishes as if we've done it all our lives: the stuffing, pumpkin pie, green bean casserole, mashed potatoes with gravy and more. We also spiced up our Thanksgiving dinner with our own Filipino dishes including crispy-skinned lechon or roasted pig served side by side with the turkey. But something changed four years ago. Our benign Thanksgiving dinner transformed into the 'Ultimate Thanksgiving Cook-Off' and the competition began. You'd think that it went downhill from there -- on the contrary, the competition energized our large circle of family and friends; we all look forward to coming together. So, what happened? I interviewed my niece, Dominique Cuenca, on her perspective about this new tradition.
Cristina: What is it about the Thanksgiving holiday that is important to you and how do you feel this day has evolved for our family through the years?
Dominique: As kids, growing up with immigrant parents we had an underlying desire to want to assimilate and sit around a table to a classic turkey dinner. What we knew of Thanksgiving traditions were those customs made famous across America by some of the country's favorite sitcom families, like the Cleavers or the Bradys. But fast-forward to almost four years ago, and now as adults (I use this term loosely) my cousins, siblings and I have seen our holiday dinners and especially our Thanksgiving meal take a new turn. Now, instead of showing up to dinner expecting the traditional Thanksgiving spread with a few Filipino fixings cooked by our parents and elders, we show up with our dishes ready to win.
Cristina: At what point did this become a competition? Are there hard and fast rules?

Dominique: It's pretty clear to anyone who knows us that my cousins and I are, in our own ways, actively involved in the 'food scene,' from the Bay Area to the east coast and in our home base of Los Angeles. My brother Michael was once elected king of Yelp LA's Prom (a food-centric event which led him to meet his wife), my cousin Francesca worked in the kitchen of New York City's famed restaurant -- Momofuku, and my cousin Nicole is a regular at San Francisco's popular pop-up event, Le Diner. And while we each lead our own distinct lives, we can all easily agree on one thing -- food and subsequently flavor has the ability to trigger feelings or memories, incite discussion and can provide so much more of a complex experience than one might think. It's that very passion for food that paved the way for the 'Ultimate Thanksgiving Cook-Off,' a family wide competition that results in a single chef and dish being crowned as the winner for the year (bragging rights included). The rules are simple -- the dish must be homemade and from scratch, one entry per person and each dish will be judged based on exceptional taste and presentation. And we don't slack on presentation -- I have 40 ceramic ramekins left over from the year I won.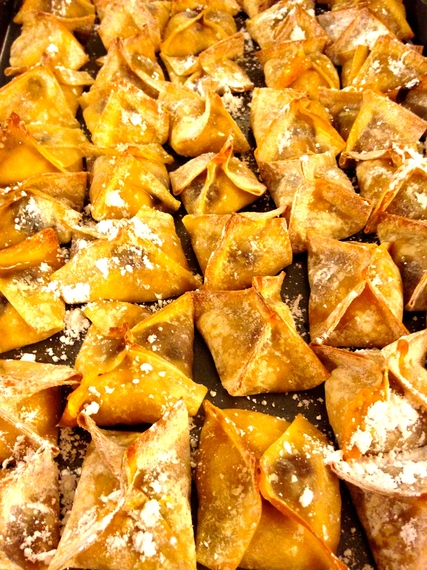 Cristina: Every year, I'm blown away by the entries. What were some memorable ones? Did you surprise each other with your creations?
Dominique: What is most surprising is knowing that my cousins are willing to hand carry pints of homemade ice cream through airport security across the country, spend hours crafting a Warhol-inspired dessert of rose milk, strawberries and mint and even take the time to leave hilarious notes in their dish as a vote-grabbing strategy -- all for the glory that comes with getting their names engraved on the sterling silver platter that serves as the cook-off's main trophy. Not to mention that added right to take home the larger-than-life, three-foot silver fork, which is now passed from winner to winner each year. In the last four years, think -- candied rose petals, homemade sorbets, slow-roasted ribs, hand rolled pastas, made to order tamale cakes, and cheesecake flavored with ube (purple yam) and aromatic pandan leaves.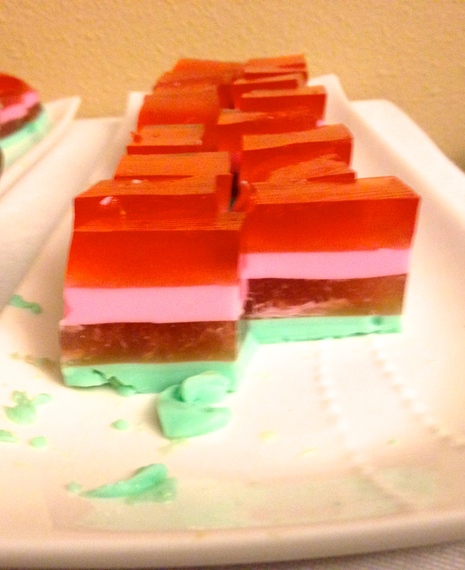 Cristina: What drives you, your siblings and cousins to compete?
Dominique: We're all pretty close, so naturally, competition just comes with the territory. However, what makes gathering each November so much more special is that not only does the competition get more heated in the kitchen (pardon the pun), but the honor of being crowned the cook-off champ has become in itself powerful enough to ignite friendly trash talking, heated brainstorms, regular recipe test runs, and almost political-like campaigns in the months leading up to the big day, when the winner is ultimately chosen by a blind ballot vote cast by a mix of both our family and friends. In our minds it has become a tradition so momentous that it merits its own social media presence with Facebook invitations, regular group texts, live posts throughout the seemingly all-day event, and even a designated Instagram hashtag.
Cristina: Do you think this new tradition will last?
Dominique: While it might seem unconventional to most and almost absurd to some, our Thanksgiving has now become something we all excitedly tell friends and even strangers about. In the few short years since its inception, the event has become such an integral part of our shared fabric as family as we, the younger generation, get older and in ways grow apart as individuals - some of us have started families, gotten engaged and married, moved away for school or new jobs. Despite these changes, I know by simply looking at the Thanksgiving spread each year that we all cherish this tradition. It's probably the thing that I'm most thankful for this time of year.
Cristina: Thanks for your insights, Dominique.
As I reflect on our new Thanksgiving family tradition, I'm heartened by my daughter's and her cousins' enthusiasm, their inventiveness and insistence on quality not only in the food and dining experience but also in their relationships. I think this bodes well for the future. They apply themselves as if they're competing for a cooking show. But this is not a reality show, this is our reality -- a family bound by love, affection, generosity against a backdrop of family drama - splintered relationships, financial challenges, illness and deaths. This is the Ultimate Thanksgiving Cook-off experience, gathering around the communal table to say thanks, to show our appreciation for each other, and nourish our body and spirit.