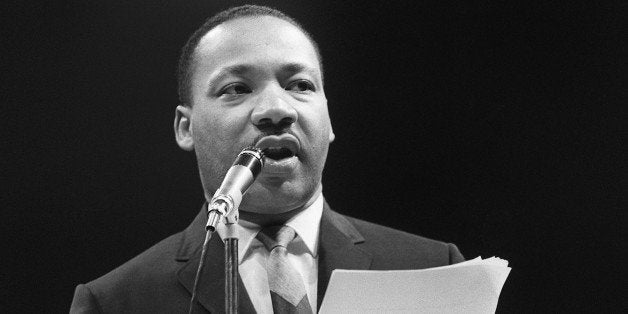 In 1968, Martin Luther King Jr joined with black sanitation workers in Memphis to fight for fair treatment on the job. These men worked hard to keep their city clean and safe, yet they did so under inhumane conditions. Many were paid so little for their work that they resorted to food stamps to feed their families. By standing with Memphis sanitation workers and calling on the city to treat these black workers with dignity and respect, MLK taught us that racial and economic justice are intrinsically linked. That lesson inspires me today, because 47 years later, the fight isn't over for black and Latino workers.
This is especially true here in Texas, where the $72 billion industry is one of the most prosperous and powerful in the state. It employs one in thirteen Texas workers -- roughly 70 percent of them are Latino. Dallas alone is home to around 225,000 construction workers. They build our cities and keep our economy strong, yet they do so under shocking conditions. A construction worker is more likely to die in Texas than in any other state, 50 percent earn poverty level wages, and one in five have been seriously injured on the job.
These statistics put Dallas at the top of national lists for income inequality. Dallas Mayor Rawlings recently put together a task force on poverty to address extreme disparity and to make recommendations to level the playing field so the city can continue to prosper. One easy fix -- make sure our construction workers can go home safely at the end of each day.
This starts with granting workers the right to rest on the job. In Texas, where summer temperatures regularly reach triple digits, nearly 40 percent of construction workers report not receiving the chance to take a short break throughout the day.
Last summer, Billy Tirado, a 13-year Dallas resident, father, and construction worker, worked for a foundation repair company that denied him rest breaks. It took a toll on his health. "Your body feels like it is suffocating." He remembers struggling to maintain consciousness. "I felt dizzy. My eyes got blurry. I felt nauseous." He worried about how he would feed his three daughters if he got hurt on the job and couldn't continue bringing home a paycheck.
Hearing stories like Billy's reminds me of MLK and the Memphis sanitation workers. These men dreamed of a world that honored the inherent value of all people. Yet this dream was incongruent with the reality they faced -- where racial and economic inequality dominated. In Dallas most of the workers building our roads, our homes, and our schools are Latino. They build our city, yet they face the most dangerous conditions of all. A Latino construction worker in Dallas is six times as likely as his white counterpart to work the entire day without rest breaks.
Which is why in July, Workers Defense Project, a non-profit organization winning better working conditions for Texas construction workers, addressed Dallas City Council about the need for rest breaks. Six months later, City Council has the opportunity to pass an ordinance guaranteeing construction workers have the right to rest. In doing so they can drastically improve the safety and well being of some of our city's hardest workers.
Martin Luther King, Jr. taught us that we will never achieve racial justice until all workers have safe, dignified working conditions. This starts with granting workers their most basic rights -- like the time to sit and drink a glass of water. The right to rest ordinance is about valuing the lives of the men and women who build our city.