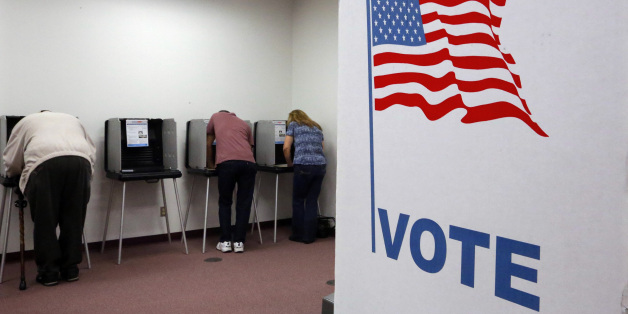 With Nov. 4, Election Day, only days away, all eyes are on the Latino community, not just because the rallies with our Latino Victory co-founders Eva Longoria and Henry R. Muñoz III are eye-catching and inspiring but because the Latino community is poised to make a potentially historical difference in this year's midterm elections.
Pollsters and pundits are making projections about our community with increased frequency. Many speculate that we can make the difference in statewide races like those in Colorado, where we make up a large share of the population. Others insist that we can swing tight races like those in Kansas, where our population is within the victory margin. And some think there might be a lack of enthusiasm among Latinos for turning out because the nation's immigration system has not been fixed. While we will know how this all shakes out next Tuesday night, we've seen positive signs that Latino voters are engaged, empowered, and determined to make their voices heard on Election Day.
With Latinos running for top offices in 42 states, the conventional wisdom about Latino voters staying home very well may be wrong this year. That's because we know that Latinos are motivated to vote when they see Latina and Latino candidates on the ballot. And with inspiring candidates like Raul Ruiz, Joe García, Pete Gallego, Amanda Renteria, Annette Taddeo, Leticia Van de Putte, and Lucy Flores on the ballot, many voters are feeling even more motivated than ever before.
That's because the Latino community wants the people that represent them to reflect their values. This is not an outlandish wish. In fact, it is pure common sense that our community feels strongly about supporting candidates who have experienced firsthand the same struggles and celebrated the same triumphs.
This sense of support for our community is likewise reflected in the polls. Recently, a Latino Decisions poll asked our community the simple question, "Why are you planning on voting in the upcoming election?" The results revealed that "a plurality of Latinos -- 46% -- said they were voting in 2014 to support and represent the Latino community." In other words, the majority of our community is planning on turning out on Nov. 4 to represent the Latino community first -- regardless of party. For us, this isn't just about voting for the people who look like us. It's about supporting the candidates who understand what is important to us.
Simply put, we'll support the leaders who are determined to fix our broken immigration system. We'll cast our votes for the candidates who recognize that a working Latina mother of three can't support her family on a minimum-wage salary. We'll rally behind the congresspeople who know what affordable health care means to a family with a sick child. And we'll mail in our ballots for the senators who understand how important it is to leave the next generation a cleaner, safer, healthier planet. These issues we care about aren't merely "Latino issues"; they're American issues, and they must be part of the national dialogue.
When Latinos have candidates in elections, donors in the pipeline, volunteers in the field, and voters at the polls, the entire nation benefits. When our community is absent from these leadership positions, we are absent from critical policy making decisions that affect each and every one of us. As we close in on Election Day, we must remember and remind the Latino electorate that this is a pivotal time for issues that matter most to us. On Nov. 4, we cannot afford for any single voice to stay at home.