Our family absolutely loves the National Parks. We planned and waited until our twin girls turned eight so we could head out on our first real adventure including hiking in Yellowstone National Park. Fast forward a few years and we have been to several other major parks and have another few in store for 2014. The true secret is in the planning.
Some key planning components include:
• Knowing how long the car rides will be
• How do you balance time between 'outdoor' fun and kid-friendly city fun?
• Are you tent camping the whole time or combining your lodging options?
• What kind of weather can be anticipated?
• Consider activities for various age levels. Your older tween or teen certainly may want to conquer a different hike from a toddler or first grader.
• Food, food and more food. Sometimes you can stop a 'full meltdown' with a granola bar!
• Can you introduce a new activity that the family has never experienced? Zip line, water rafting, fishing, boating, canoeing and so much more.
Also, don't forget to include the kids. They have their own opinions and want to be heard. Including them in the planning involves lots of 'family meetings' and you'll find they might have a better plan than you do.
For our family planning we wanted to put to good use our latest technological gift to ourselves- a 'Go-Pro' Camera. Our family gifted this to Dad for Father's Day so we're all looking forward to recording some fun adventures. We headed to Maine's Acadia National Park. It has been my dream park to visit for quite a few years. The kids had their hand in the planning and enjoyed completing the Junior Ranger Program and a few of the Acadia historic hiking trails.
There are many camping and outdoor adventure options at the National Parks and Acadia is filled with plenty of its own. However, whatever your location, if you're fortunate enough to plan a National Park visit- the internet is your best/first resource and be sure to start at the official National Park site: http://www.nps.gov. It has the latest for each location. Please pay very careful attention to the recommended 'skill level' for each hike or campsite. The writers truly know what they're saying when they make recommendations or post warnings. ALERT: Be very honest about your hiking or camping skill level and that of your family. A difficult and strenuous hike or a remote campsite for a family on its first-time visit to a National Park is no easy task. Plan for your true endurance and camping knowledge level and it's okay- no one is watching - this is your vacation, enjoy it!
Once you know where you will be staying and perhaps you've planned out for the right hikes- what's next? The outdoor activities. We researched the offerings at Acadia National Park and found out that you can go from bird watching and bicycling to boating, fishing and even horseback riding. We mainly stuck to hiking and a boating tour of the adjacent islands. The peaceful setting allowed for a wonderful disconnection from everyday stress.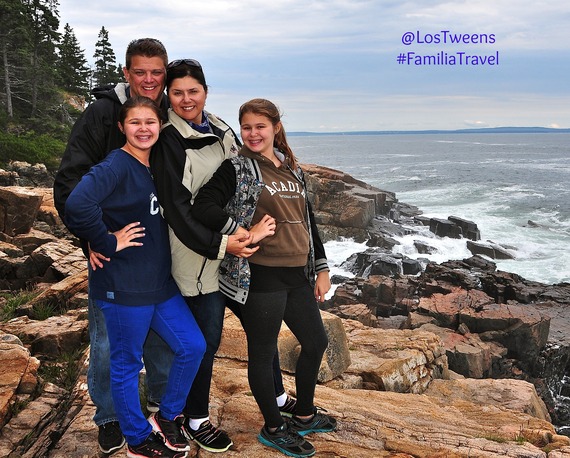 Be sure to plan for the weather. A few years ago I invested in thin rain-resistant, fully lined jackets with hoodies for my girls and they have been used for nearly three years. The trick: buy them at least two sizes bigger.
Finally, by listening to the kids we knew that a city-based activity was required for our overall agenda. We planned our round-trip airfare through Boston so we would have two days ahead of the park adventure and a day before we left to enjoy some fun activities. We combined a historical outing such as walking The Freedom Trail with a kid-friendly activity like visiting the Aquarium.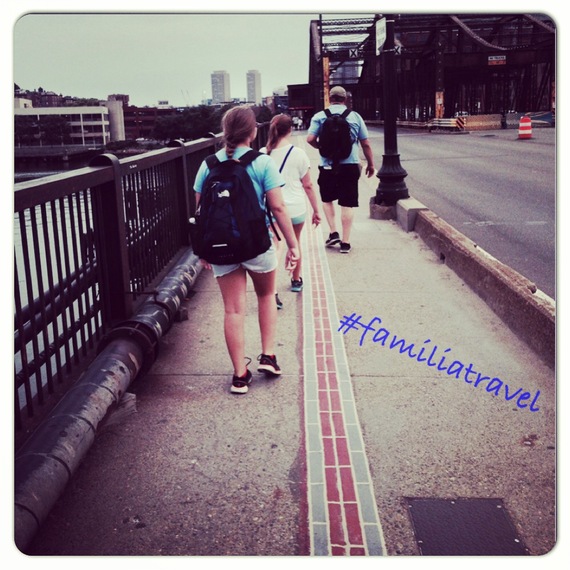 It's all about the compromise to avoid the major 'boredom' that can potentially set in when you remove electronics and internet connectivity from today's kids. But you'll find the outdoors provides a wonderful opportunity for family bonding and that was our biggest plan.
Did I mention budget? You should set one. Reality is that you'll likely go over it a bit anyway (if you're lucky!). Having a number in mind that you will not surpass, unless there is an issue or emergency, can help keep the vacation spending in check. We used airline miles and saved more than $1,000 in the process.
The most important part... just have family fun!