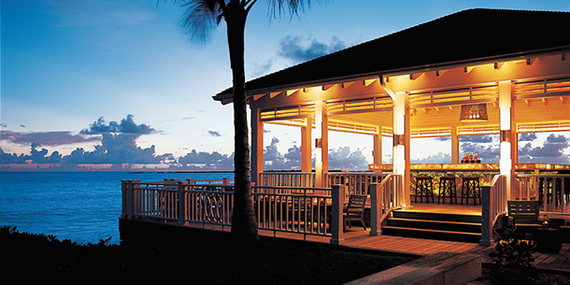 Dune restaurant is in the One & Only Ocean Club, part of the Atlantis complex. Photo by Ocean Club.
Sure, you can bemoan how touristy the Caribbean islands are, particularly around the cruise ship terminals, where jewelry shops abut duty-free stores and tequila-soaked bars. But for food lovers who are willing to hop in a cab, there are actually great meals to be had at unforgettable restaurants helmed by celebrity chefs. Here is our chef-driven foodie bucket list for the Caribbean in 2014:

Chili Crab - Photo by Fatty Crab
1. Fatty Crab
St. John, U.S. Virgin Islands
New York-based Chef Zakary Pelaccio wows Gotham with his Malaysian dishes, and now he's expanded his hip and playful take on Asian cuisine to the Caribbean.
How to Get There: From St. Thomas, take the short ferry ride to St. John -- where the beaches are better anyway -- and walk the four blocks to the restaurant.
What to Order: Look for chicken roti with green curry, the signature sliders with chili aioli, and calamansi chili-rubbed brisket with coconut rice. Order a fresh watermelon juice to go on the way out.
Michael's stylish dining room - Photo by Michael's Genuine Food and Drink
2. Michael's Genuine Food and Drink
George Town, Grand Cayman
New York-based, French-born Eric Riper's Grand Cayman restaurant, Blue, in the Ritz-Carlton hotel, may not be open at lunchtime, but Michael's is open all day long.
How to Get There: Less than a 10-minute cab ride from the ship terminal, Michael's -- the Caribbean branch of Miami-based Chef Michael Swartz's restaurant empire -- serves farm-to-table lunch and dinner every day.
What to Order: Start with crostini topped with house-made ricotta and local mango jam for a taste of the islands. Then, check out the fish of the day, which is caught locally, then wood-fired and served with escarole and grilled lemon, or served on a bacon, lettuce, and tomato sandwich with homemade brioche.
Dune restaurant's seaside terrace - Photo by Dune at One & Only Ocean Club
3.Dune at One & Only Ocean Club
Paradise Island, The Bahamas
Jean-Georges Vongerichten's Dune serves breakfast, lunch and dinner, so you can just go when you're hungry. The menu focuses on local seafood and produce, and dishes are light and fresh -- perfect for a day at the beach. It's really the only food-loving destination at the resort at lunchtime, when Nobu and Bobby Flay's Mesa Grill are closed.
How to Get There: From the ship terminal in Nassau, you can take your cruise line's transfer to the Atlantis Resort or, if you don't want to use the beach facilities, just hop in a cab. (The restaurant is in the One & Only Ocean Club, so have your driver drop you off there -- Atlantis is a huge spread out complex and it will save you a lot of walking.)
What to Order: At lunch, the classic Bahamian conch salad and crab salad are our picks, as well as the watermelon and goat cheese plate.
Classic creamed spinach and potato gratin - Photo by BLT Steak at The Ritz-Carlton San Juan
4.BLT Steak at The Ritz-Carlton San Juan
San Juan, Puerto Rico
New York's Laurent Tourondel has re-imagined the steakhouse as something more luxe -- and less stuffy -- than the steakhouses of the Mad Men era. Still, unless you order the grilled seafood, you can expect a heavy dinner here. Our advice: Eat light during the day so you can indulge without thinking about how you'll look in your swimsuit the next day.
How to Get There: The restaurant is a 15-minute drive from the port.
What to Order: This is a modern take on the iconic steakhouse, so look for classics like properly charred porterhouse for two, grilled double-cut bacon -- yes, as an appetizer, not a garnish -- and potato skins dressed up with truffle oil.
Want more? Check out the expanded piece on BonVoyageMag.com to see the Caribbean restaurant we're most excited to try this year.
--
Sherri Eisenberg is the Editor in Chief of BonVoyageMag.com, a publication of Cruiseline.com.