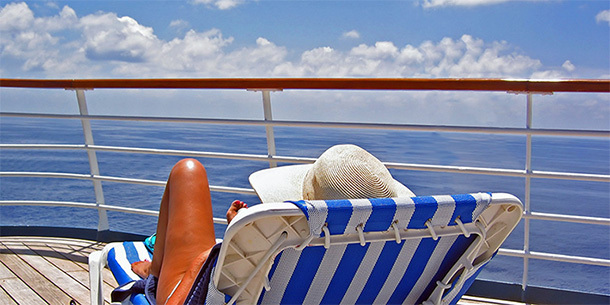 Are sea days dull? You won't know until you try a cruise. - Photo by Thinkstock
First-time cruisers often have many preconceptions about sailing. You may fear that the food on all ships is terrible, that days spent onboard are a claustrophobic's worst nightmare, or that cruises are simply boring.
​Here are nine common questions from first-time cruisers:
​1. Are cruises really all-inclusive?
With onboard specialty restaurants, paid entertainment options, and extra charges for alcohol and soft drinks, mass-market lines are most definitely not all-inclusive. Many luxury lines, however, are much closer to the "one price covers all" ideal.
The initial cost of a cruise on Silversea, for example, includes everything from drinks at dinner to your in-cabin minibar, to transportation into town in most ports of call. Love excursions? Though Silversea offers free guided excursions for passengers aboard two of its vessels (Silver Explorer and Silver Galapagos), Regent Seven Seas Cruises is an even more inclusive option — it features free, unlimited shore excursions in all ports.
​2. Is the food good?
​In most cases, the answer is the same at sea as it is on land -- you get what you pay for. Don't expect to be blown away by the spaghetti carbonara in the main dining room on budget lines. Some luxury lines, however, offer fine dining experiences that rival the best-rated restaurants on land. Restaurant 2 aboard Seabourn Odyssey, for example, serves delicious seven-course meals in an intimate setting.
​3. Will I feel claustrophobic?
​We only get claustrophobic on the smallest of oceangoing vessels. Fortunately, ships come in many sizes. Some are as large as shopping malls and comfortably accommodate thousands of people -- they're so large, you might almost forget you're out on open water. Inside cabins can feel confined, however, so if you anticipate being anxious, book a cabin that has a porthole or balcony.
​4. Will it be crowded?
​Probably not, but it depends on the ship and whether it is at capacity. If you're worried you'll be literally rubbing shoulders with other cruisers, do your research. To get an accurate idea of how crowded the ship will be, look up the ratio of passengers to square feet on the line's website, and then compare the numbers to similarly priced competitors.
​5. Are cruises cheesy?
​The personalities of cruise lines are, well, not unlike people: No two are alike. Some mass-market lines offer hairy chest contests. Onboard luxury ships, though, you're more likely to partake in a wine pairing class than sing along with an elderly woman belting out an oldie. Our experience? Even the cheesiest of shows can be fun if you have a sense of humor, and a couple of cocktails.
​6. Will I be able to see everything?
​Maybe you could in a small port with the right shore excursion. However, instead of trying to cram all the sights into your brief time in town, choose a few things you're excited about seeing or doing at each destination. Think of the cruise as a tasting platter that can help you determine the places you'll want to return to for a longer visit.
​7. Will I get seasick?
​When the weather is mild and the seas are steady, you won't feel much rocking -- especially on large, modern ships. If you're prone to motion sickness, however, check out our suggestions on seasickness prevention.
​8. Will I get my passport stamped?
​If you're flying into a foreign country for your cruise, your passport will get stamped when you go through customs in the airport, but otherwise, the answer is largely no. (And no, we don't like this practice either.)
​9. Will I be bored?
​We highly doubt it -- especially if you pick the right line for you. Cruise lines cater to different demographics. Families on a budget are not likely to enjoy luxury liners that have little to no children's entertainment, just as an elderly couple looking for a quiet getaway may not enjoy the options on a ship that boasts rock-climbing walls and ice skating rinks.
​Since entertainment options vary vastly, it's important to do your research before booking to ensure you find a ship that appeals to you.
By Polina Myagkov, Staff Writer
A publication of Cruiseline.com