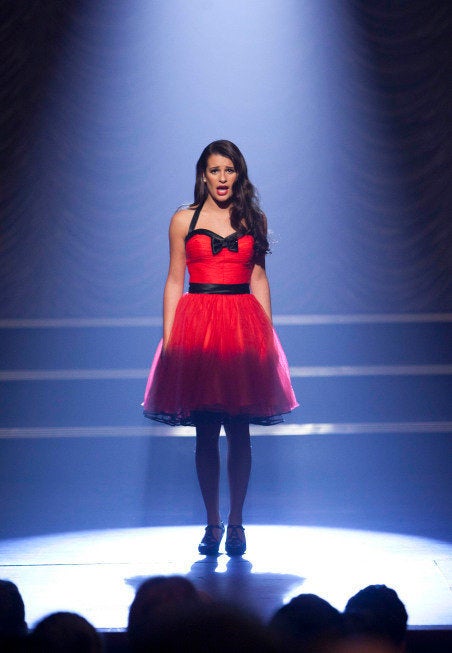 Note: Do not read on if you have not seen Season 3, Episodes 20 and 21 of Fox's "Glee," entitled "Props" and "Nationals," respectively.
"Glee" has never been perfect. In fact, this season, it's been far from it. But just when you count them out, the New Directions have a way of winning you over again. Ladies and gentlemen, I think I'm a gleek again.
Honestly, I wasn't expecting much from the first hour of "Glee's" two-hour event, so I was pleasantly surprised to see that the much-talked about role reversals were barely a fraction of the episode. I'm not saying that it wasn't fun to see Finn rock Kurt's stylish cape collection, and to see Tina put on a pait of knee-high socks and belt out one of my favorite Celine Dion songs, but I was glad that segment only lasted a mere 10 minutes. I don't think I could have taken anymore of Kurt's creepy Finn.
Sure, it was a gimmick, but despite its silliness, it was fun and gave Tina something to do. Also, Ryan Murphy is no Matthew Weiner, but I like how he incorporated a real-life, viral video into his storytelling. If you haven't seen this video, then I recommend that you watch it immediately.
Before Tina bumped her head and ended up in la-la glee club land, she threw a fit in the choir room. Why should Rachel get all of the solos? Now, if you feel like you're having deja vu ... you are. This also happened earlier in the season (and the season before that) when Mercedes didn't want to share her spotlight with Miss Berry. However, this time, it's Tina who's feeling left out -- as she should.
Despite her 15 minutes of fame in Season 3's "Asian F," Tina Cohen Chang has pretty much been ignored for the last three years. But with Nationals just days away, now really isn't the time to freak out about it. Not to mention that I have to agree with Mike Chang on this one: Rachel's a senior, so it's her time to shine.
It may have taken a bump on the head to figure it out, but ultimately, Tina finds her purpose: To service Rachel. Not only does she drive Rachel to Oberlin to find Carmen Tibideaux, but she also stands up to Carmen's diva-tude, letting the N.Y.A.D.A. dean know that Rachel Berry may be a "pain in the ass," but she's their pain in the ass. She's not just a big nose; she's a big nose with even bigger dreams. OK, so I improvised on that last part, but Rachel's nose was mentioned so many times in tonight's episodes that I think it's appropriate.
Carmen doesn't give Rachel another audition, but she doesn't necessarily reject Rachel's offer to come to Nationals, even after Rachel threw a little sass in her direction. "I read that you auditioned for Julliard four times." Take that, Tibideaux.
Rachel passing the diva torch to Tina was touching, but the true champions of "Props" were Coach Beiste and Puck.
"You and me, we're bad asses," Beiste tells Puck before they both break down in each other's arms. It was heartbreaking yet, in some ways, satisfying watching these two interact. They've never had a lot of screen time together, but their stories have always been similar. Both of them are misunderstood and afraid of the future. I could have seriously watched an hour dedicated to Beiste and Puck.
Mark Salling isn't the best actor on "Glee," but his performance in the locker room -- when he breaks down and tells Beiste that he has nothing -- was truly incredible. In Season 1, Puck was notorious for throwing kids into dumpsters and now he was the one getting thrown into the trash, and by Rick the Stick, no less. That kid has a mullet. How is he popular? At that point, Puck had reached an all time low.
Meanwhile, Beiste finally dealt with her broken reality. After enduring more verbal abuse from Cooter, and with a little encouragement from Puck, she finally left him -- for good. Once again, I have to applaud Dot Marie Jones for doing a wonderful job with the material. I still feel like it was irresponsible for the writers to have a domestic abuse storyline, especially one that was so sloppily handled, but I'm happy that they found a way to wrap it up decently. By the way, we still don't know what Karofsky's up to since his suicide attempt.
I think tying Beiste's sensitive storyline into Puck's was probably the best way for the show to go about cleaning up the mess it made in "Choke." How could you not be moved by their duet in the auditorium? (Who knew Puck loved Taylor Swift?)
Puck's future may still be up in the air, but at least Beiste got him another shot at taking -- and passing -- his European geography test. Here's hoping that "My Fair Lady" will come in handy again.
Heading into the second episode, the New Directions are off to Chicago for Nationals. I'll make a long story super short: The New Directions win Nationals. I can't say that it was entirely predictable -- after all, Unique was FIRECE -- but everything that followed after their win was sickeningly predictable.
I'm going to be honest: Vocal Adrenaline clearly deserved to win Nationals. They simply put on the better show. (It probably has something to do with the fact that they practice their routine all year long!) However judges Lindsay Lohan, Perez Hilton and Rex Lee thought differently. However, seeing the judges debate behind-the-scenes kind of takes away the entire title. All three of them could care less about the winner -- not that Rachel will ever know that. At least Lindsay got one good "Freaky Friday" reference in. That was well worth the entire two hours.
In the end, Rachel got everything she ever wanted. She was prom queen, she took home Nationals glory and she even got Carmen to come to Chicago and watch her lead her show choir to victory. It was all very perfect ... and in my opinion, too perfect.
What's the point of even focussing on Lima in Season 4 now? The New Directions got what they wanted. They won Nationals. They're the heros of McKinley. Instead of slushies, they were getting confetti thrown at them in the halls. How can the show be compelling if they're not underdogs anymore?
I think it's important to note that Unique (played by "Glee Project" runner-up Alex Newell) hinted that she thinks it's time to transfer schools. Does this mean that Unique will transfer to McKinley? Possibly, but we all know that Murphy likes to tease his viewers. It could have very well been a throwaway line, but I kind of hope that it's true. Unique has an incredible voice. Even Perez Hilton had to give snaps for that.
Not only do the New Directions win Nationals -- and get treated like bosses when they walk into McKinley -- but things also wrap up quite nicely for Will. He wins the Teacher of the Year award, and ... wait for it ... Emma finally has sex with him. It was weird and uncomfortable, and the reasoning was horrendously misogynistic, but hey, WIll finally got it in.
In the final scene, the New Directions sing Queen's "We Are the Champions" for Mr. Schue, as the entire school cheers them on. Maybe it was the red outfits or the classic rock song, but something about this made me very nostalgic.
It was very reminiscent of the pilot episode, when a ragtag bunch of misfits sang a Journey song to an empty auditorium. It's good to know that the spark is still there. If only we saw it more often.
Sue: "It's tucking time."
Sue: "Isn't she the one who used to stutter?"
Tina: "I'm tired of being silent."
Tina/Rachel: "I can't believe how supportive you are when I can't even be bothered to acknowledge your supporting performances."
Sue: "Jennifer Beals is spinning in her grave."
Sam: "Why is this in black and white?"
Kurt: "Because I worship 'The Artist.'"
Sue: "Every show choir in the country has a little girl with a big nose."
Tina: "Rachel Berry is a pain in the ass."
Coach Beiste: "You are loved, pumpkin. You are not alone."
Unique: "Unique might need to transfer schools next year."
Jesse St. James: "Most people don't realize that I lost 10 pounds during that performance."
Finn: "You're, like, our teacher of a lifetime." (VOMIT.)
Lindsay Lohan: "I was robbed for 'Freaky Friday.'"
Jesse St. James: "Rachel is the most talented person that I've ever met." (VOMIT AGAIN. WE KNOW. SHE'S REALLY GOOD.)
The Season 3 finale of "Glee" airs Tuesday, May 22 at 9 p.m. ET on Fox.