No art and entertainment junkie would ever discount the importance of Rolling Stone -- and now, neither should we as a society.
Rolling Stone's August issue houses a portrait of Boston Marathon bombing suspect Dzhokhar Tsarnaev on its cover, to much backlash from the media and those who haven't bothered reading the story.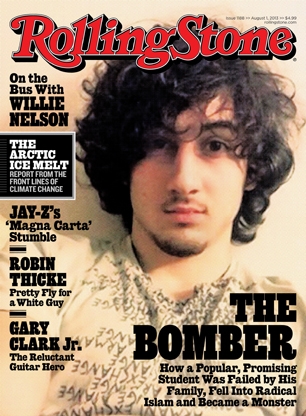 Critics have raged that putting Tsarnaev in a spot normally devoted to sex symbols or entertainment legends makes the magazine glorify his actions. And of course, the ever-passionate Internet community is even more furious, with many of its members vowing never to buy the magazine again.
Publications such as Slate and the New Yorker have countered that Rolling Stone's decision should hardly be surprising; for years, the magazine has been renowned for its engaging cultural coverage, and its latest feat should be no exception. Rolling Stone indeed enhances Tsarnaev's story from a unique angle and has rendered him relatable, exposing a reality of what is really going on with America's youth from neither a purely psychological nor legalistic perspective. "The fact that Dzhokhar Tsarnaev is young, and in the same age group as many of our readers, makes it all the more important for us to examine the complexities of this issue and gain a more complete understanding of how a tragedy like this happens," a statement from the editors said.
However, this incident also indicates another issue: the public perception of what the magazine ought to cover.
The American readership expects Time to put certain public figures on its cover, and obviously they differ from who Rolling Stone would feature. But the magazine has done quite the compelling story before -- just look at the Manson issue and the McChrystal story. Slamming it for breaking expectation and jumping to conclusions about how legitimate its controversial stories are, is, frankly, a bit close-minded.
If one reads the Tsarnaev story, it will not appear glorifying or even justifying the actions of a murderer. No one would dare accuse Time of over-humanizing a killer, and this more so indicates a problem with how we limit the topics pop culture magazines can lend its perspective to.
Culture itself reflects our status and growth as a society, and provokes us to reflect on what we are enabling to become popular. And today's culture is what encourages delusions of grandeur and hunger for fame; if the smallest image, video, or saying can be instantly popularized via YouTube or Facebook, we shouldn't be so quick to blame just one thought-provoking story for helping bring out people's inner killer. The mere fact that Tsarnaev has fangirls can do that already.
One Tsarnaev supporter said, "If you really cared about the victims you would be more interested in the truth." Although most of the public is in agreement that Tsarnaev is not, in fact, innocent, we need to dig deep to find out why some steadfastly hold the belief that this man was wronged.
And letting people take notice, in a more unexpected outlet -- that is where Rolling Stone is smart.
We need to consider the merit of all magazines like Rolling Stone: Esquire got the first ever interview with bin Laden in 1999, and Vanity Fair inspired an Oscar-winning film on one of the biggest tobacco controversies of all time. If those stories hadn't appeared, the world would be in a very different place today.
These publications have done a good job of catching people off guard with these new angles on exhaustive issues, and frankly, we need that refreshment to find new solutions to these moral puzzles.