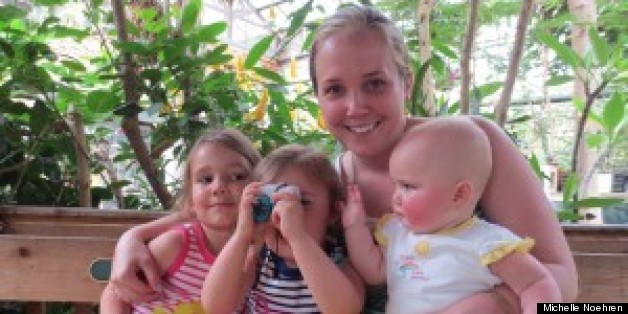 By Sarah Bourne Perillo, CTWorkingMoms.com Blogger
Here are 10 important things to ask a mother of three... well, really these questions are applicable to ANY mother. But, as a mother to three daughters under the age of 5, I sometimes daydream about the simple ways in which my friends, relatives and colleagues can help me out, give me a boost or make a part of my day just a little easier. Conversely, as a friend, sister and aunt, I try to offer help to the fellow mothers in my life who might need a quick breather. Here are some key questions to ask a mother who seems frazzled:
1. When was the last time you showered? I am never offended when someone asks me this (usually it's my husband). Sometimes, the day gets away from me and before long, I'm crawling into bed, wondering what smells like onions. Don't be afraid to ask your friend this question, maybe you can keep an eye on her kids just long enough for her to wash her hair and brush her teeth.
2. Do you need help? This seems obvious, but sometimes, it is refreshing just to have someone ask you.
3. Where is your purse? My friends and family know this is a crucial way to help me out. Reminding me not to leave my purse, wallet or cell phone in random places makes my life significantly easier. My family recently attended a pool party and at the end of the night, we loaded up our three girls, their suits, towels, clothes, shoes, etc. I climbed in the front, turned to my husband and said, "I rocked it, I'm certain we didn't leave ANYTHING behind, I have the binky and the plastic top to the bottle." We left, got home, and within two minutes of being in the house my husband asked, "Where is your purse?"... SHIT!
4. I'm planning to stop by for a visit; do you have any food in the house that is suitable for adults to eat? Are you going to visit your friend, sister or daughter-in-law who has three children? Don't expect to show up on a Saturday afternoon and be served tea sandwiches with Caprese salad and mixed greens. Smile with a big appreciative grin while you eat the chicken nuggets, cheese sandwiches and apple slices, or bring your own food next time.
5. When can we start drinking? Right now is not soon enough.
6. Do you need to use the restroom? If moms could get more comfortable asking each other this question on a regular basis, we would all be better off and happier. I once went four days without being able to go to the bathroom by myself, and I have never been the same since!
7. How are you feeling? Again, this might seem like a no-brainer, but it so important for moms to be able to lean on one another and share our feelings. Ask you sister, your cousin, your friend, "How are you?" If nothing else, it will give her an opportunity to vent.
8. Can I buy you some tacos? Yes, tacos at lunch time are my favorite food. I get them from a truck in the park near my work. You know what else I love about lunch? I can actually sit down and eat. I treat lunch like my place of worship. I sit, I reflect, I'm quiet, I don't move, I eat. Buy someone you love their favorite lunch, the world will be a better place!
9. What happened to your husband? Why is my husband standing in the front yard, shirtless and shoeless, with his tube socks on and a ripped pair of boxers, pretending to weed the garden? Um, because he's an ASSHOLE, that's why. Thanks for asking me, this is going to take a while, pull up a chair because I'm about to unload on you. As fun as it would be to publicly humiliate my husband for some of the mindless thing he has done (sent the baby to school with no shoes), let's rely on those closest to us for venting, and not air our proverbial 'dirty laundry.' Because ladies, let's face it, at the end of the day, shoes or no shoes, ripped boxers, tube socks and all... our life would not be nearly as fabulous if we didn't have loving husbands who were awesome Dads!
10. Are you on birth control? Enough said.
Read all of Sarah's posts by visiting CTWorkingMoms.com.