Sometimes you need to simultaneously look backward and forward. That's the case when you not only need to pay off high-interest credit card debt but also know that you have a big purchase looming, such as gifts for the upcoming holidays. The following 0 percent balance transfer cards can help with both. What makes this article unique compared to other articles is that the cards listed below (with only one exception) feature 0% introductory rates on balance transfers AND new purchases.
This is a summary of our picks for the best no interest credit cards for 2016. For more detailed reviews, including reviews on cards not listed below, visit our partner site, CardRatings.com.
Please Note! Adding new purchases to your card after you've done a balance transfer will obviously increase your debt load and should be done with extreme discretion.
This is part two of a series of posts about the best 0% balance transfer credit cards of 2016. Click on the following link for part 1 of this series. Best Rated 0% Balance Transfer Credit Card Offers for 2016 (Part 1 of 2)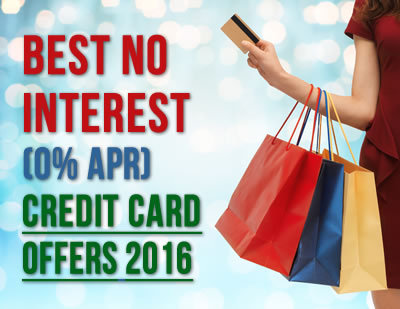 If you are looking for a "no interest credit card," this article is for you. Each of the cards below offers a 0 percent balance transfer APR as well as a 0 percent APR on new purchases or cash advances for a set amount of time.
As always, remember that no two financial situations are exactly the same. So make sure to crunch all the numbers before deciding which no interest credit card makes sense for you.
NOTE: Be aware that all credit card review sites are not created equal! Click here to see why we believe we are the most objective in the field. Also, many financial experts are predicting a significant rate increase in the near future from the Feds. With that looming over our heads, now is a good time to lock in a 0% interest rate and begin paying down your credit card debt.

OUR OVERALL WINNER / BEST "NO INTEREST" CREDIT CARD: CHASE SLATE*

This card was our favorite in our earlier article on 0% APR balance transfer cards and it carries that title over to this second part of the series. Chase Slate offers a 0% rate on purchases and balance transfers for 15 months and no balance transfer fee, as long as you make your transfer within the first 60 days of opening the account.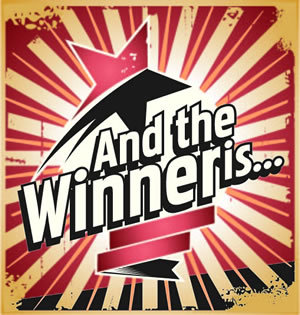 Scott Bonge, a recent Chase Slate cardholder, is the inventor of an international award-winning product called the GoateeSaver. According to Scott, "This card will help me save $1500 in interest charges over 15 months. Most zero percent balance transfers have a 3% transfer fee, but this card has no transfer fee and no interest for 15 months. This is the first time I've seen a credit card offer like this, but it came at a great time. We were able to transfer balances from several cards from a home remodel to this card. It is nice to know that by transferring our balance from the Home Depot card, we were able to save about 18%, and that was just one card. Having the debt in one place is great. You get a sense of peace knowing you only have one card to keep up with and pay, rather than several." Scott further explained how the card can save a lot of money for cardholders, but on-time monthly payments were critical to avoiding any interest charges or fees.
As we get closer to the holiday shopping season, this card helps you not only pay down existing balances, but enjoy 0% on new purchases for 15 months. The complete lack of fees (most transfer offers charge a 3% fee) makes Chase Slate really stand out among the best balance transfer credit cards. After the introductory period, the interest rate is competitive with other national offers between 13.24% and 23.24%. On top of that, Chase is a prominent national institution with services and support to match.
OUR RUNNER-UPS
Discover It®*
The Discover It Card comes with a 0 percent APR on balance transfers for 18 months and 0% on purchases for 6 months. Discover also offers the Discover it® - Cashback MatchTM card where purchases and balance transfers are 0% for 12 months each. In addition to no interest for 12 months, cardholders can also get 5% cash back on all Amazon purchases from October through December and new cardholders can receive double cash back at the end of the first year.
On both cards, there is a 3 percent balance transfer fee. After the promotional period, the interest rate is a variable rate between 11.24% and 23.24%. Balances have a limited period where they must be transferred to qualify for the promotional rate.
Citi® Simplicity® Card*

The Citi Simplicity Card offers a 0 percent balance transfer APR and 0 percent interest on new purchases for 21 months. This is one of the longest introductory offers on the market and the card also comes with Citi's No Late Fees Ever promise as well as no penalty rate. The only catch: The balance transfer fee, which is either 3 percent of the transfer amount or $5, whichever is greater. After the introductory rate, the APR will be 13.24% - 23.24% based on your creditworthiness.
Wells Fargo Platinum Visa® Card*
This card from Wells Fargo offers both purchases and balance transfers at 0% for 15 months with a 3% balance transfer fee. At the end of the offer period, your APR will be 15.40% to 25.24% based on your creditworthiness. For the budget minded, they also offer convenient tools to help create a budget and manage your spending with their My Money Map application.
Another interesting feature is cellular phone protection for those who pay their mobile phone bills with this card. You can get up to $600 protection (subject to a $25 deductible) for damaged or stolen phones. This can be a nice peace of mind feature while the 15 month 0% introductory rate is in effect.
BankAmericard Cash Rewards™ Credit Card*
In addition to this card offering 0% on both purchases and balance transfers for 12 months, the BankAmericard Cash Rewards card also offers rewards and a cash bonus. So, not only do you get 0% for a year, you can also get $100 cash back for spending $500 in the first 90 days as well as earning cash back rewards on purchases along the way. After the first year, the APR ranges from 13.24 to 23.24 percent, depending on your creditworthiness. As with most national cards, there's also a 3 percent balance transfer fee.
U.S. Bank Visa® Platinum Card
This card offers a 0 percent APR on balance transfers and new purchases for 12 months. After the first year, the APR ranges from 10.24 to 21.24 percent, depending on your creditworthiness. There's also a 3 percent balance transfer fee.
U.S. Bank offers an interesting online tool called FlexControl™ that allows you to automate your credit card payments and help you avoid interest and late fees. With you in control of your automated payments, the service can also help you pay down a balance faster.
American Express EveryDay® Credit Card*
If you are planning on spending a little on your card while paying the balance transfer down, you may want to consider the Amex EveryDay card. It offers 0% intro APR on purchases for 12 months and balance transfers for 12 months.
You have to act fast on this one as balance transfers must be requested within 30 days of the account opening. After the promotional period of 12 months, your APR will be a variable rate, currently 13.24% to 23.24%, based on your creditworthiness. There is a balance transfer fee of either $5 or 3% of the amount of each transfer, whichever is greater.
Purdue Federal Credit Union Visa Signature Card
This is a very fee and rate friendly card. Although the credit union is not open to everyone, those who are not directly in the field of membership can join by applying for Purdue Alumni membership for $50. Basically, to put it in perspective, that is equivalent to a balance transfer fee of about 2% on $2,500.
There are no annual fees, balance transfer fees or cash advance fees. This card hits the trifecta with 0% APR for 12 months on balance transfers, purchases and cash advances, a rare offering (cash advance rates are usually considerably higher than purchase rates). After the introductory offer, the ongoing rate is 11.5%-17.5% APR based on creditworthiness.
Capital One® QuickSilver ONE®*
The Capital One QuickSilver ONE offers a 0 percent APR on balance transfers and purchases for 9 months with no balance transfer fee. After the intro period, the rate changes to 23.24%. You also get 1.5 percent cash back on purchases, not including balance transfers.
Although there is no balance transfer fee, there is a $39 annual fee, which could still be worth paying. For example, if you're transferring more than $2,500, then a $39 fee is not a big concern and can be viewed as less than a 2% balance transfer fee. However, if you're only transferring a small balance then you'll probably want to find a card with no annual fee.
REAL WORLD EXAMPLE
All of these ratings are good, but let's look at a real world example.
Amber Stubbs, Senior Managing Editor for Cardratings.com, was able to save quite a bit on purchases around the home. "We looked for 0% on purchase offers and found two cards that met our needs. One card offered 0% for 18 months and the other 0% for 12 months. We put about $2,000 on each card for furniture and home repairs. It was great to know that we could enjoy our updated home early and interest-free. We had budgeted for the expenses and it is fun to watch those balances go down while you are sticking to your plan." Amber's experience was slightly different than Scott Bonge's experience mentioned above with his balance transfers in that he had already spent the money on home repairs and was paying interest on multiple cards. Amber was going to be spending money on new purchases on new cards.
BEST LOCAL AND REGIONAL ZERO PERCENT PURCHASE APR CARDS
Don't neglect to check out nearby offers. Sometimes the best credit card deals can be found close by. While credit cards from large card issuers and banks such as Capital One, Bank of America and Discover are better known due to larger advertising budgets and national exposure, many times, you can find the best deals in your own backyard.
Here is a sampling of offers that can be found close to home.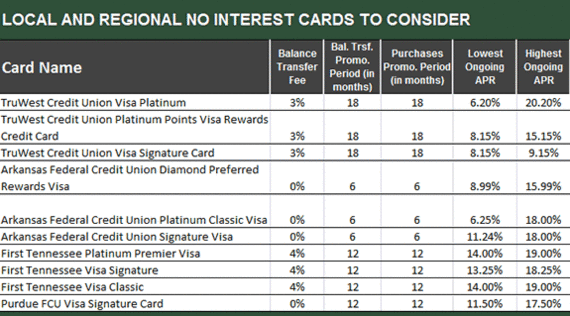 We have compiled a list of the best no interest credit cards currently on the market. Click here or on the image above for a printable PDF of the card table.

GETTING REALISTIC WITH YOUR TIME HORIZON
According to Amanda Abella, a personal finance writer, business coach and millennial money expert, "When choosing a balance transfer card for the purpose of paying off existing debt, you'll want to take into account how much debt you have and how long it will take you to realistically pay it off. Take your total debt and divide it by the number of months being offered at 0 percent interest to get a monthly amount. You may realize you may need more time than initially thought. In that case, a six-month balance transfer card may not make sense for you."
This concludes our list of the best "no interest credit cards. We wish you well in your card research and selection and hope you realize true savings as you pay your balance down from balance transfers,
If you would like more information and tips and tricks regarding balance transfer credit cards, click here.
OTHER RESOURCES
Best Rated 0% Balance Transfer Credit Card Offers for 2016 (Part 1 of 2)
The 12 Best Balance Transfer Credit Card Offers of 2016: Longest Terms
Why It's Important to Get Your Credit Score Even if You're Warren Buffet
When reviewing these cards, we do our best to put ourselves in your shoes. We choose cards based on such things as (lack of) fees, finance charges and ease of use. In other words, if we wouldn't use these cards ourselves, we wouldn't recommend them!
* NOTE: About 40% of the credit card offers that appear in this article are from credit card companies from which we receive financial compensation (these cards are listed as such on our site). They are noted above with an asterisk. We are proud that the majority of cards that we list (about 60%) are cards that don't advertise with us―- almost all of our competitors ONLY list cards that advertise with them.
The bottom line is that we don't know of another site that prominently lists as many non-advertiser cards! Please note that rates are current as of the publishing date of this article and should be verified prior to applying.

-------------------------------------------------------------------------------------
Co-written by Curtis Arnold, a nationally recognized consumer advocate and founder of CardRatings.com, the pioneering website that started posting the first credit card ratings online around 20 years ago and Shane Tripcony, personal finance blogger and web marketing consultant. Curtis and Shane are the founders of BestPrepaidDebitCards.com, which provides ratings and reviews of prepaid cards and credit cards.
(Photos from Adobe Stock)