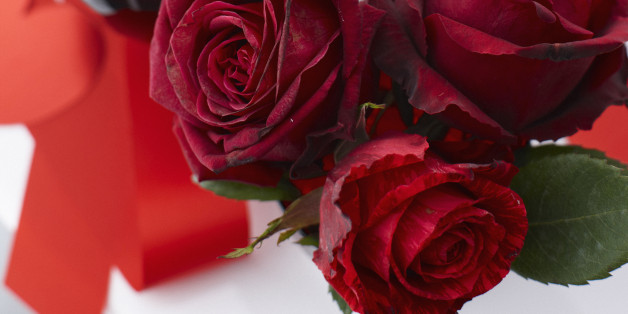 Last year, in my Huffington Post Valentine's Day essay, "The Power of One Helps Make a Whole," I wrote about how important Valentine's Day is and how I start thinking about the upcoming holiday soon after the last holiday ends. I explained how I spend several months formulating who I'll send cards to and who I'll call/see/meet simply to say "I love you" and express my thanks and gratitude for being in my life.
I wrote about how, in the weeks leading up to it, I'll buy V-Day boxer shorts (once cotton, now solid silk) for my now fully-grown stepchildren (and their partners); the largest Reese's chocolate heart I can find and heart pajamas for my husband; a heart necklace and/or bracelet for my young daughter and the proverbial stuffed animal with heart for my rapidly growing elementary school son (who, at this point, is finding this very unsettling).
And, how, on this blessed (nearly exalted) day, I'll eat more chocolate than usual, drape myself in red and send many cards that convey love, gratitude and appreciation. I also traditionally deliver more than a handful of chocolate-covered strawberries (individually-bagged and picked up at Whole Foods at 8 a.m. that morning) to those people who have touched me in some way during the previous year -- many of whom are on the periphery of my life. I make every effort to acknowledge each and every person, no matter how large or small their importance.
Valentine's Day is a day I've grown to love. And, while I work hard to give and show love throughout the year, this one day remains a pivotal occasion to fully express what is in my heart.
This year, I'll break with tradition by focusing on me. I'm sure I speak for many of you when I say that I do scant little to celebrate myself or even give myself any time-off, especially when I'm always busy "being" a wife, mother and professional. But, this has been a year of introspection and personal growth. I hope to use this occasion to refill and remind myself of what's really important. I hope I can be as kind, thoughtful and compassionate to myself as I aspire to be towards others. And, if only for one day (to start), perhaps I can make my tiny baby steps toward self-love into another longer-standing tradition.
So, what better time than now to honor myself and for you to honor you?
What if you were to give yourself a Valentine's Day card? What would it say? What if you spent as much time on yourself as you do for others? What if you bought yourself a Valentine's Day gift, wrapped it up and opened it with surprise, gratitude and wonder?
Here are my 20 Valentine's Day suggestions. Feel free to add to my list. We need all the help we can get. I'd like to make this one very long list of some very good suggestions.
Spend some time with yourself doing something you love.
Give yourself a Valentine's Day gift. What would that be?
Turn the TV, radio, cell phone and/or computer off.
Take a long, hot bath. Get a massage. Get a haircut, manicure or whatever will make you feel good.
For every negative word you say to yourself, follow up with three positives.
Breathe deeply and often.
Thank the world that you are alive.
Find time away from your regular routine to do something new and/or different.
Smile at yourself.
Eat, dance, nap, play.
Say all the polite phrases to yourself and to others -- Thank you. Please. You are welcome. May I? You will reap the benefits.
(In whatever way you may read this) Just give yourself a break.
Pray, write, make love, walk in nature.
Set aside long-standing grudges, animosities and jealousies. Search for an alternative.
Make this a day of fun! Treat yourself the way you would treat your children, husband/partner, family or friends -- sleep in an extra 10 minutes and not feel guilty. Eat a good-for-you breakfast... so you can treat yourself to a not-so-good-for-you lunch! Put a love note in your lunch box. Buy an expensive heart chocolate or a box of chocolates. Bring roses home; better yet, have them delivered! Buy clothes, socks, etc. with heart patterns to celebrate the day! Purchase, wear or make jewelry which has sentimental value. Bake heart-shaped cookies or cake. Create love coupons for your usage, only.
Journal or write gratitude notes to yourself.
Read love stories, love poems and love quotes.
Do nothing.
Just be.
Follow your heart.
What will you do for yourself on this most special of days?