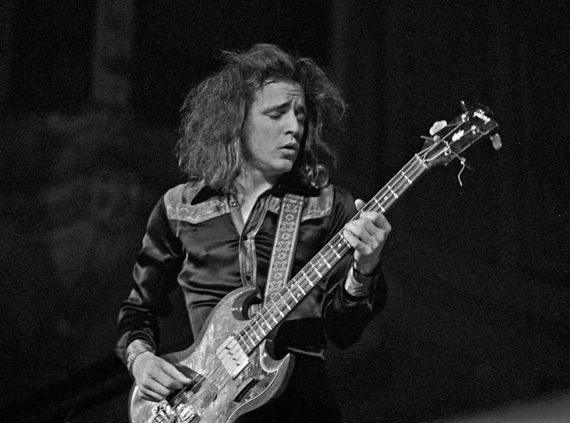 Ex-Cream-Basssist und Sänger Jack Bruce in der Musikhalle Hamburg, January 1972
Clapton was God to some--or so the graffiti said back in the 60s. But for me, Jack Bruce,who passed away last week, was the soul of the show.
Only the Who's John Entwistle could come close to Bruce's nimble, rollicking bass riffs. They danced over, around and through Clapton's blues licks and Ginger Baker's thunderous beats.
And when he sang...well...he gave you something you could feel.
I first saw Cream back when I was in high school. And throughout my career as a rock critic, writing for the Chicago Sun Times, Rolling Stone, the venerable Creem and other publications, no band ever impressed me more.
Almost frighteningly gifted, Jack, Ginger and Eric were daredevils, sometimes showing off solo, often falling into breathtaking musical "arguments" with one another. Always pushing each other to try little harder, lift us a little higher.
When the show was over, it took a while for fans to recover. And to believe what we'd seen and heard. Not content to recreate the hits note for note live, they could improvise for hours. And that was fine with us. We wanted to hear everything they had to say. Because they could say it like no one else.
And it was often Bruce who got the last "word."
In the Rolling Stone tribute published this weekend, Pink Floyd's Roger Waters said Bruce was "probably the most musically gifted bass player who's ever been."
You'll get no argument from me on that. But Flea said it even better on Twitter:
"Oh man. Jack Bruce. Too much. Wow. Holy holy. I love that guy. One of a kind greatness. End of an era."
Holy, holy, indeed. Just...listen:
Photo credit: Wikipedia Commons, Heinrich Klaffs, CC BY-SA