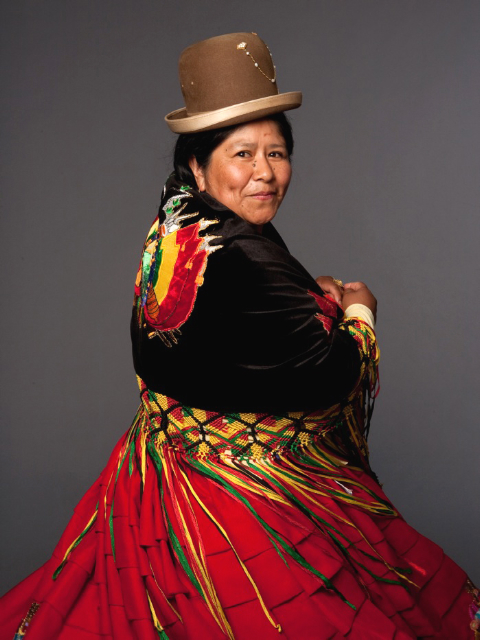 Wrestler Carmen Rosa. Photo by Leslie Hassler.
When director Betty M Park tells people that she has made a documentary about indigenous women wrestling in Bolivia, this is the usual response: "mud wrestling?"
Mamachas Del Ring does not involve mud, jello, or Borat-inspired swimwear. These are indigenous women, "Cholitas", wrestling in petticoats, bowler hats and braids, flipping each other in the air and bleeding real blood. Kind of a "Mickey Rourke in a Petticoat" scenario. It is so unfamiliar, it feels visually impossible. When a cholita is flipped, you see her many petticoats flying, and her legs and panties. Even though their costume is modest, it feels shocking.
On first glance, it looks as though a child has taken her dolls and staged a violent and dangerous fight in a Bolivian boxing ring.
Given that this is a film about female wrestlers, it would be only natural to assume that this is a film about wrestling. It isn't. This film's greatness is that it shows how excruciating it is to be a wrestler. Especially outside the ring. The film's heroine, Carmen Rosa, is a champion without a venue. Despite being an internationally known wrestler, she is still a street vendor by day, has no place to train, and her husband and ex-manager are doing everything they can to make sure that her career ends.
In 2006, Betty M. Park was on a trip to Peru and Bolivia. She was already in the airport headed back when she happened on a magazine that featured Cholita wrestling women. Suddenly, she could think of nothing else. "The idea actually chooses you. It latches onto you." It left Park desperate to know "how these women had infiltrated this entirely male-dominated industry."
Given that this year's Oscars were the first time a woman had ever won for Best Director, there is a fascinating parallel here between the world of wrestling and directing. Park is a TV producer and editor by day, and documentary making is her passion. Mamachas Del Ring took three years to put together, outside the demands of Park's very intense day job.
There had been a National Geographic article on these women around this time, and Park arrived in Bolivia five months after she had first spotted the magazine, not sure what shape the story of her documentary would take.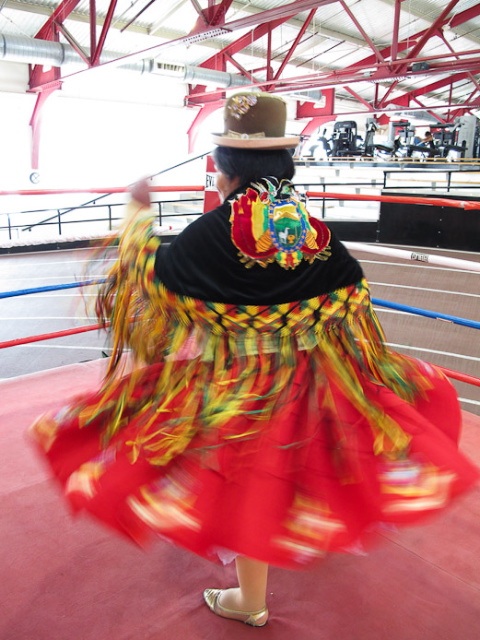 Carmen Rosa. Photo by Leslie Hassler.
When Park got there she kept hearing about three female wrestlers who were the first indigenous women to take their petticoats into the ring but 'had retired'. In fact, they hadn't retired at all, but had been forced out of the Bolivian Wrestling League. It was here that Park got the first inklings of her story.
What Park found was that four women had become international wrestling superstars before their huge success, and resulting jealousies led to their being ousted. Three of the women decided to break out on their own. They were the first indigenous wrestlers, and now they were the first to even try to manage themselves. The Commissioner of the League (and their former manager) was now their enemy. And even worse, he was also their main competition.
Within twenty minutes of filming wrestling champion Carmen Rosa, a fight broke out. Only, it wasn't in the ring. This left Park in an odd predicament, "We didn't know whether to break up the fight or to film it!" A man approaches Carmen Rosa, dressed in full indigenous-wear, handing out flyers for her show on the street and says, "Look at you! You're prostituting yourself!" Heckling a wrestler is never a good idea. Within seconds he is flattened on the pavement with Rosa smack on top of him shouting, "Prostitute, huh?!!"
Park knew she had found the heroine of her movie.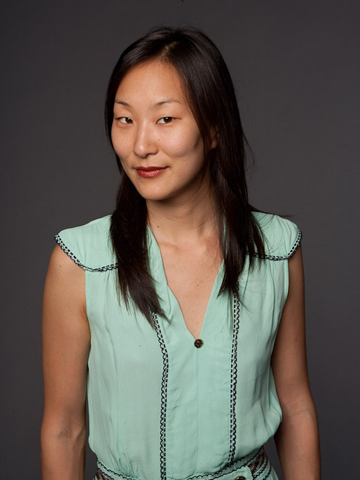 Director Betty M Park. Photo by Leslie Hassler.
The costs of pursuing your passion with no money, connections or support are high. At first it seems that the women are struggling against the forces that be. But the struggle is so hard and so long that in the end these women are pitted against each other. Park says, "In the wrestling world there is so much envy and contention. Not just with the men, but also the women!"
At the beginning of the film, Carmen Rosa says, "I love wrestling more than my family." It is hard not to be taken aback by such a stark statement. But Park insists that wrestling is such second nature to Rosa that it is almost the same as declaring, "I love breathing..."
Unfortunately, during the course of the film Rosa is forced to choose between her life's passion and her family. Her husband calls and demands that she make a choice. It feels strange to see this woman who has made opponents bleed in front of thousands reduced to rubble on the sidewalk by a mere cell phone. It is a very powerful moment when Rosa ends the call, and tries to hold back her tears. "It would be ugly to see a champion crying in the streets" she says.
Ultimately, America isn't that different from Bolivia. Millions of women are forced to choose between family and career or to feel that they are trying, and failing, at both.
Mamachas Del Ring reminds us that the fight, literally and figuratively, isn't over for women. The price of following our passion, for artists everywhere, is high. And that we do it, not because we want to, but because something within us gives us no other choice.
Mamachas Del Ring can be seen at the New York International Latino Film Festival July 29th and 31st
And at a 92Y Tribeca Screening August 5th