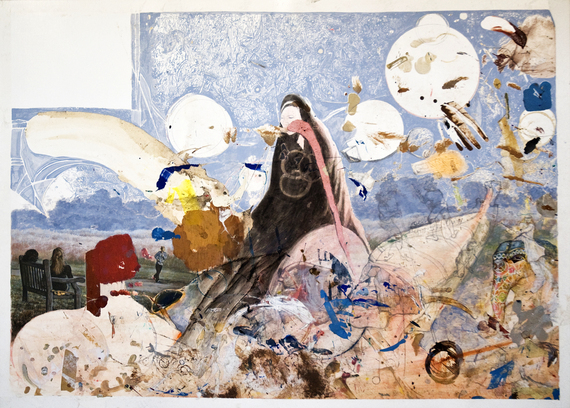 Tom Hooper, The Ecstasy of St Teresa (2012), mixed media, 30 x 40 inches
This is the first of what I hope will be a series of features or interviews that focus on the 'Behind the Scenes' talent that transforms, in a variety of ways, the sets we see on television shows and series, in movies and documentaries, on theater stages and in the backgrounds of commercials: Local 829's Scenic Artists.
If you don't already know, there are tens of thousands of artists living in the New York Metropolitan area and only a select few; usually the wealthiest and most culturally connected can actually sustain a full time art career. The rest of us must balance family, work and the related responsibilities with the demands and time needed to sustain a fine art career in order to feel whole. As a scenic artist, one is able to stay connected, working side by side with many other fine artists who too, have a found a way to make it work.
One of these multi-faceted artists is Tom Hooper, who, among other things, is the on-set, camera scenic for The Dr. Oz Show. In his position, Hooper must be ready and able to create anything in 2- or 3-D to illustrate, convey or enhance the message of any given topic or show. Where it gets really fascinating for me is the crossover between the fine art career and the machinations and resulting minutiae of his illustration board-covered worktable. This particular area is the nerve center where Hooper and various other scenic artists do anything from mixing colors, testing or applying effects and techniques to noting an address or phone number. Over time these boards, which range in size from 30" X 40" to whatever can fit into a smaller designated workspace, bear a variety of colors and marks such as fingertip applied dashes of color sample tests, circular rings from coffee cups and over-spilling paint cans, pieces of wayward gold leaf, collaged fabrics and wallpaper, errant paint and stain spatters and straight-edged razor cuts - it's all the basic collateral surface assault that inspires Hooper's iconography.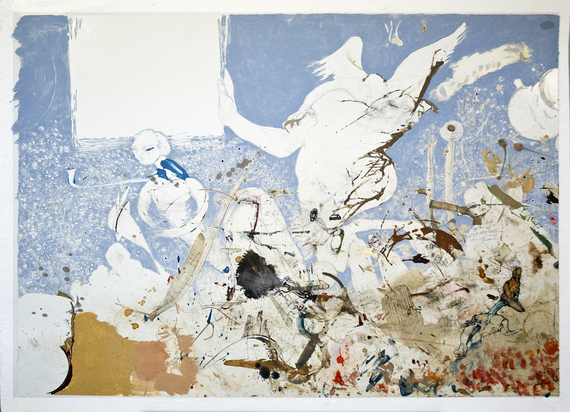 Tom Hooper, Feathered Nation 2 (2011), mixed media, 30 x 40 inches
While at his day job, when functioning as a camera scenic for various TV and movie productions, Hooper will experience long spans of time standing by. Conversely, this is when things start to ramp up in the way of translation and interpretation as the fine artist within him emerges and begins to clarify shapes, forms, perspective and space on these 'used' workspace surfaces. Driven by his instincts, which are feed by responsive messages from his subconscious, Hooper starts his journey into the realm of collective consciousness as he heads towards unexpected narratives. Sometimes with pen or pencil in hand, other times with a full palette of acrylic or watercolors, Hooper adds connections or isolating areas to accent characters and objects with little or no preconception or plan - something like the way a jamming jazz musician riffs or a butterfly flies. At work and later in the studio, Hooper will complete his vigorous visual vignettes all while keeping the general feel of most or all of the original, unintentional visual contributions whole or somewhat intact.
The results are endless: a sultry sun rises celebrated by new moons; a visionary saint watches over a menagerie of moments; cultures collide in loosely connected waves and washes; figures lurk and loom as multiple horizons appear; details and features intensify as textures emerge or recede, all while an unplanned other-worldliness moves to the fore.
Tom Hooper, Garden (2014), mixed media, 19 X 44 inches
The closest one might come to these most original visions that combine the classic with the contemporary are the works of Max Ernst who too experimented with numerous processes, specifically decalcomania, where recognition and resemblance were brought out with a clarifying sky or a carefully placed eye. In Hooper's case, the clarifications come by way of line, the embellishment of color or an occasional step back into reality where the viewer can take a moment to regroup before diving back into the timeless, waking dreams of the artist.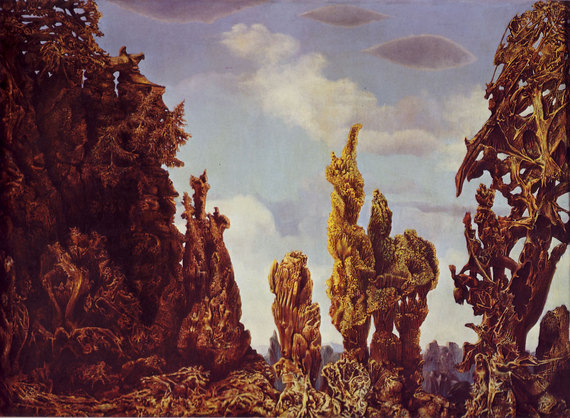 Max Ernst, The Fascinating Cypress (ca. 1939), oil on canvas.