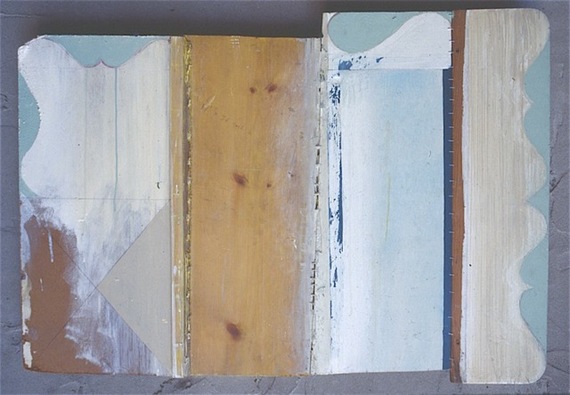 Moses Hoskins, Untitled (1995), wood, masonite, sutures/staples, paint and drawing media, 30 x 40 inches
I was first introduced to Moses Hoskins by Eileen Costello, Ph.D. in 1995. He resided in NYC for seven years at that time, having moved from Iowa in 1988, as his art had already caught the eye of a few serious art professionals. This was a time of a vastly changing art scene in New York. The way I remember it, the Madison Avenue Galleries and 57th Street Galleries were holding strong, but the East Village Art Scene had pretty much run its course the decade before. SoHo had staged something of a come back as its galleries migrated farther and farther east to and past Broadway, efforts that would inevitably fail due to a variety of factors including the eventual success of Chelsea, which, at that time was still in its infancy, while more and more galleries started opening in Brooklyn and a few more were added to TriBeCa and the Lower East Side.
This was also something of a difficult period financially for many who would buy art with the S&L Crisis and the boom and bust in the real estate market. With all this turmoil and the changing art scene Moses never flinched. Then, as always, he continues to paint, assemble and collage works that inspire the mind and sooth the soul. After getting to know him a bit more each time we met, I became fascinated with his process, his aesthetic and his passion for art making. Never at a loss for words or an opinion, we had many stimulating conversations over the years and I consider him one of the most under-recognized and under-rated artists of today.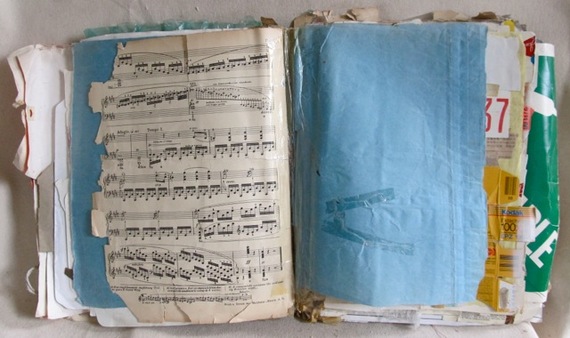 Moses Hoskins, Book of Debris series (1995-97), found collage media, size variable
Over the years I've incorporated Moses' art in a number of shows including Champions of Modernism: The Art of Tomorrow/The Art of Today, a show that traveled from 1996 to 1998 to five institutions including the Gibbes Museum of Art and Obsession (Food) (1998). More recently, I paired one of his collages with the work of Elise Freda in a group exhibition at Causey Contemporary titled A Tangled Web, which opened in December of 2014. Coming up, I included two of Moses' paintings in Through the Veil of the Soul, a group show that opens in mid January 2016 at Galerie Protégé in Chelsea.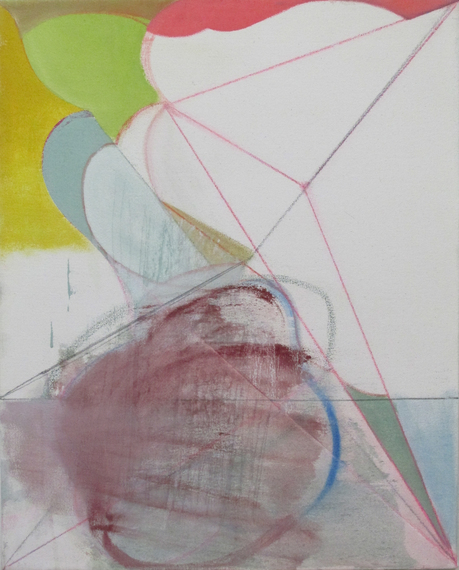 Moses Hoskins, Untitled (2015), painting and drawing media on canvas, 20 x 16 inches
The following is a conversation I had with Moses that will, I hope, bring much needed attention to his outstanding output of art and imagery.
DDL: When we first got together back in '95 I asked you how you choose your colors for your paintings and you said something along the line of 'whatever I find in constructions site dumpsters, of near empty or half full paint cans I'll use.' Add to this your Book of Debris series where you save all the bits and pieces of detritus you find while walking from place to place, then adding it in chronological order in book after book and I came to realize you were something of an urban archeologist. Do you continue this process today?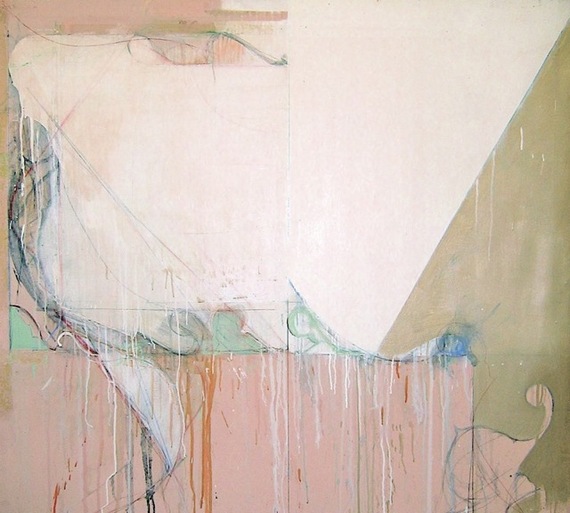 Moses Hoskins, Untitled (1995), painting and drawing media on canvas, 59 x 60 inches
MH: This is a good enough question with which to begin our dialogue, as it is from the time we first met and you began your acquaintance with my work when I was actively engaged with making the Books of Debris. To get back to your earlier comments, most of my work is rendered from real 'Art Supplies' - although, this past summer, in an effort to tidy up some, I did do a couple of collage series from stuff I had somehow managed to accumulate (again).
DDL: Over the years you've worked largely with subtle, albethey unique color combinations and, for lack of a better term, graceful shapes in your paintings without expressing what could be called a narrative while your collages, for the most part, project something like a vignette or episode.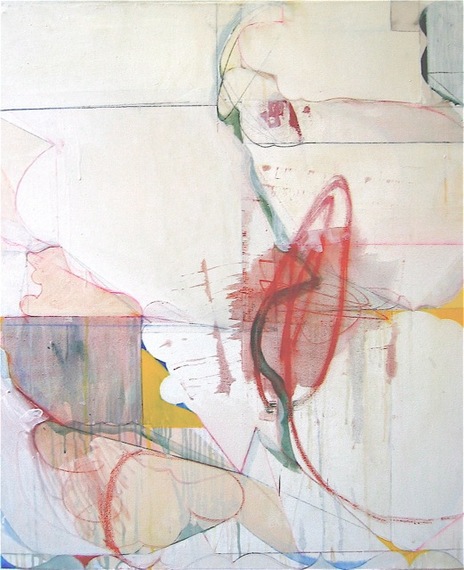 Moses Hoskins, Untitled (2005), painting and drawing media on canvas, 36 x 30 inches
I guess what I am driving at is the source of the shapes or contours in your paintings. There may be some representation there, perhaps architectural details mixed with biomorphic forms - is there something there, or are we looking at total non representation with the paintings in general?
MH: Yes, there are combinations convening. These juxtapositions of imposed rigidity, fleshliness and atmosphere would be overall nonrepresentational, movement/formation (activity) in a void. Perhaps it may appear to some there is an idea involved but any reference would be oblique, hence, again, nonrepresentational, not necessarily physical or drawn from nature as may be assumed in the visage of a piece. I don't title the work and leave any choices to the viewer if there is a desire for that. Producing artwork is my preferred way of filling/'spending' time.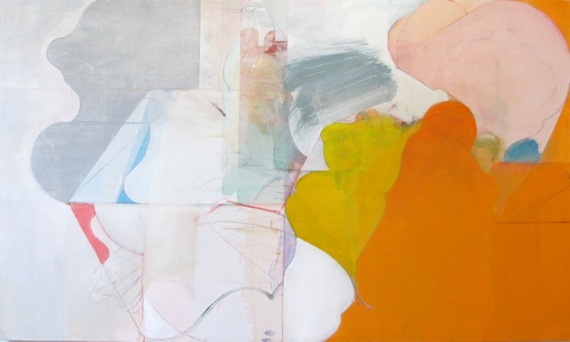 Moses Hoskins, Untitled (2007-12), painting and drawing media on canvas, 36 x 61 inches
DDL: I'm glad you mentioned movement, as this is the one common element throughout all of your work. This, I believe, is what keeps the eye both moving across and fixed to your work. It's also important to note that you often draw with pencil and other materials as much as you paint on your canvases. This adds a certain insight into your thinking of how you adjust the form and space. Back in 2004, while doing a studio visit with one of the truly remarkable painters of our generation, Gary Stephan, I asked him how he came up with all the odd combinations of shapes he used in his paintings. In response he just walked over to the big window in his studio and looked out, pointing to a mishmosh of non-organic details throughout the surrounding inner-cityscape of New York's constantly changing lower west side and said something to the effect that 'it's all out there'.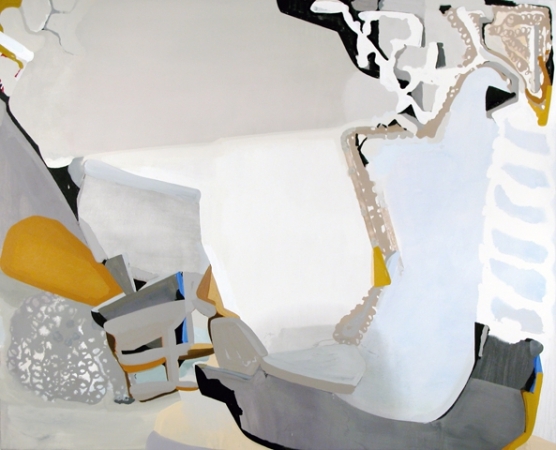 Gary Stephan, Shipwreck - early (2004), acrylic on canvas, 56 x 70 inches
In your work, I think it is more of a combination of organic and manufactured form that may be rolling around in your subconscious. With all this said, are there any artists that you occasionally look to for inspiration who make their art much the same way you do, or totally differently than you do but garner a level of energy, beauty or depth you aspire to achieve?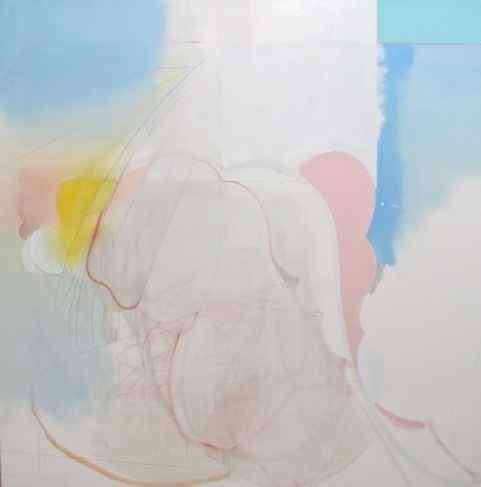 Moses Hoskins, Untitled (2013), painting and drawing media on canvas, 54 x 54 inches
MH: Truthfully, the longer I am at it, the less I pay attention to what others are doing to such an extent that I am not very knowledgeable of what is getting shown contemporaneously. I guess I must not be very interested and figure I have my own row to hoe. However, I do engage in personal associations with a few artists and am aware of what they do. I do not peruse the art magazines for stuff du jour. Occasionally, I will randomly visit any of the myriad galleries extant in the metropolitan area. I recall that I did enjoy a recent Morandi show in one of those-big-deal galleries as much as anything I'd seen in a while - but he would not have directly influenced anything I do. Regarding any really good art, it is like the judge said about pornography, "I know it when I see it," and I do continue to enjoy regular museum visits.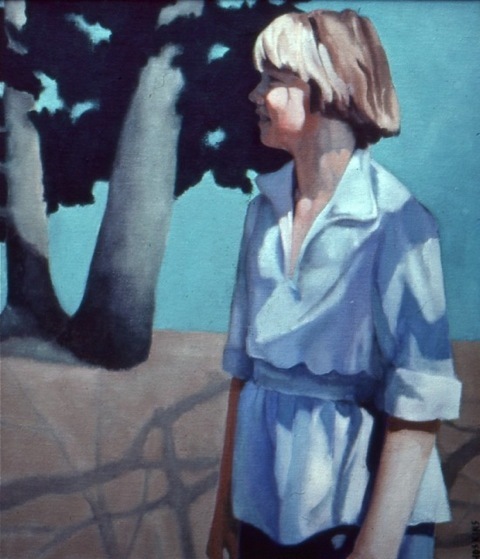 Moses Hoskins, Portrait of Anne (1975), oil on canvas, 18 x 14 inches
I came/come from a figurative background. In grade school the predominant exposure was to Grant Wood as he was the preeminent native son and when I was younger than that I gained some exposure from a coffee table book of masterworks from the Louvre that my parents had gotten from the Book of the Month Club. I began drawing at an early age, the same as most artists, I suppose. A sweeping list of favorites throughout my life in no particular order/sequence would include Hopper, Braque, Giotto, Michelangelo, Tiepolo, Rubens, Rembrandt's drawings, Bacon, Ensor, Degas, Blake, Velázquez, Der Blaue Reiter artists, Marsh, Goya, Chardin, Whistler, Matisse, Picasso, Gris, Léger, some Surrealists, many of the Ab-Ex people & some Minimalists, Cubism in general, and all those Sienese icon painters, plus Vuillard and Bonnard, Bruegel, Hartley, Rosenquist, Stuart Davis, etc. I never did care much for the Impressionists aside from Degas and I am not inclined at all toward Conceptualism, evidently currently all the rage, according to what I am ascertaining from the popular drift. I apologize if this is too much of an answer as I could go on, but won't. In short, I couldn't really say there was ever a focused specific influence.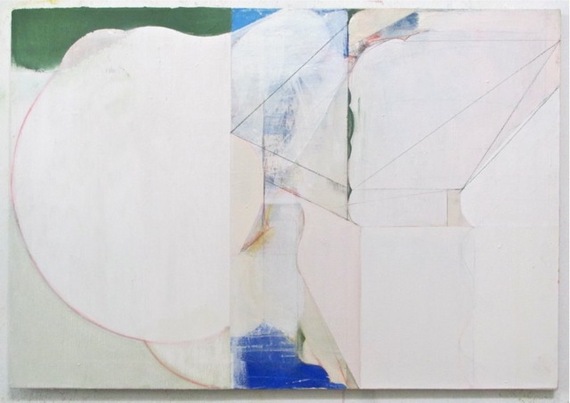 Moses Hoskins, Untitled (2015), painting and drawing media on canvas, 22 x 32 inches
I began painting "abstractly" a couple years before I came to NYC. No doubt, the new (to me) urban environment contributed to developmental changes and the work began shifting from landscape orientation, adding contextual architectural ornamentation (phrieux-phrieux) with suggestions of structure and also more figural presence. As an addendum to this, several years prior I had begun as a portrait painter. My last stint at formal education was at a school with a strong drawing department and I spent time there refining facility in that area incorporated in the work I do now.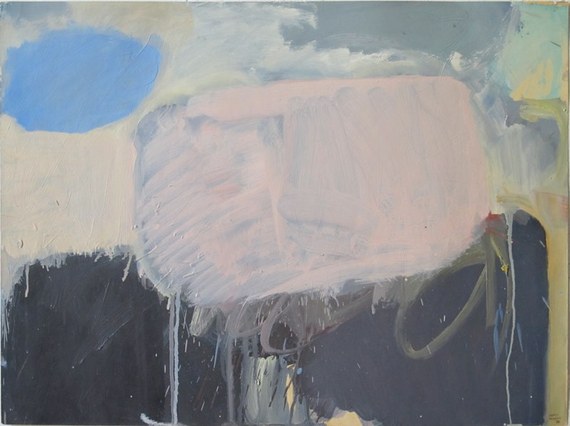 Moses Hoskins, Untitled (1987), oil on shellacked paper, 18 x 24 inches
DDL: At this point I would like to take a look at your collage work. I guess it would be difficult not to have a narrative in some of the works, as there is representational imagery in the stickers, packaging or wrapping and magazines you find and attach to your paper. However, you still manage to keep things rather nebulous as you emphasize movement and composition in these pieces. I can also say there is a bit of humor in these works, a difficult element to control yet you do so with a nice handle on the lighter overtones while still maintaining a sense of depth and seriousness. Are there altruistic or sociopolitical contentions or intentions with the collages, as there never seems to be a lack of debris that riddles the streets on NYC?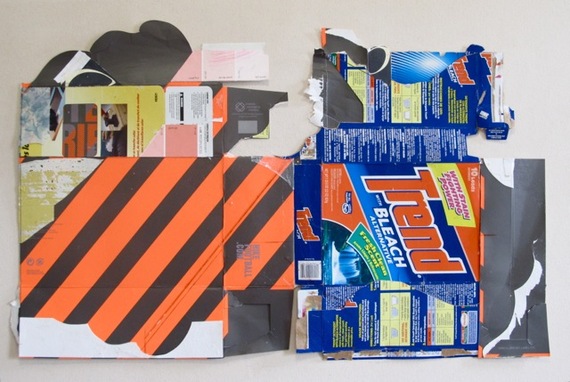 Moses Hoskins, Untitled (2012), paper trash collage, 21 x 34 inches
MH: Yes, there are implications by default but I am not a political artist. That would be too much like propaganda or fawning to the political correctitude of art world machinery. Some collage work infers "content" as per inflicted from the yackety-yackiness of packaging and advertising materials - but overall, my emphasis is aesthetic. If I included a picture of a tree would that make me a naturalist?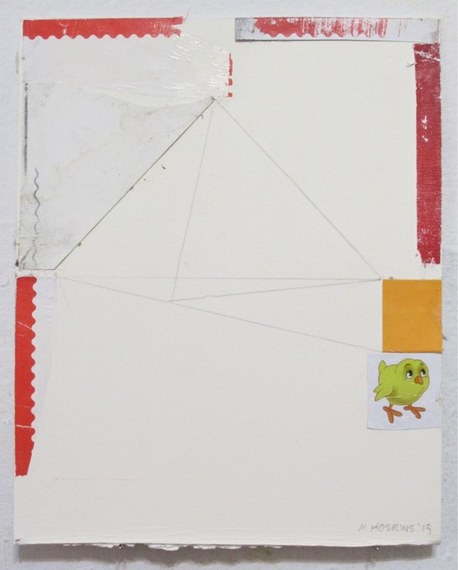 Moses Hoskins, Untitled (2015), drawing and collage media on matboard, 10 x 8 inches
DDL: Ha Ha, no I don't think so Moses. You're way beyond categorization. This is great and a nice place to end our discussion. See you at the opening of Through the Veil of the Soul.