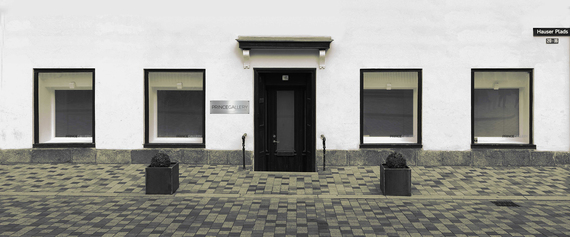 Prince Gallery, Copenhagen, Denmark, photo courtesy of Prince Gallery
It was this past March, when the art fairs hit NYC in a big way. An artist whose career I have been following for some time, Bendel Hydes, wanted me to meet someone who had just opened a gallery in Copenhagen. This would be Eric Prince's second gallery - his first was in the early 2000s in the Medieval Village of Pezenas, France, a highly conceptual space that went totally against the pre-existing gallery model by never falling into any pre-set notions about time or schedule making the exhibitions very fluid, organic and surprising.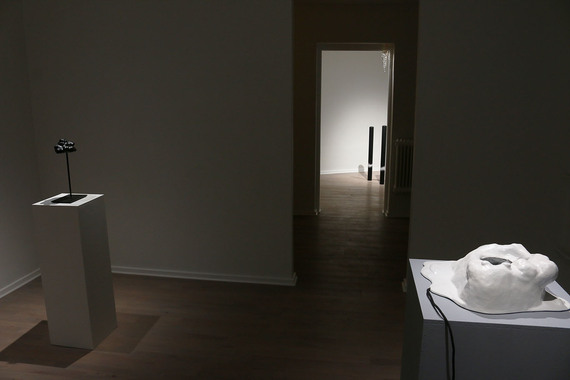 David Nilson, Into the Slumber (installation view), photo courtesy of Prince Gallery
There have only been a handful of exhibitions to date at the new Prince Gallery, though I can loosely describe the program there as process oriented, Socio-Conceptual, with tinges of the dream state and humor, albeit dark at times. Our studio visit went well as two slots had opened in the gallery's schedule: a brief two-week spot in the second half of May and one full slot in the month of August. It was later decided that I would take both openings, mounting exhibitions that featured the late Post Apocalyptic Tattoo series of Graffoos, specifically the Tattooed Tokyo eleven archival prints, a small selection culled from the over 1,000 India ink Heads, and a number of paintings in the Graffoo style.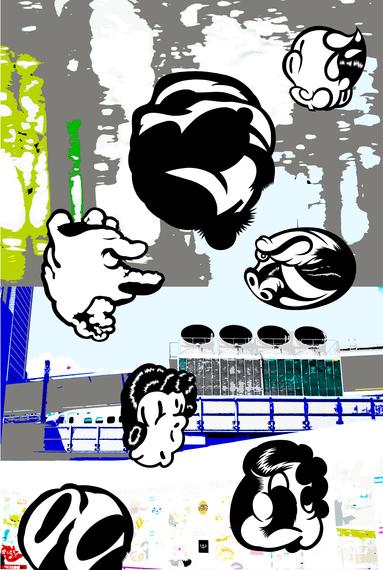 D. Dominick Lombardi, Tattooed Tokyo #12 (2009), archival pigment print, edition of 15, 24 x 18 inches (61 x 45.75 cm)
Sure, March/April is late to be booking a show in May and August but that's the way it works sometimes. As an artist you always have to be ready and open to any possibility, especially a one-person show in Scandinavia.
The process of creating this exhibition has been fun in an edgy sort of way working with someone who has an eye for art and a mind for the non-conventional. The following Q & A with Eric Prince is my attempt to delve a little deeper into the gallery's mission and to shed light on the selection of art for Tattooed Tokyo: a Combination of Factors...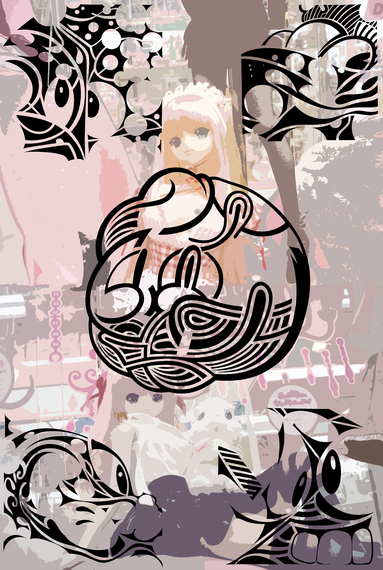 D. Dominick Lombardi, Tattooed Tokyo #10 (2009), archival pigment print, edition of 15, 30 x 20 inches (76.5 x 51 cm)
DDL: It would be great if you could express some of your thoughts and ambitions for your new gallery in Copenhagen, and perhaps, how you select your artists and what you hope to bring to the local dialog regarding Contemporary and Modern art.
EP: Yes, the concept behind Prince Gallery is to play with conventional thoughts and hierarchies within a space where we mix emerging artists with established artists. This may sound like nothing new, however being an artist myself, I have an eye and mindset for the other artists that seems to allow freedom and originality to be put into the exhibitions. For a commercial gallery this doesn't always equate into financial success for the bottom line, however we stay true and open to ideas.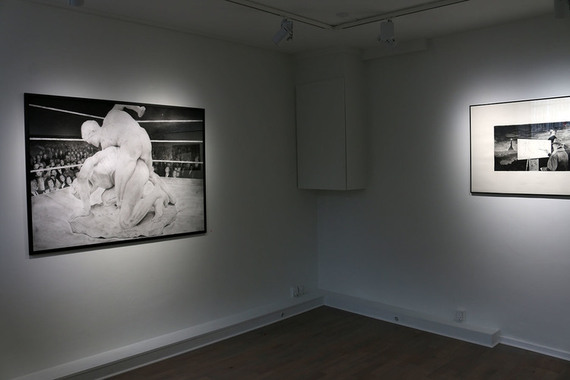 Atlas (installation view), Drawings by Duarte Filipe & Luca Bjørnsten, photo courtesy of Prince Gallery
DDL: I like your thinking. If you were in New York, people would think you were operating more like a non-profit or museum than a commercial gallery. The works you've selected for my exhibition are based on very specific concerns about the environment, and more specifically, how the increase of disturbing environmental issues and chemical pollutants affect our health causing illness and even unnatural mutations. That's why, even though the prints, paintings, drawings and sculpture are somewhat softened by the aesthetics of what could be referred to as the "Lowbrow" aesthetics of graffiti or tattoo that there are very serious underlying issues about our future and well being in a world where profits are valued higher than the general health of all living things. I am assuming this is a much bigger concern in the U.S. with all of the "Big 6" pesticide and GMO corporations than it is in Denmark where you and 18 other EU members have officially said no to GMOs. Given all this, what do you think the response will be in Copenhagen to the representation of weirdly mutated heads?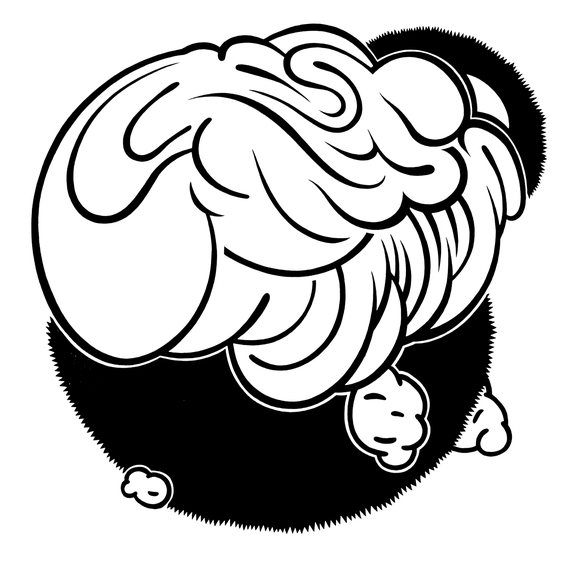 D. Dominick Lombardi, Head #1,035 (2004), India ink on acid free paper, 14 x 14 inches (35.5 x 35.5 cm)
EP: Your works are incredibly relevant to the current topics facing every country and government throughout the world. Although I think Denmark is progressive on some of these topics you mention, I think we have only begun to really start thinking with much more innovation to come. Your work stands as a reminder and interesting take on what is, could be, and to come if things don't change. On an aesthetic note, they do have a beautiful quality of craft and intrigue that allows for a visceral current appeal that doesn't present itself in a fatalistic seriousness. Simply put, I think people will dig them first and think about what they are really saying after.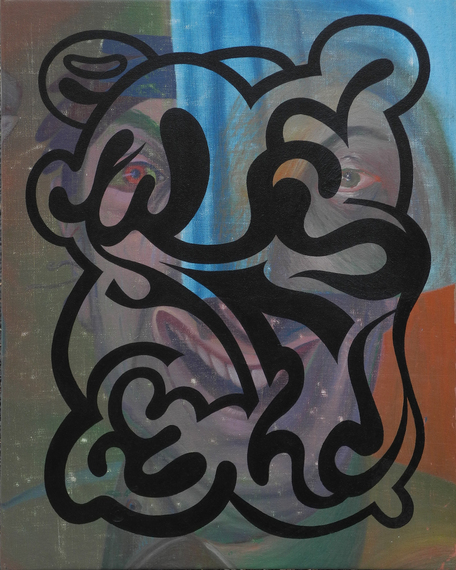 D. Dominick Lombardi, Tattooed Man #9 (1986 & 2007), oil and alkyd on previously painted canvas, 20 x 16 inches (51 x 41.75 cm)
DDL: I'm happy to hear you feel that way about the work. You can't get a message across until you get people's attention. It is also about the process, having made something that took time, thought, problem solving and tedious technique. I think that's why I rarely paint loosely or expressively, a trend that has only intensified over the past 20 plus years. Beginning with the Reverse Collage series I went for that hard edge, a desire and skill that carried right through the Post Apocalyptic Tattoos and Graffoos.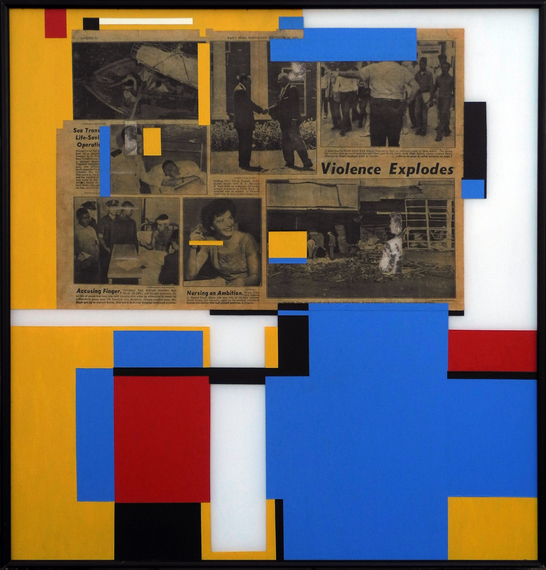 D. Dominick Lombardi, Reverse Collage #10 (1995). acrylic and transferred vintage newspaper ink and pages on Plexiglas, 30 x 28 inches (76.2 x 71 cm)
Even with the more recent Urchin series, which are primarily sculptures, the Shift Paintings and my current Cross Contamination series I have maintained that love of process, getting lost in the making of things. After all, the studio is the only place I have almost complete control of what happens. I believe that's why I feel I am able to 'connect' with the collective unconscious. I get so involved in what I am doing that my mind opens up and I can receive information I would not normally be exposed to. It sounds corny, I know. I've even had rare, out-of-body experiences in the studio from time to time, looking at myself from above for a fleeting moment. So yeah, I want people to stop and look at my work, and if you want that, for viewers to spend time with looking and thinking you have to give them something to look at, even if it's not in their aesthetic wheelhouse.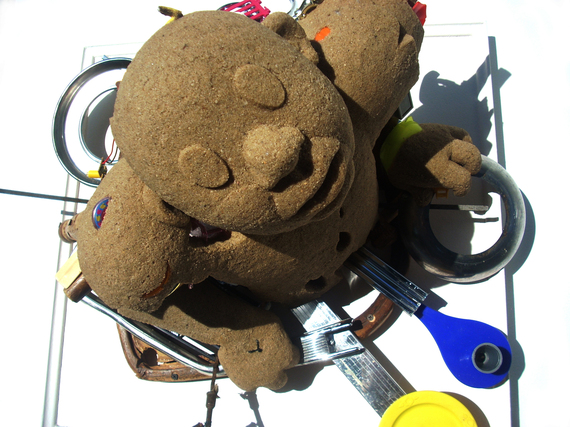 D. Dominick Lombardi, Urchin #24 (2010), sand and acrylic medium with objects, 28 x 30 x 20 inches (71 x 76.2 x 51 cm)
One other long-standing thread in my work is the challenge of combining the so-called low and high arts. I grew up with Mad magazine and Zap comix, and National Lampoon magazine so expressive drawing and off-beat humor will always color my work. It's a dangerous line to walk along, the edge that divides the low and the high, especially when you add humor. But I think you can reach more minds with the right combination of aesthetics to cut through the confusion of so much visual data hitting us from all angles, and I have a feeling you appreciate that understanding pop culture as much as I do.
EP: For sure, like most people in the arts and art business I travel to meet with new artists and view new exhibitions. I always find it interesting on how the different regions and countries I visit resonate in the art works. I find it interesting and completely natural to see, in the case of your work coming from New York, elements of pop and the pollutants of commercialism. The art world today seems to be blown completely open where "everything goes" all of the time. Therefore, I am bewildered at art snobbery and the highly speculative art market on how "Low" and "High" art is received. Anyhow, "Keep on trucking"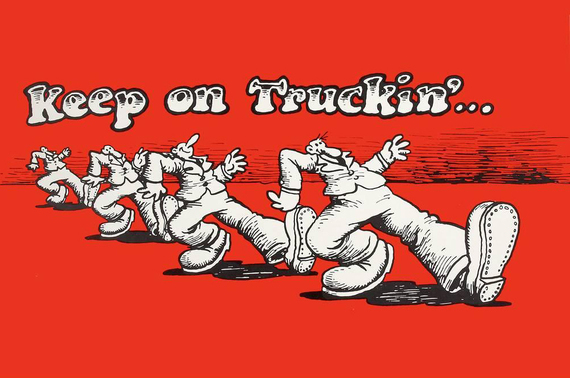 R. Crumb, Keep on Truckin', 1968
DDL: I love it. I had a "Keep on Truckin'..." poster in my room growing up. And sure, New York would be more influenced by popular culture than a sparsely populated rural area, but, almost everyone is 'connected' today and I suspect one would have had a much more focused scope of experience, interests and smarts growing up in a city in the mid-to-late 1950s and 60s than someone now would have growing up on a farm with their 'Googling Machine' ever-present in their pocket. It's like a poet I once knew, who was often heard saying, "All art is political", meaning, it just depends how you look at things - your agenda - how you process or filter information. That's what forms personal views and aesthetics.
I grew up in a blue-collar household. My father's side of the family loved telling funny stories - not jokes - but funny stories about each other. My father's father, who turned his entire front yard on a city street in Yonkers, NY, into a lush and bountiful garden constantly composted and grafted multiple fruit-bearing trees. My first job was working with my father and grandfather on Saturdays and summer days pulling rusty nails from salvaged wood and straightening them on flat rocks, then cutting off the rotten ends of the wood so the nails and wood could be used again. I can remember seeing my grandfather watching wrestling on his small black & white television. It was hysterical - he would constantly be jumping up off his seat mimicking the movements he saw - hoping his favorite wrestler, Bruno Sammartino, would win the match. Even then, we all knew it was fixed but no one cared. My father's mother loved to cook dinner for all of her children and their families every Sunday - she loved to laugh, hated violence and often displayed frustration wondering why people would refuse to put aside their differences and just get along. All those things had an affect on me consciously and subconsciously because that was my formative years, free of social media, and much less aware of global culture. The influence of localized popular culture, maximizing your land and resources, family gatherings and forming alliances with people who shared common goals are some of the reasons why I make the kind of art I do, and why I curate and write so much.
The Post Apocalyptic Tattoo and Graffoo series incorporate the repurposing of materials while focusing on an overwhelming concern for our suspicious food and water supply. The Urchin series is about the marginalized people and pets that are sent to the streets by economic downturns that have no effect on the wealthiest.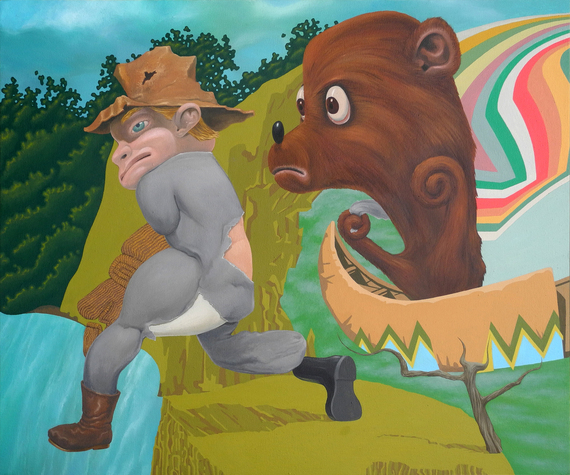 D. Dominick Lombardi, The Conjuror (2014), acrylic and oil on canvas, 30 x 36 inches (76.2 x 91.5 cm) (Shift Painting)
The Shift Paintings reveal an overwhelming conscious will to connect with the collective unconscious and the works of the Cross Contamination series return to the repurposing of materials and the manifestations of religion and spirituality.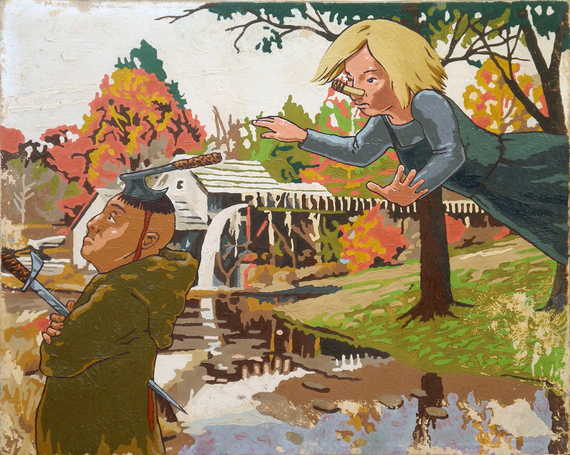 D. Dominick Lombardi, Saint Peter the Martyr and Saint Christina the Astonishing Down By the Old Mill Stream (2015), oil on previously painted vintage Paint By Number (c1962), 16 x 20 inches (40.6 x 50.8 cm) (Cross Contamination Series)
My point is, we all have our unique path - we all have our beliefs and we all have goals. My general direction has and will always be to have some sort of meaningful content in my art delivered in a way that at least in the beginning, most can enter the 'dialogue'. Whether or not they inevitably like what they see or agree with me is not important as long as the connection is made and the awareness is passed along.
You must have some thoughts about where you'd like to be in five or ten years with the gallery. I know in the past you have exclusively shown Scandinavian artists, whereas I am the first artist showing at Prince Gallery from New York. Is this a trend to open the scope of you gallery's program?
EP: Yes, being from the USA and having ties in various cities and to artists there, I always have had plans to bring international art to Denmark. My only real plan is to find interesting solid art. I simply go with my instinct and hope my obvious interest and passion presents itself. I am honored to have you as our first artist from New York and look forward to a great exhibition.
The first of two exhibitions opens May 13, with a reception from 6-9pm. That first exhibition closes on May 28. The exhibition re-opens with a reception on August 5, from 6-9pm, and closes on the 31st. The gallery is located at Hauser Plads 16 A, 1127 Copenhagen K, Denmark. Gallery hours are Tuesday - Friday, noon - 4pm and Saturday from 11am - 4pm. For more information please call +45 42 61 78 50, email info@princegallery.dk or visit the gallery's website http://princegallerycph.com/.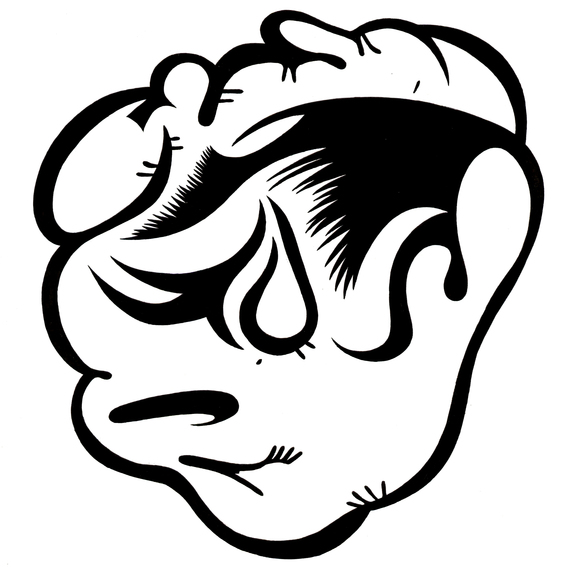 D. Dominick Lombardi, Head #942 (2004), India ink on acid free paper, 10 x 8 inches (25.4 x 20.3 cm)