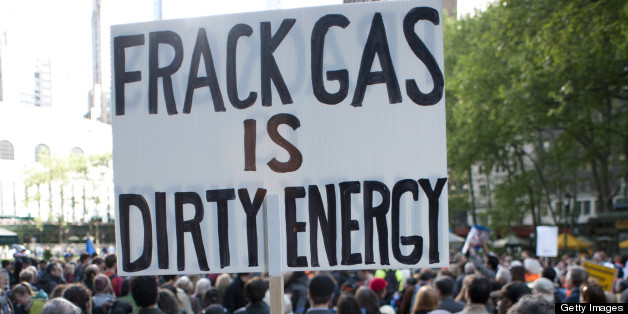 If you've noticed the rhetoric about the Keystone pipeline heating up lately, it's because the folks at the American Petroleum Institute are getting nervous.
The 500-member oil and gas industry group is behind the current "What Does it Take to Make America Run?" TV campaign seen during important broadcast news programs -- including on PBS. And that's just one of a long line of TV and print ads; the group also spent $7.3 million on lobbying last year, according to the Center for Responsive Politics.
But fighting a four-year PR battle against the reality of climate change isn't easy, so API brought in the big guns by hiring National Rifle Association lobbyist Christopher Rager
on May 2. Since the NRA was able to kill something as ambiguous as background
checks while the smell of gunpowder still lingered after the Connecticut mass shooting, API has apparently embraced their tactics.
The bigger picture in what prompted this move is that Jack Gerard, president and CEO of API, was a Mitt Romney backer -- hoping for a White House or Cabinet post -- and used the multimillion-dollar "Vote 4 Energy" campaign to support Romney. Within weeks of the 2012 election defeat, the miffed API regrouped with a new TV campaign targeting Senate Democrats up for re-election in 2014.
During API's annual State of American Energy speech January 8, Gerard also kicked off the "Investing in America's Future" campaign, stating, "The success of this industry means enhancing our energy security, our economic security and our national security."
Though President Obama left the Keystone project out of his State of the Union address on February 12 while mentioning the need to tackle climate change, the March 1 State Department determination that Keystone would have a minimal environmental impact boosted API's impetus and the group supplied the U.S. Chamber of Commerce with materials to counter climate change "misinformation" from Keystone opponent "fringe groups."
But then the oil industry had another BP Moment: A ruptured Exxon Mobil pipeline on March 29 spilled tar sand oil into the streets of Mayflower, Arkansas, prompting API to frantically go into spin mode during the first couple of weeks of April to squelch any connection between the spill and Keystone.
Then another balloon popped on, of all days, April 22 -- Earth Day. The Environmental Protection Agency denounced the State Department's review as "insufficient" just as the public comment period ended, casting further doubt on the project.

The final poke in the eye came a few days later on April 26 when Alberta-based TransCanada Corp., in issuing their first quarter report, said the Keystone delays forced them to push back their estimated startup from late 2014 to late 2015, as well as increase the original $5.3 billion construction cost.
A week later, NRA lobbyist Rager was on board at API.
Rager had served President George W. Bush as director of legislative affairs with the U.S. and Foreign Commercial Service, and as deputy associate director for the White House Office of National Drug Control Policy.
Some of Rager's greatest hits include a February 22 video explaining why the NRA opposes background checks. And in acknowledging the decades-long NRA-supported ban on the Centers for Disease Control and Prevention from conducting gun violence studies, Rager was quoted March 10 saying, "It in no way means gun violence can't be studied, we just don't want propaganda to be funded with taxpayer dollars."
If gun violence studies are "propaganda," I wonder what he calls environmental studies?
Despite the fact that the oil from Canada would be shipped through -- not to -- the U.S. for export overseas and primarily benefit Canada's economy, you can expect to hear more PR about "energy independence," "national security," "sensible" energy policies, while labeling Keystone critics as "fringe groups."
In fact, the House of Representatives is set this week to vote to authorize a Keystone bill -- "in the national interest" and "to lessen dependence upon insecure foreign sources" -- through a strictly symbolic move, much like voting against "Obamacare" 37 times.

And speaking of "fringe groups," 11 Native American tribes had the audacity to walk out of a meeting with federal officials in South Dakota on May 16, calling Keystone "environmental genocide" and demanding President Obama negotiate directly with them.
Pipeline opponents consider Keystone the key (if not final) test of Obama's environmental commitment over his past lip-service. That's because deciding whether it's a good idea to allow 800,000 barrels of Arkansas-spill-type oil tar from Canada to cross six U.S. states is not some fluffy "Green" initiative that can be staffed-out, like gas mileage increases or energy conservation.
It's also a chance for the president to acknowledge his spread-too-thin "all of the above" energy policy -- designed to pacify everybody -- isn't working and concentrated leadership towards a sustainable, decentralized energy policy may be the only real way to attain "energy independence."
Even though Obama's "grassroots" Organizing For Action is refusing to help activists challenge Keystone, the president may get off the hook yet.
One signal came last week when Secretary of State John Kerry, while in Sweden
attending the multi-nation Arctic Council, said he wished the U.S. made more progress on climate change.
"I have to say that I regret that my own country -- and President Obama knows this and is committed to changing it -- needs to do more and we are committed to doing more," Kerry said at a May 14 press conference.
One can only wonder if, by some fat chance, the State Department or the president actually kill Keystone, how the new NRA-powered oil lobby will react:
"Lock and load, the Keystone Cops are coming!"