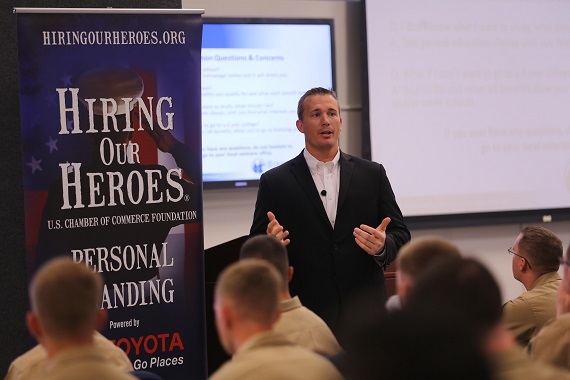 Image by Cpl Grace L. Waladkewics
This past Veterans Day, I posted a challenge to my fellow service members and veterans. I told them it's on us. It is our responsibility to be as prepared as possible when we make that jump from the military to the civilian world. And in challenging them, I also challenged myself. I set a goal for me and my team to reach as many service members as possible with this message: take control of your transition.
Through my work with Toyota and Hiring Our Heroes, I have seen a lot of veterans find jobs, start businesses, and go back to school after the military. Unfortunately, I have also seen veterans who were unprepared for the transition and faced uncertainty about their futures. I realized that all of the resources we were sharing with these veterans needed to be shared with current members of the military who would soon be in their shoes. The sooner we reached them, the easier their transitions would be.
I sat down with both teams, and together we developed a tactical transition workshop geared towards service members 12 to 18 months from getting out. Having faced my own post-military frustrations, I have worked for years since then with veterans facing the same issues. What are the things I wish I had known when I got out? That question drove the creation of the Hiring Our Heroes Education Tour, a nationwide effort to get our service members thinking early and seriously about their next steps.
I am pleased to report that we launched the 2015 HOH Education Tour earlier this month to more than 470 Marines at Marine Corps Base Camp Lejeune and Marine Corps Air Stations New River and Cherry Point.
After the first opening question, I knew we were onto something: "What scares you most when I say the phrase -- life after the military? Take a minute and write down the first few things that come to mind." It took more than a minute, but those pens started scribbling down the same fears and uncertainties I knew well. By the end of each class, these service members may not have had all of the answers to their questions, but we gave them the tools they needed to figure it out.
Working with my co-trainer, TSgt. Virginia Brewer, we focused on helping each Marine better understand the value of his or her military experience and build that into a strong personal brand. We made sure they understood the different paths open to them in the civilian world: employment, education, entrepreneurship. Still, the call to own their transition and take responsibility for their lives was clear. These were opportunities they had earned, but they had to be ready to seize them.
In my mind, we were briefing them for the next fight -- and it is a fight. Although the employment situation for veterans has improved since I left the military, the most recent report from the Bureau of Labor Statistics tells me we still have work to do. The unemployment rate for post-9/11 veterans remains above the national average and more than doubles for veterans under the age of 25. Every man and woman who has honorably worn the uniform of this country has the ability to make our nation stronger. I know because they already have.
Last week, I shared my message with 60 more Marines at Quantico and soon the tour will head west to reach service members stationed at Miramar and Twentynine Palms in California. There, and at every stop after, our goal is simple: to give these men and women as much runway as possible, so they can not only have a smooth transition into the civilian workforce, but use their training and their skills to take our country to the next level.