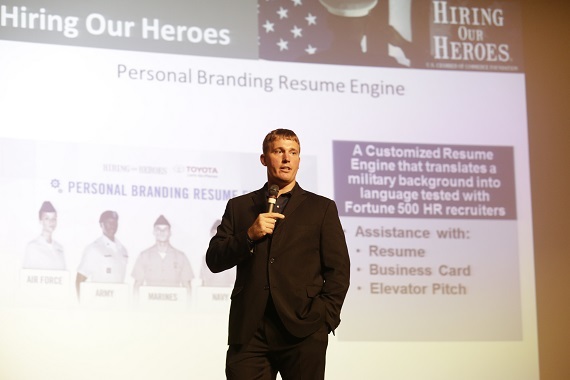 Stephen Brashear/AP Images for U.S. Chamber of Commerce Foundation
My life has changed in countless ways since receiving the Medal of Honor for my actions in Afghanistan, and there is no day where this is more apparent than Veterans Day. Perhaps that is why I have been reflecting lately on all the things that are so different now. I grew up on a farm in Kentucky before serving four years in the Marine Corps. If you had told me then that I would be traveling the world at 26, giving interviews and speeches, having people want a picture with me, I would have thought you were crazy. But that is part of what I do now, for better or worse.

Please do not misunderstand. I am grateful for any and every chance I have to tell the story of my fellow service members and to shine a light on their struggles. If people want to pay attention to me, then I am going to find a way to make them pay attention to the men and women still serving; the men and women returning and having a tough time transitioning; and their spouses and children supporting them through good and bad times.

While talking about my experiences in combat has certainly become more familiar, it has not gotten any easier. On days like today, though, I realize the importance of it now more than ever. There are hundreds of thousands of service members leaving the military every year, and unfortunately, many of them will find the transition difficult and disheartening. We all have a role to play in changing this.

Last Veterans Day, I posted a call to action for employers. This year, my message is for the veterans because it's on us too. It's on us to be as prepared as possible to make the jump from the military to the civilian world.

Over the last few months, I have had the opportunity to share this message with thousands of transitioning service members. I worked with my teams at Toyota and Hiring Our Heroes this past summer to build an effective transition curriculum based on my own experience separating from the military. We hear a lot about translating military skills so civilian employers can understand them; well, I was determined to build this curriculum using language service members understand. In the corporate world, there are acronyms that outline good project management. The same is true for the military. If you are giving a presentation to 100 Marines, as I did at Camp Pendleton in September, why not just use the most basic strategy acronym of the Corps, BAMCIS (Begin the Planning, Arrange Recon, Make Recon, Complete Planning, Issue Order, Supervise)?

It is my firm belief that the things that make service members successful in the military will make them successful in the civilian workforce as well. This curriculum is a reflection of that belief. After we introduced the class at Camp Pendleton, we took it to Joint Base Lewis-McChord in October. With every question the service members asked, I knew they were getting it. The transition process should be nothing but a series of questions. Should I go to school on my G.I. Bill or look for a job? Am I prepared to start my own business? Where can I find a mentor to support me through this process? Our goal is to get participants thinking about these hard questions well before they have to face the hard decisions.

This Veterans Day, the best advice I can give to those who are about to become veterans is to take your transition as seriously as any mission you carried out in the military. Identify your objective, and develop a plan to achieve it. Do your research, understand everything you have to offer a company, and find mentors who can help you through the process. Then execute.