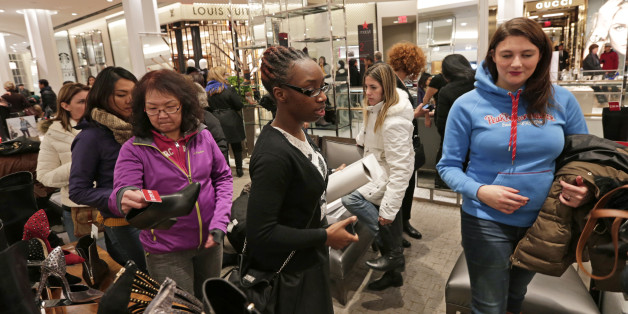 Walmart, Target, Amazon -- as usual, these were among the most sought after retailers this past Black Friday. And before the sun set on Friday evening, my inbox was already exploding with alerts on even bigger and better sales on Cyber Monday to help knock out some holiday gifts ... things, things, things and more things! Give the gift of things!

Don't get me wrong, getting things is great. Who doesn't love to get a cool, new tech gadget or a fancy, new designer handbag for the holidays? But, as research continues to show, it's the experiences we create with the things we receive and the people we experience them with that leave us far happier than the item alone. There's a reason you never see things by themselves in memory books or photo albums -- they are only as memorable as the people and the experiences that surround them.
I'm in the experience business so I'm fortunate to watch the power experiences have on people everyday. I see the studies conducted on event attendees and, more importantly, I see the emotions on their face as they leave my clients' venues. And I can say with absolute confidence that experiences of almost any kind are one of the most powerful gifts you can give to the people you care about most.
I'm certainly not the first to argue that our overall happiness is not based simply on what we get or what we have. But after years in the experience business, I know that the happiest among us are those who are continually investing in their, experiential equity -- a wealth of memories created by what we do with what we have that we build and nurture throughout our lives.

So, while you won't see this listed on retailers' websites whose core focus is simply to sell you things, I propose three core reasons why using your holiday shopping as an opportunity to invest in your loved ones' experiential equity will make this year, for you and the people you love, a magical one.

Doing > Having
Compared to having things in one's life, the incremental happiness driven by experiences trumps all. And there's data to back this up. Leaf Van Boven, Professor of Psychology and Neuroscience at University of Colorado (Boulder) surveyed more than 12,000 Americans "and found that when asked which made them happier, most respondents chose their experiential investment over their material possessions." I can share stacks of similar data that show the power of experiences like going on a vacation or experiencing the concert of a favorite band has greater impact on our overall happiness, our mental health and even our physical being. The ongoing problem, as noted in a study by San Francisco State University Professor of Psychology Ryan Howell, is that "people continue to believe that more money and more possessions will make them happy, even though 35 years of well-being research has shown that this is generally not the case."
Spent Time > Spent Money
The power of giving yourself and your time to someone you love will always beat anything you can buy off the shelf. Think about it--what child wouldn't want to have some alone time with a dad, mom, uncle or aunt doing just about anything that's focused on them? Whether it's playing with a new toy, watching a DVD in the living room or going out to a restaurant, make the usage itself an experience by giving your time--an investment in that experiential equity. The reality is great experiences don't have to be a ticketed event--what might seem like the mundane is often magical when combined with your time, energy, and presence of mind being in the moment with someone you love.

High Touch > Touch Screen
It shouldn't come as a surprise to anyone that Apple's iPad is on track to be the most popular gift this holiday season followed by gaming consoles. For kids, experiential purchases might actually have the greatest impact of all. We live in a technological ecosystem that enables our kids to remain "connected" with the world without leaving their couch. Don't get me wrong--I'm all for technology; but what I know is that while technology provides kids with amazing opportunities, it isn't a replacement for getting out and experiencing first-hand what their communities have to offer.

A few years ago, I saw a story on CBS Sunday Morning about an organization called The Jack and Jill Late Stage Cancer Foundation--an incredible nonprofit that treats parents who have received a terminal cancer diagnosis and have children living at home by organizing and funding once-in-a-lifetime vacations. These trips are actually prescribed by the parent's oncologist and provide the entire family with the opportunity to escape their day-to-day reality while creating happy, family memories. I continued to be moved by the work this foundation does and it's an example I often share with people to illustrate the power of experiences and the way we all inherently value them in our lives.
As the holiday season kicks off, let's resist the siren song of things and start a movement to give the gift of the experience by supporting organizations building this spirit within our communities and by creating opportunities in our own lives to increase the stockpile of gifts that will never expire or go out of style -- memories.