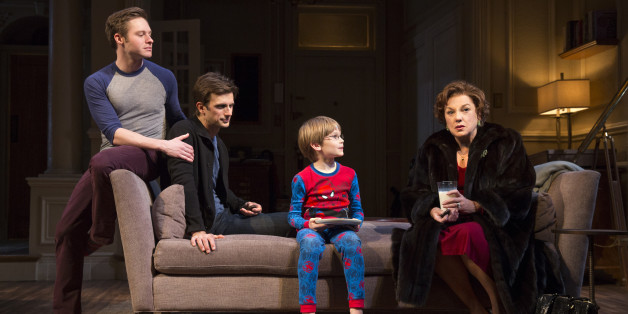 Last week I went to the Golden Theatre to see Terrence McNally's beautifully realized portrait of the "new normal" American family in his touching play Mothers and Sons. By the way, I went with my mother. And as I sat in my seat before the lights dimmed, flipping through the Playbill, my thoughts took me back... back over 30 years, to 1983.
In 1983 I was in high school living in suburban Westchester. That winter break my father decided to take me into New York City to see Broadway shows every single day (and two on matinee days!). After having been forced, kicking and screaming, into playing on different sports teams in my early adolescence, I felt an unexpected delight that my father had embraced my interest, my passion, and planned an entire week around what he must have known was my dream: to be an actor.
What he could not have known then, however, was that at age 16 or 17, I was living in a perpetual state of suppressed panic. It was a white-knuckle, hot-face kind of panic about -- what else? -- my sexuality. I didn't want to be gay. I didn't know any gay people, and there were really none that I saw on TV or in the movies.
"Please don't let it be true," I would pray each night to whatever notion of God I could conjure. I even promised to commit suicide if it did indeed prove to be true by the time I was 18. The deadline was getting closer. And to make matters worse, it was, after all, 1983, and while the AIDS story was only beginning, the CDC had already pinpointed the gay community as the target. Some even called it "the gay disease." I tried not to think about it. If being gay didn't make me kill myself, no worries: Apparently now it would kill me anyway, without me having to lift a finger. I had a perpetually sick feeling in my stomach. Although this winter break on Broadway could be an excellent distraction -- or so I thought.
Sitting in the dark theaters, watching Bob Fosse's Dancin' or On Your Toes and a revival of Brigadoon, among other plays, I was painfully aware of all the other kids in the audience -- kids like me, sitting with their fathers and mothers, delighting in the magic of the theater. I remember thinking about my future, and knowing, deep, deep within me, that I would never have that opportunity, the opportunity to sit in a theater, holding hands with my spouse and my daughter or son, the opportunity to be a father. It wasn't something I cared to think about. But the thoughts kept creeping in. "This won't be you," I kept thinking as I looked at a father and his kids. "This could never be you."
My father and I ducked into Sardi's for a pre-theater meal. We flipped through the Playbills of the shows we'd seen. He'd even kept the ticket stubs so that I could put all of them in my scrapbook. Scrapbook? Looking back, how could he not have known, somewhere deep inside, that I was gay -- and, on some level, wanted me to know that he was OK with it? Years later, when I came out to him, though, he seemed genuinely surprised. Perhaps he was, that winter break, acting on some unconscious intuition that he later repressed.
We stepped out into the bitter cold and ran, huddled close together, to the John Golden Theatre to see yet another play. This one was a drama: Night Mother by Marsha Norman. Not exactly the winter-breaky, funsy fare like Dancin' or On Your Toes, but my Dad got a good deal at TKTS and talked me into it.
As we slipped into our seats, I'll never forget how real that set was. There was no curtain. It was just there, like a diorama, as thought the wall of an actual apartment with lights and running water had been sliced off, allowing the audience the chance to eavesdrop on the real lives of these complex characters.
The play, a two-hander brilliantly acted by Kathy Bates and Anne Pitoniak, opened with the daughter informing her mother that she was planning to commit suicide. She said she'd be dead by morning. My heart was in my throat for most of the play. "That could be me," I thought. If I ever discovered that I was gay, perhaps I too would inform my mother and father that I, like Jessie, would be dead by morning.
Well, life happened. I grew up. I came out. Thankfully, I didn't kill myself. And I grew into a man who has not only a husband of over two decades but two children and a career as an actor -- often playing gay characters who are themselves married. OK, sometimes I play characters who are gay and married and have kids and also get killed off a show called Scandal over tearful protests and some humiliating begging -- but that's a story for another day.
A week ago I was walking down a chilly sidewalk with my mother and once again found myself ducking into the John Golden Theatre, as I did with my father in 1983. This time, though, it was a little different -- and by "a little different" I mean a mind-blowing, heart-stopping, pinch-me kind of different that I could never have predicted 30 years ago. We were settling into our seats to watch Terrence McNally's Mothers and Sons -- his 20th Broadway production in a long, inspiring and deservedly lauded career.
Now a bit of context here. I met my husband Don Roos in 1992. About a year later I was with Don in New York City, where he took me to the Empire Diner near 23rd Street to meet one of his closest friends: It was Terrence McNally. Having already been an aspiring actor for almost 10 years, and having studied (and done scenes by) many of the great American playwrights, I was a huge fan of Terrence's -- and quite nervous to meet him. What was I doing at a lunch with Terrence McNally?! I was in my 20s, still closeted professionally, still struggling to make a name for myself in such an elusive and intimidating business, and here I was with one of the most accomplished names in the theater -- not to mention an outspoken and inspiring voice for the LGBT movement.
Over the 21 years that I've been with Don, Terrence has been an inspiration to me as an artist, as an actor and as a gay man. It was Terrence who inspired Don and me to get "civilly united" in Vermont in 2004. Tom Kirdahy, Terrence's husband, urged us to marry in 2008 in California, telling us that for the sake of our kids we should avail ourselves of every opportunity to legally protect our union. So we did. Terrence has always led by example and through his work -- coaxing many of us to speak up and tell our stories. Our stories and the evidence of our lives today will be the history we read about tomorrow. And that fact is never more evident than in Terrence's gorgeous, heartbreaking and hilarious play Mothers and Sons.
I sat in the theater, next to my mother, admiring yet another set, perfectly designed by John Lee Beatty, like the one in Night Mother, as though the wall of an actual Upper West Side apartment had been sliced open for us to see. And there, living in that apartment, is a family: two men, husbands and fathers, and their son Bud. At long last a portrait of an American family like so many emerging over the past decade -- a family like mine! Tears of recognition, perhaps validation, rolled down my cheeks.
The play takes place over 90 minutes in the lives of two parents who just happen to be a gay couple -- and the beautifully mundane routine they've created in raising their son. When you come home after a long day and kiss your husband and put your kid in the tub, you're not thinking about the battles and struggles and lives lost in the decades-long war waged to win such basic freedoms to enjoy such mundane rights as marriage and parenthood. But those struggles -- those losses -- are merely a scratch on the surface. And when Cal (played by Fred Weller) opens the door to Katharine (played by the brilliant, heartbreaking Tyne Daly), the mother of his ex-lover Andre, who died of AIDS over 20 years ago, that history cracks open like the top to the box of letters and photos of Andre that Cal and Katharine, like us, are forced to confront.
We can't rejoice in the light of who we are now without remembering and honoring the darkness we endured to get us here. I saw myself up on that stage in the John Golden Theatre -- not just my today self, which I saw in the gay men, the husbands, the fathers, the sons onstage, but the ghost of my former self, the son I was in 1983, sitting in the same theater, weighted down in the darkness and pain of my own struggles with self-hate and the hate others had for me that made a future like the one I live now seemingly an impossibility. Thankfully that ghost is now safely tucked away in my past, and the proof of that is onstage at the Golden Theatre. Go see it. Take your mother or father. Or let your father take you. Or your mother. And if you have an extra ticket, take mine. She wants to see it again. You'll like her. But she does open a lot of cough drops during the show.
Now, about my character's death on Scandal, and how to launch a write-in campaign....
Few plays on Broadway today speak as urgently to our times as Mothers and Sons, the 20th Broadway production from legendary four-time Tony Award-winning playwright Terrence McNally, now in previews at the Golden Theatre. In the play, Katherine -- portrayed by Tony- and Emmy-winning Tyne Daly in perhaps her most formidable role -- visits the former lover of her late son 20 years after his death, only to find him now married to another man and raising a small child. A funny, vibrant, and deeply moving look at one woman's journey to acknowledge how society has evolved -- and how she might -- Mothers and Sons is certain to spark candid conversations about regret, acceptance, and the evolving definition of "family." Daly is joined by Broadway vet Frederick Weller (Take Me Out), Tony nominee Bobby Steggert (Ragtime), and newcomer Grayson Taylor, under the direction of Tony nominee Sheryl Kaller (Next Fall). For more information, visit mothersandsonsbroadway.com.
Need help? Visit The Trevor Project or call them at 1-866-488-7386. You can also call 1-800-273-8255 for the National Suicide Prevention Lifeline.
For more information about Dan Bucatinsky, visit danbucatinsky.com.