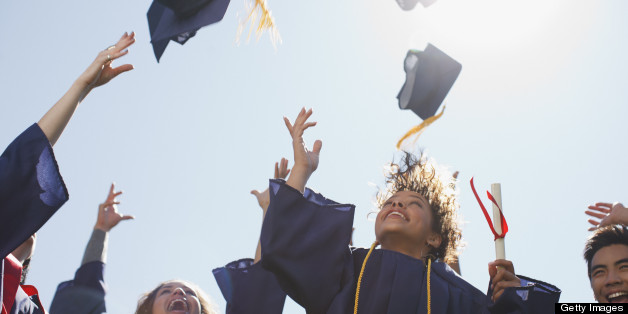 Last week, as Wall Street shattered one record after another, all eyes turned to the future. How long, the commentators wondered, until the Dow hit 18,000, unemployment dropped below 7 percent, or housing values regained their 2006 highs? Good news begets good feelings, and suddenly it seemed okay to dream again.
Meanwhile, I was 2,500 miles away from Wall Street, listening to an entirely different kind of discussion about the future. At Chaparral High School in Las Vegas, about 20 seniors sat at their desks as a guest speaker from the Andson Foundation talked about life after graduation. "Follow your passion," he urged the students as he related his own journey from Chaparral High to UNLV to a career in financial planning.
So, what exactly did these kids want to do when high school was over? Initially the question was met with shrugs and blank stares, but the speaker wasn't about to let his listeners off the hook so easily. He pointed to each student individually and repeated his question until the answers began to trickle out. A girl in the front row wanted to be an actress. Just behind her was a boy who dreamed of opening a restaurant, while one of his friends hoped to become a tattoo artist.
The answers were halting and tentative, as if speaking an ambition out loud might somehow jinx its chance of success. For these seniors, "the future" was just days away, yet it seemed they had barely dared to imagine what it might look like or how it might be better than today.
Amid the euphoria of record levels for the Dow or the S&P 500, we occasionally hear from a commentator who points out the disconnect between Wall Street and Main Street, where the recovery looks more fragile and the future less certain. That's certainly true, but my visit to Chaparral High School reminded me that for some kids, even Main Street looks like a dream destination -- and they don't have the bus fare to get there.
Far from the glittering lights of the Las Vegas Strip, Chaparral is surrounded by dingy motels that rent rooms by the week. With high unemployment driving a transient population, the school faces nearly a 50 percent turnover rate among its 2,200 students. Principal Dave Wilson managed to boost graduation rates by 15 percent last year -- but starting from a baseline of just 34 percent, he still has one of the worst graduation rates in the entire state.
"We graduate fewer than 50 percent of our students, and that's totally unacceptable," he told me. "It's totally unacceptable that half the kids who attend here wouldn't even be eligible to come back and work as a custodian at this school."
I was still thinking about that number a few minutes later as I listened to those 20 students discussing their future in the class sponsored by CIS Academy. Each time the speaker pressed for an answer about plans after graduation, it dawned on me that the question itself was a kind of victory. Here was a caring adult challenging them to think about the future -- someone who assumed that they had a future and that their dreams mattered.
That's what we mean at CIS when we say, "It's relationships, not programs, that change children." Surrounded with love and support and guidance, these forgotten students had discovered a reason to come back to school each day. Now, with graduation day just around the corner, they've already beaten the odds and set their sights, ever so tentatively, on life beyond high school.
For the Chaparral High School Class of 2013, the path ahead might not be clear -- but it's infinitely better than a dead end.