After flying from New York City to Dakar to Banjul to Freetown, riding a bus to a dock, taking a boat across a bay to a 4X4 truck that travels up and down roads that transition from broken pavement to muddy earth, I stand at the front of a classroom -- one that is empty of children. Today, 30 adults sit in row after row of benches, some bending forward with heads propped on elbows as if they have been waiting a long time. And they have.
These are community health volunteers, and they are heroes in my eyes.
Susan Matthews, a community health worker, holds a dose pole. Photo by Richard Hatzfeld, Sabin Vaccine Institute.
Each has come forward with one goal in mind -- to help protect their community. The danger outside these doors sounds almost comical to a Westerner's ears: Big Fut. Except this is no myth. Not in Sierra Leone or the other 79 countries where lymphatic filariasis -- or Big Fut, as it is known in Krio -- is endemic.
I have arrived in the country's Western Area as part of Helen Keller International's team that provides technical assistance to Sierra Leone's Ministry of Health and Sanitation, public health clinic staff, community health volunteers and project evaluators. We've assembled to help stop the spread of this terrible disease through a national mass drug administration campaign.
Big Fut spreads through the bite of an infected mosquito -- the same ones responsible for malaria. Parasitic worms, transported into your body through the mosquito's bite, come alive at night and disrupt the lymphatic system, which helps maintain fluid balance in the human body. It is a truly terrifying disease, one that slowly develops over years until one day you begin to swell. And swell. And swell until your leg is too heavy to lift, or your breast is so large you stoop, or your scrotum becomes a bloated mass that balloons past your knees. And then you hide.
People whisper behind your back, a witch did that, they say. Or, you cheated on your spouse and you should be ashamed. I hear these rumors tossed back and forth in Krio as we talk with the community health volunteers about what they hear when they go into the streets, homes, churches, mosques, schools, health centers and restaurants to distribute the free medicine -- donated by Merck & Co., Inc. (ivermectin) and GlaxoSmithKline (albendozale) -- that prevents the spread of the disease. Their support is crucial because there is no cure.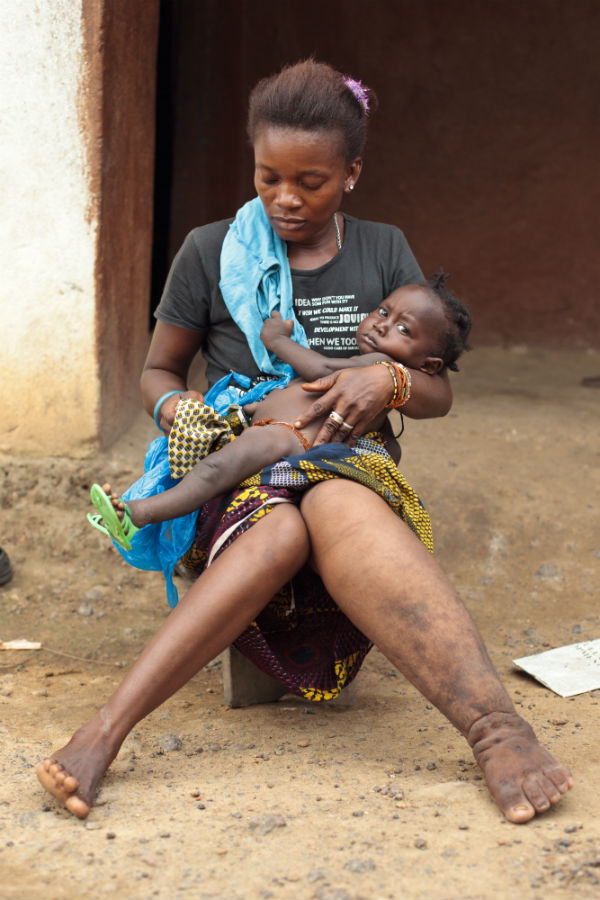 A woman with lymphatic filiarisis. Photo by Olivier Asselin.
The volunteers distribute medicine to everyone over five years of age who is not frail or pregnant. This year, they hope to reach more than 1.2 million people in the Western Area over the course of five days. Hundreds of volunteers fan out across the Western area traveling down those same roads I did today. But they do not have a 4X4 truck. They walk. They ride on the back of motorcycles. They cram into crowded buses to reach every corner and every person, up every hillside and down every alley.
Over the following weeks, the campaign will move outside the Western Area and spread across the countryside. Upline, as they say, to the provinces. This is the third year of national mass drug administration. In two or three more years, if coverage remains as high as 65 percent of the population, than we can eliminate this disease from Sierra Leone.
And when children in years to come speak of Big Fut in classrooms like this, it will truly be a myth.
If you'd like to learn more about Helen Keller International and help us defeat Big Fut, please visit our website.
This blog is part of our #GivingTuesday series, produced by The Huffington Post and the teams at InterAction, 92nd Street Y, United Nations Foundation, and others. Following Black Friday and Cyber Monday, #GivingTuesday -- which takes place for the first time on Tuesday, November 27 -- is a movement intended to open the holiday season on a philanthropic note. Go to www.givingtuesday.org to learn more and get involved.