Holy marinated artichokes, I'm full. We just attended the 2013 Summer Fancy Food Show in New York City -- our second time exhibiting at the caloric deluge. For those who've never had the belt-loosening fortune of attending the biannual Sugar & Fat Fest, it's the specialty food industry's most important opportunity to mingle, make deals, discuss trends, and generally stuff face. It's our opportunity as a small food brand to be discovered by retailers and distributors. Here are some secrets we've learned: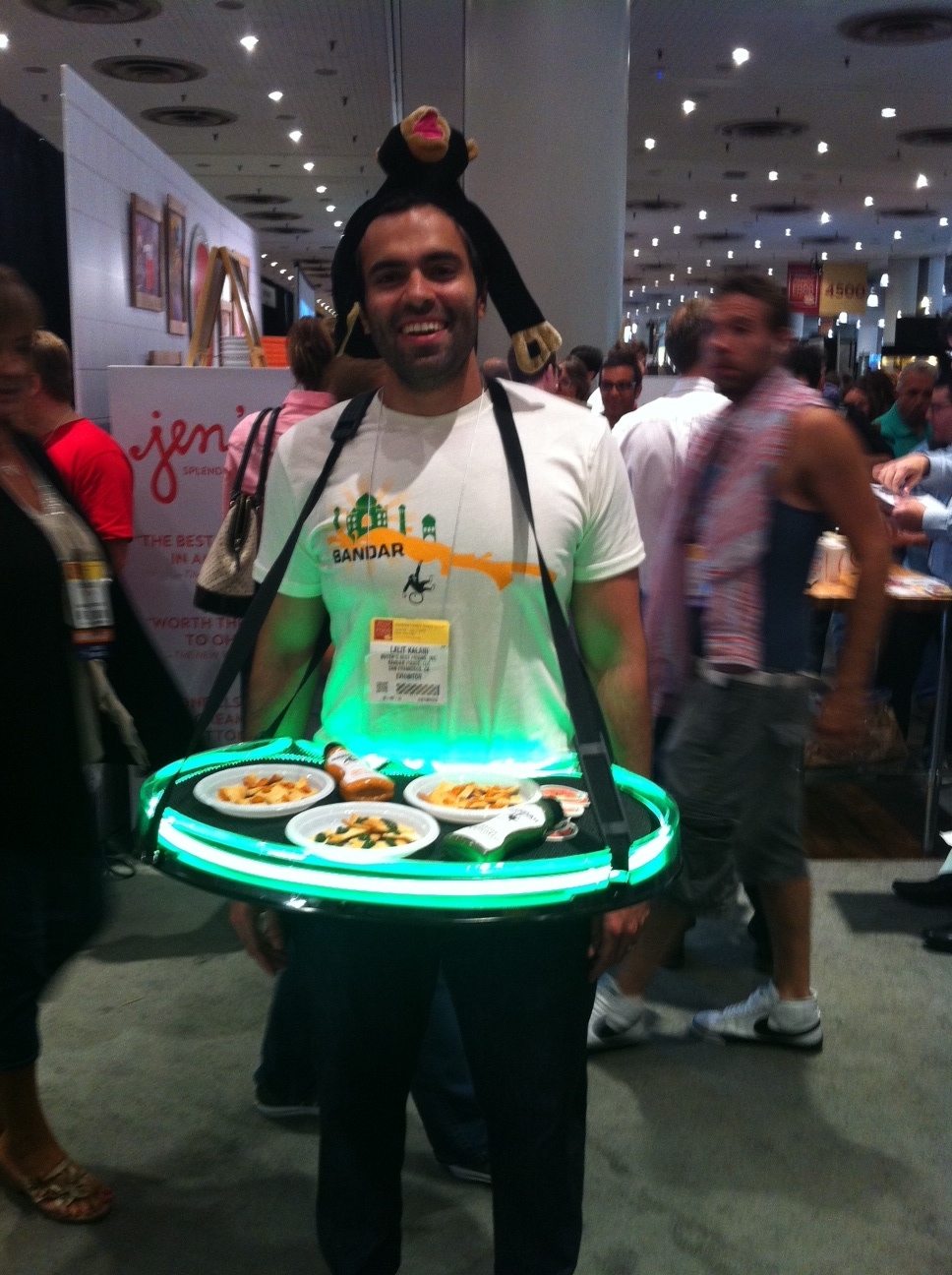 You Don't Need to Spend a Ton to Stand Out: I mean, we had the smallest, most ghetto booth in the entire show -- but wore monkey hats and carried a neon-lit cocktail tray to get buyers to notice us. Like anywhere else, gimmicks and beautiful presentation draw attention -- but it's particularly challenging at the Fancy Food Show where every single product is incredibly special. Thousands of dollars go into the design of most booths, but the brands that do the best focus on their hustle, salesmanship, and customer service.
Health Trends Are No Longer Special: Gluten-free was so last year. It's a good thing, the specialty food world is rapidly becoming more health-conscious. The movement towards healthful, responsible food production has proliferated so quickly that attributes like organic, gluten-free, or non-GMO no longer differentiate brands. Natural food retailers now have their choice of many products that check the feel-good-about-yourself boxes. The increased competition benefits consumers who can now demand that their health food taste good.
Flipped Badges: I think I saw a small chocolate producer offer her first-born child to a Costco buyer. The buyers for the large food retailers like Whole Foods or Wegmans can't walk 10 feet without getting attacked by pleading-eyed food brands hawking their wares. Instead of wallowing in the bribes and adulation, most of these buyers humbly flip their badges so they can actually do their job well. Lesson learned: next year we just stalk everyone -- regardless of what's on their badge.
The Free Sample Economy: If your goal is to horde free samples, simply go to the show on Tuesday afternoon and hang around the booths that don't want to ship back all their samples. It turns into Halloween with all the free giveaways. After the doors close, the exhibitors trade their products in an impromptu value exchange. The current rates this year: one bar of chocolate equates to two organic sodas or three bags of lentil chips.

Everyone Gets Drunk: Some vendors pair their samples with booze, others host a small happy hour, and still other exhibitors stealthily sip flasks behind their booths. In any event, the alcohol flows freely, which helps wash down the six pounds of Italian cheese and lubricate business deals. It creates a fun environment at the craziest food party of the year. Can't wait to attend the next one in San Francisco!
Remember to check us out at monkey-sauce.com!