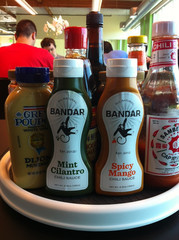 As we started looking for product evangelists to spread the Monkey Sauce gospel, we didn't first look to the fashionistas or other traditional tastemakers -- we approached tech companies. That's our irst target market and we want to take care of them. We've now given samples of our hot sauce to folks at over 30 tech/innovation companies -- including Google, Zynga, Ideo, and The Chive - -making our product one of the most integrated in Silicon Valley, and we didn't even need an API -- har har.
Why approach sandaled-sweatshirted engineers first? Because they love hot sauce. I know a few Internet companies that showcase their "hot sauce bar" to new applicants as a perk of the office. The Oatmeal obsesses over Rooster Sauce and our buddy at Yammer is manufacturing an awesome Bacon Hot Sauce. Knowing Silicon Valley's obsession for the spicy stuff, as well as their affinity for social networking every opinion to the world -- these companies are perfect places to gain valuable product feedback and find active brand supporters.
How to Get Samples in These Companies
We first approached friends in the industry who were happy to instantly become the popular ones in their offices by slinging innovative foodwares. Then, we had our friend at HipMob send a note to others in his heralded Y Combinator class, where we found more interested companies. Unsurprisingly, it's not difficult to get a company interested in trying free samples of a new food product. "Do you want us to send you delicious stuff for free?" "Yes." "Sweet." We then shipped samples to our contacts asking them to share the products in their cafeterias or kitchens. We'd also email a product description for them to pass around to co-workers ahead of time to draw even more attention to the products.
How to Maximize This Exposure
On our website, we offer a "Corporate Partnership" program where we offer free samples to most companies in exchange for feedback, a photo of the product being used in the company kitchen, and a Tweet/Facebook mention. We have mainly embraced the product feedback and the opportunity to find new potential customers; though we have a plan to more carefully track social media mentions.
Has This Been Effective
The biggest lesson learned from this experiment has been the ability to hone our target audience. We pride ourselves on being "innovative" as we "disrupt" our industry -- qualities embraced largely by the tech and startup community. Additionally, I think hackers appreciate the hustler mentality of rooting out customers in unlikely places. For other entrepreneurs, we encourage them to search other unlikely places to sample their products and find consumers. Perhaps a sunglasses company wants to sample to lifeguards, or a juice company with school teachers? You know... something like that?
Whatever the reason, we're glad we found supporters and hope to grow this niche in the startup/innovation space. Maybe we'll sponsor some hackathons in the future? For now, please check us out at http://www.bandarfoods.com/pages/bring-us-to-work-with-you if you're interested in helping us spread Monkey Sauce around your office. You'll be even cooler than that funky accounting specialist from down the hall who brings in the fresh-baked cookies!