One of the most important lessons for a brand new food company is to make friends with other entrepreneurs in the industry. Like a nerdy freshman in high school, we at Bandar Foods have been trying to make friends with a number of people in the space who can offer sage advice and tell us what traps to avoid.
We were extremely fortunate to meet Vincent Kitirattragarn -- the founder of Dang Coconut Chips. We met Vincent when he was wearing one of his crazy coconut hats sampling his awesome product outside of Bi-Rite market in San Francisco. Aside from having one of the best tasting snack products on the market, Vincent has been a mentor for us. In return, we wanted to interview him for our column to talk about how coconuts are becoming the next big food trend - and what to expect from the future.
Q+A with Vincent Kitirattragarn, Founder of Dang Coconut Chips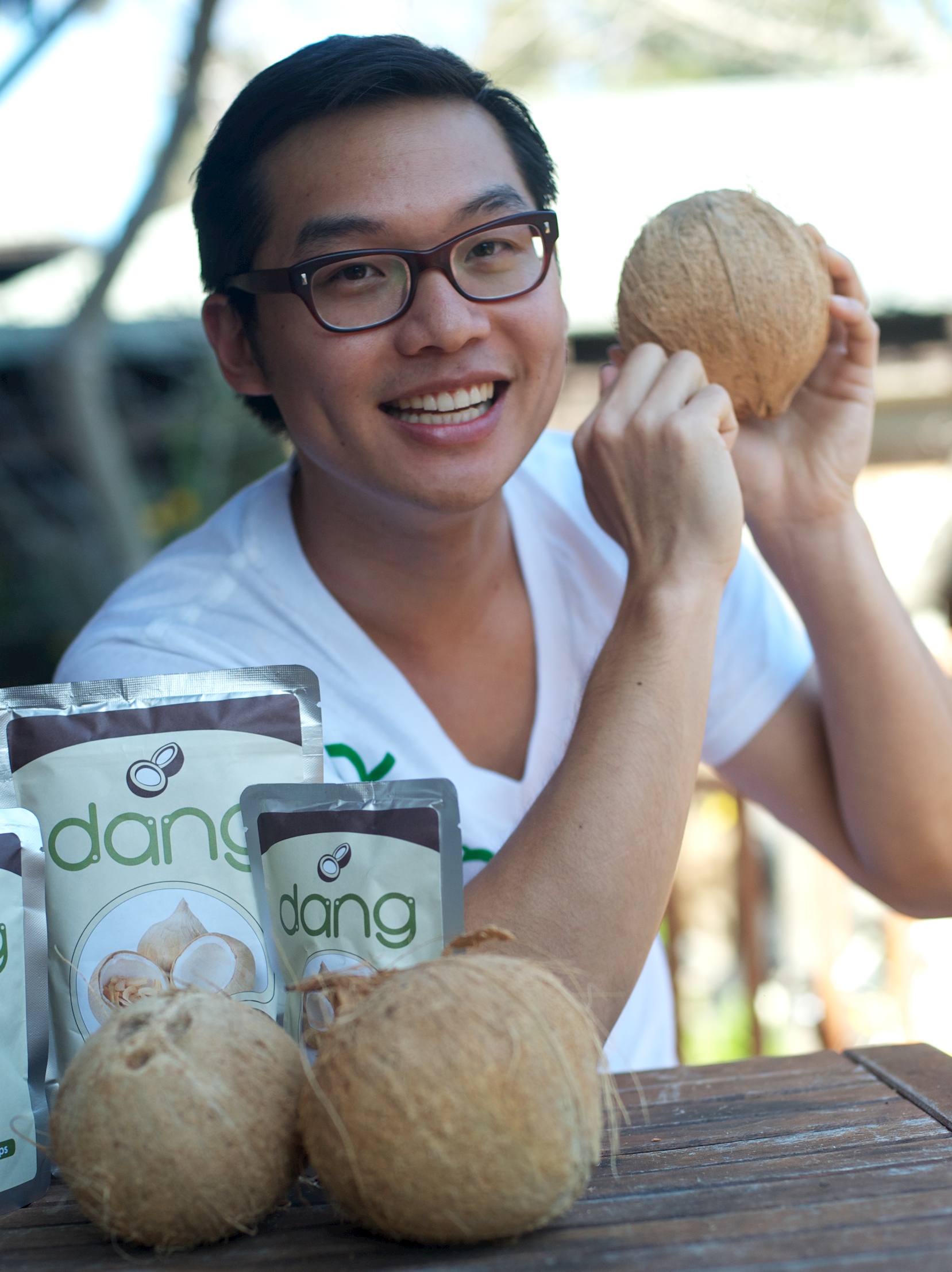 Q: Coconut seems to be all the rage right now. When did this begin?
A: Coconut water started it all. When I was growing up, the only place you could get coconut water was at Asian markets. It was frozen and came with a little plastic pick to chip away at the icy coconut water. Now you can get coconut water at any corner store or supermarket. More recently, studies have shown that coconut oil has plenty of health benefits.
Q: What's the story behind Dang Coconut Chips?
A: I was working at a sustainability/tech startup and cooking as a hobby for the SF Underground Market, which allowed amateur chefs to sell to the public with very low startup costs. My mother gained interest and gave me a recipe for Miang Kum lettuce wraps that required toasted coconut. She told me to buy coconut flakes and stir them in a dry pan until they turned golden brown. When I did that, the aroma was intensely sweet, and once I tried the toasted coconut, I immediately called my family in Thailand to find out if we could import toasted coconut chips. It turned out we could, so I started the company and named it Dang, which is my Mom's name.
Q: Your coconut chips are awesome. How do you make them?
A: We pick mature coconuts, slice out the meat, and stick them in the oven until they get nice and crispy. Amazing flavors are created when you toast coconut. It gets sweet and savory as the oils are released. Many people who dislike coconut say they like our chips because they have a crunchy texture rather than the chewy texture of the coconut flakes they're used to.
Q: What advice would you give to potential food industry entrepreneurs (like us)?
A: Try to make sure your product is flawless, but hit the market fast to speed the learning curve and stay ahead of competition. Find people who have experience and can guide your growth - the food industry is extremely relationship-based so having the right contacts means everything. Try to make your production process scalable so that you can fill those large orders. Know who buys your product, where they shop, and what will make them switch to your brand. Know your competition. Finally, have fun...the industry is full of fantastic people that love what they do for a living.
Q: What's the biggest challenge for a small food company?
A: Launching a food brand is extremely expensive. You need the capital to ensure you will survive. Don't plan on paying yourself for the first two years. We have the additional challenge of having a new product - hardly anyone knows what a coconut chip is. This is exciting because we're pioneers within the category, but challenging because we have to educate people on what a coconut chip is and why they should try it.