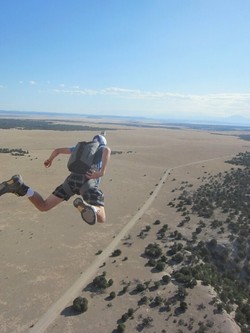 We recently quit our jobs so we could focus on making hot sauce full-time. Though we enjoyed our ambitious day-jobs, working 15+ hour days between two endeavors gets old - especially when your heart is in your side-project. We did this for over two years. Last month we finally pulled the trigger and are following our passion full-time. We always knew we wanted to do this eventually - but WHEN was the right time to make this kind of move?
We originally hoped that we'd quit our jobs when our side business was operating so successfully that it could instantly pay us an income. Our friend, Muoyo, did this with his excellent mobile app business. Unfortunately food product businesses operate with much slimmer margins than tech companies and we'd have to sell a LOT of sauce before this could happen. Additionally, we want to grow quickly - so any meager profits are probably best used as marketing dollars back in the business.
Ultimately we realized that in order to grow to the point where we were selling a LOT of sauce, we needed to first be full-time and focus all of our effort on expansion. Okay, that's risky.
By the way, we have supportive wives and a little bit of savings - but can only get by without a salary for a few months before making overhauling changes to our life. Everyone has different financial considerations when making the move - we personally cannot live without a regular salary for very long. Regardless, there are specific milestones any entrepreneur might want to first hit to provide the confidence to take the leap. What did we want to achieve before we made the decision to quit:
1) Customers Liked Our Products and Were Willing to Pay: We previously wrote about how difficult it is to get honest feedback from friends about a food product. We needed to assure that "strangers" were willing to pay our suggested retail price. Fortunately, we've sold thousands of bottles from our website, specialty stores, and discount stores across the country. We're confident that people do indeed like our products and will pay money for it. Check.
2) A Large Retailer Stocks us on their Shelves: It's comparatively easy to get on the shelves of small, independent retailers - but a food company needs placement in the large retail chains to be truly successful. Before quitting, we wanted a big win from a large retailer - and we got that with our placement in Whole Foods. Being in a corporate chain means a lot of smart people vetted the product and gave it a stamp of approval - a really strong sign that the brand can grow meaningfully. Check.
3) We can Produce Enough Sauce to Keep Up: Once we believed we could SELL a lot of sauce, we had to be sure we could MAKE a lot of sauce. This took us awhile to figure out and had to get multiple manufacturers on board to help us. In retrospect, this should have been our first consideration when deciding when we should quit. If you can't make a good product, and a lot of it - you have no business pursuing a food company. Check.
4) Customers Generally Liked our Brand: Though we knew we could always change the name "Bandar Monkey Foods," it would mean a long/expensive process which we'd prefer to not do once we were full-time. We've done a number of focus groups and gathered a lot of feedback from friends/customers - we decided that we like our little monkey. Check.
After achieving those four benchmarks, we figured that we'd have enough of a base to go full-time and take a chance. There are a still a million problems we need to solve before we can be wildly successful, but we can figure much of that on the fly. Going all-in to the business enables you to learn much more, much faster than before. We now just need to translate this learning into meaningful growth so we can pay our bills.
We have a lot of food entrepreneur friends and everyone had their own circumstances and considerations before going full-time. Our advice to others thinking about making this leap is to first solve the fundamental business issues (can you make a good product, can you scale production, will people buy it, will stores stock it, etc) before you quit your day job. These steps can take years and it's best to have a financial safety net when starting out. Once you quit, your full-time job will then be to grow, grow, fail, and grow! That's now what we're working on. We'll let you know how that goes - and we'd love any and all advice. Or spare change :)