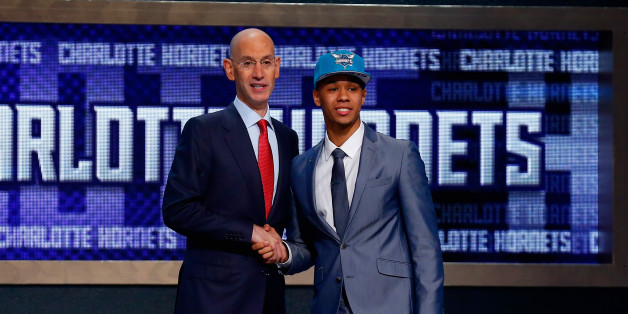 Playing 41,011 minutes while scoring 32,292 points in his career, Michael Jordan is perhaps the greatest basketball player to ever take the court. His time as an executive within the Charlotte Bobcats (now Hornets), however, has been largely underwhelming, as a new chapter of his franchise's ineptitude was written on Thursday, June 26 in the 2014 NBA Draft.
Just two seasons removed from putting quite possibly the worst team in NBA history -- the team that finished 7-59 with a .106 winning percentage in the 2011-2012 season -- the Charlotte fans were finally treated with a playoff team this season, as the team finished with a 43-39 record in the weak Eastern Conference.
Al Jefferson, the best player to play for Jordan's franchise so far, had a great season and made an extremely positive impact on a roster with many young, developing players. After being trounced by the Miami Heat in the playoffs, the Hornets still had a successful season... for their standards.
While he reportedly gave up most of his GM duties back in 2012 (after which the team began to improve) questions remain how vocal Jordan is in making draft and roster decisions.
For his sake, he should hope that he had nothing to do with any decision-making in the 2014 NBA Draft.
The Hornets, coming off of their best year as an NBA franchise, were in a nice position to greatly improve their roster, holding the No. 9 and No. 24 picks.
With the No. 9 selection, the Hornets selected Noah Vonleh, a 6'9" power forward out of Indiana, who has gigantic hands and an athletic makeup. However, last season, the team selected Cody Zeller to be their power forward. What does this selection tell Zeller? Al Jefferson is also still a member of the team, so why waste a No. 9 pick on someone who will come off the bench or who will kick Zeller out of the starting lineup -- possibly destroying his confidence? Doug McDermott, who would have been able to make an immediate impact on the offensive end, was simply passed up on.
Going back to their playoff series against the Miami Heat, the Bobcats struggled mightily to put the ball in the basket. So what did they decide? To select Vonleh, who averaged just 11 points per game at Indiana in his one and only season playing college ball. McDermott scored 3,150 career points and ranks as the fifth-best college scorer in the history of the NCAA.
Hoosier Hornets: Charlotte takes PF Vonleh with 9th pick in #NBADraft, year after taking Zeller http://t.co/Sg9UK0ejSW (@stevereedAP) #iubb

— AP Sports (@AP_Sports) June 27, 2014
Air ball number one.
With the No. 24 pick, they were able to land a special talent in Connecticut's Shabazz Napier, who would be able to come in and play alongside former teammate and mentor Kemba Walker. The duo won a National Championship at UConn together, and Napier had the rare experience of winning two college championships during his four-year career. Most importantly, they filled not only a need, but kept Napier from the Heat at the No. 26 spot.
But, not for long.
Soon after he was selected, it was announced that the team traded Napier to the Heat in exchange for the No. 26 pick, which ended up being D-Leaguer P.J. Hairston. Not to knock Hairston and his abilities, but pairing Napier with Walker would have been special, not just in terms of the product on the court, but also in the locker room.
Air ball number two.
The Heat had their sights set on Napier before the draft, especially since LeBron James had commented that Napier was his "favorite player in the draft." It would have been wise decision not to hand the Heat what they needed -- after all, they have been to four NBA Finals four years in a row and have dominated the Eastern Conference since the Big 3 was formed.
My favorite player in the draft! #Napier

— LeBron James (@KingJames) June 27, 2014
But, don't worry Charlotte fans... there's always next year. At least Bron Bron got what he wanted.

Tradesports.com is the first and only fantasy sports experience where sports fans can play in real-time for real money. NBA, MLB, NHL, NFL contests and more are featured on a daily basis! Follow @TradesportsUS.