When you think of a dominant left-handed pitcher, the flowing locks and mustache of the 6'10 lanky fireballer Randy Johnson comes to mind right away. Going 303-166 in his career to go with a 3.29 ERA, Johnson also amassed 4,875 strikeouts in 4,135.1 innings, and struck out 10.6 hitters per nine innings for his Hall of Fame career. However, a 26-year old superstar just accomplished a feat that Johnson never did in his storied career. In fact, no one accomplished this feat... ever.
Clayton Kershaw just pitched the best month in MLB history in June, going 6-0 with a 0.82 ERA with 61 strikeouts in 44.0 innings of work. According to ESPN.com, Kershaw is the only pitcher in major league baseball history to be unbeaten with that many wins, that many strikeouts, and an ERA that low in a single calendar month.
Currently at 9-2 with a 2.04 ERA on the season, Kershaw's dominance has been evident, both before and after the month that he missed as a precaution with a back injury. In 79.1 innings pitched this year, he has given up just 62 hits and has recorded a staggering 107 strikeouts.
In June, he won every single one of his starts. He had 35 more strikeouts (61) than hits allowed (26). He allowed four earned runs in 44.0 innings. His WHIP was 0.62. He recorded a 15-strikeout no-hitter in which he only threw 107 pitches. He is coming off of a 13-strikeout start in which he pitched 7.0 innings against the Cardinals. Shall I keep going? He has been as untouchable as ever been seen in the MLB.
Since giving up seven earned runs in by far his worst outing of the season, he has had an ERA of 1.11 in eight starts following the May 17th nightmare start. For the season, if you omit that start altogether, Kershaw would be 9-1 with a 1.27 ERA.
Kershaw hasn't been doing everything with his fastball. The success of his secondary pitches have been just as-- if not more important-- than his mid-90 mph fastball. He had 34 strikeouts with his slider in June to go along with 14 while throwing his 12-6 curveball, according to ESPN.com. His 65 percent ground ball rate was also the highest in the majors in June.
The consensus among baseball fans is that Kershaw is certainly a top three pitcher in the league, if not the best. The question then becomes, what does he have the potential to become?
In 194 starts in his seven-year career, the Dodgers ace has gone 86-48 with a 2.57 ERA, 1.08 WHIP, and 1,313 strikeouts in 1,259.1 innings. That translates to a better strikeouts-per-nine-innings than Sandy Koufax, known for his dominance back in the day. It places him right behind Randy Johnson, as shown on the graphic below.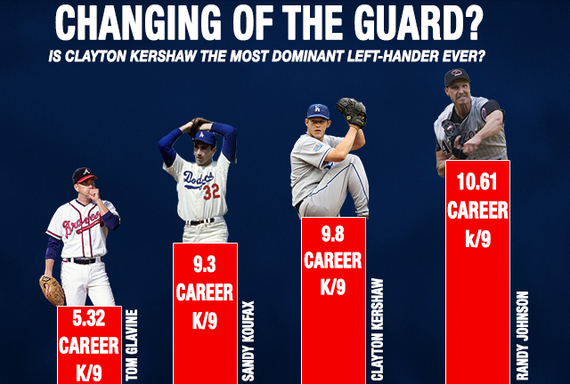 Except for his 21 starts during his rookie season, he has had at least 30 starts per season, and has not had an ERA over 2.91. During the last five seasons, he has averaged an ERA of 2.18. He has also won two Cy Young Awards in 2011 and 2013. Johnson, a winner of five Cy Young Awards, had six seasons in which he made 30-plus starts and had an ERA under 3.00. Kershaw, at 26-years old, already has five of those seasons and if he wins another Cy Young this year, would be three-fifths of the way there to match Johnson. While Johnson's strikeout numbers will most likely not be surpassed by Kershaw, when it's all said and done, you will probably be able to make the claim that Kershaw was the most dominant left-handed pitcher to ever play the game, barring injury.
Sandy Koufax had an amazing final stretch to his career, with five seasons of brilliant pitching, going 111-34 over his past five seasons. That stretch will most likely not be replicated in today's game, but for his career, Koufax had a 2.76 ERA and an 165-87 record, which are very attainable numbers for Kershaw to eclipse.
What do you think? Does Kershaw have potential to be the best left-handed pitcher ever? Is putting up these numbers in the present day more impressive than a half-century ago?
Want to play daily fantasy sports contests involving Kershaw and the Dodgers? Tradesports.com is the first and only fantasy sports experience where sports fans can play in real-time for real money. Follow @TradesportsUS.