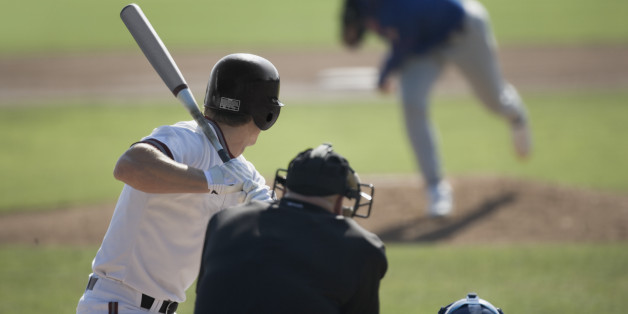 The San Diego Padres fired General Manager Josh Brynes from his position on June 22, and therefore opened the search for quite possibly the least-coveted GM position in all of baseball. Many qualified individuals are under consideration to take over the job, including Kim Ng, MLB's senior VP for baseball operations (who would be the first female GM in any sport), Yankees assistant GM Billy Eppler, and Red Sox assistant GM Mike Hazen, among others.
However, I'm going to pretend I just got the job and will explain exactly how I would turn this losing team with one of the worst offenses in MLB history into a contender in 2016.
Finances
First, let's take a look at finances. At $86,255,096, the Padres have the 22nd-highest payroll in the MLB. Staying around or under that number in my improvements will not be a problem and will be easily attainable.
Offense
Let's look at some offensive numbers. Just a warning: they aren't pretty.
The entire starting infield of first baseman Yonder Alonso (.591), second baseman Jedd Gyorko (.482), shortstop Everth Cabrera (.546) and third baseman Chase Headley (.605), all rank last at their position in on-base plus slugging (OPS). That doesn't happen by coincidence. The awful offense has spread like a wildfire.
Seth Smith, hitting .282 with nine home runs and 25 RBIs, has been by far the best hitter on the team, but shockingly the next-best average for a player who has played in at least 56 games is Chris Denorfia, who is hitting .250. Smith is also the only player on the roster with a positive wins-above-replacement figure (WAR) of 2.5.
The Padres are dead-last in runs scored -- and by an embarrassing margin. They have scored 254 runs in 85 games played, which translates to 2.99 runs scored per game on average. Most shockingly, their 254 runs comes in 55 runs behind the second-worst team in the Cardinals, who have scored 309 runs this year. They also rank dead-last in hits, with 589. The Cubs, ranked 29th, have had 661 hits this year.
They rank 28th in home runs with 57, 30th in RBIs with 239, 30th in batting average at an embarrassing .214, 30th in on-base percentage at .273, and 30th at OPS at .606. All in all, this has been an awful and pathetic season in terms of offensive production for San Diego.
Pitching
The reason the team currently stands at 38-47 and isn't putting together a record indicative of their offense is because of their extremely solid pitching. Ranking third in the MLB with a 3.24 ERA, the Padres' pitching has been the only bright spot on an otherwise grim season.
The team has the strikeout pitch working, ranking eighth in the MLB in punch outs with 681. Their batting-average-against of .239 ranks seventh in the league.
Starter Tyson Ross (7-8, 2.93) has emerged as a breakout pitcher this season, allowing just 98 hits in 116.2 innings to go along with 111 strikeouts. Ian Kennedy (6-9, 3.87) has been solid, striking out 116 hitters in 109.1 innings of work. Andrew Cashner (2-6, 2.36) , who has missed some time due to injury, was the Opening Day starter for the team, and has the potential to be a front-line starter moving forward in years to come.
Rookie Jesse Hahn (4-1, 1.95 ERA) looks like he has special talent and has dominated in his first five starts at the big-league level. He will be a large piece of the future for the Padres.
Huston Street (0.90 ERA, 22 saves) has been virtually untouchable out of the bullpen, and Joaquin Benoit (34 appearances, 1.30 ERA), Dale Thayer (39 appearances, 1.80 ERA), and Alex Torres (36 appearances, 1.83 ERA) have made up one of the most effective bullpens in the entire league.
All in all, with a fifth starter call up or signing, this is sneakily one of the best rotations in baseball, in my opinion.
Fielding/Baserunning
The team has a fielding percentage of .984 just 52 errors in 3,166 chances on the field, which ranks 18th in the league. In other words, they are in the middle of the pack. Everth Cabrera has 13 errors at shortstop, which leads the team.
In terms of stolen bases, the team has 46, which ranks 19th. They also rank 19th in stolen base percentage, converting 72 percent of the time. Cabrera has 13 and led the league in swipes last season, but is struggling to get on base, as mentioned earlier.
Fix #1: Fire Manager Bud Black and Hitting Coach Phil Plantier, Hire Dave Roberts As Manager and a New Hitting Coach
Bud Black has led the team to one 90-win season (in 2010) during his eight-year tenure with the team. He won the Manager of the Year award that year, but since, the Padres have played below-average baseball.
As conveyed above, the team has had an incredibly embarrassing start to their season and rank dead-last in pretty much every major offensive category. Hitting coach Phil Plantier must also be canned.
While these coaches aren't going out and physically playing, there needs to be a shift in culture in the organization and a fresh outlook on the way the team is put on the field.
Dave Roberts, in his first season as Black's bench coach, has four years of coaching experience after joining the big-league team as a first base coach in 2010. A fan favorite, he can connect with the younger players on the team and put forward a hitting-centric approach and share what he learned during his 10-year career in the Major Leagues.
Fix #2: Make A Series Of Trades
Trade 1: Trade 3B Chase Headley to Yankees for UT Kelly Johnson, OF Zoilo Almonte
Headley has been awful this season, with an average hovering just over .200. He put together an MVP-caliber season in 2012, which will still give him some value. A team like the Yankees would kill for production at third base, and they have a surplus of outfielders. Since Headley is owed just around $6 million for the remainder of this season, that makes this deal even more appealing.
Johnson would be able to play any infield or outfield position and provide a stable bat that comes along with playing time, which he hasn't been receiving much of in New York. Almonte, currently in Triple-A due to an overcrowding in the outfield with the Yankees, has proven that he is a big-league player during his brief call-ups. This works well for both sides.
Trade 2: Trade CP Huston Street to Tigers for RP Bruce Rondon, 2B Devon Travis
Street has been dominant this season, and the Tigers desperately need stability towards the back end of their bullpen, as Joe Nathan has been anything but steady. Adding Street would immediately make them into a World Series contender.
Rondon, the fireballer who throws over 100 mph, is recovering from Tommy John surgery, and is worth the risk and will most likely be used as trade bait by the Tigers as he is recovering from a ligament tear, thus making his future uncertain. Travis is the No. 2 overall prospect in the Tigers organization, according to MLB.com, and should be ready to go at the big-league level next season. With Street gone, Joaquin Benoit can make the seamless transition to the closer role.
Trade 3: Trade Carlos Quentin to Red Sox for 3B Garin Cecchini
Quentin, when healthy is a very desirable player. Over a 162-game span, he has hit 31 home runs on average in his career. This power would intrigue any team, especially the Red Sox, who have seen a dramatic drop off in offensive efficiency this season. He also fits into the fiery, explosive Red Sox locker room.
The 23-year old Cecchini has recently been called up and has had some limited playing time, but questions remain about his long-term role on the big-league club. The Padres, who have already gotten rid of Chase Headley, would slot him into the third base spot right away.
Trade 4: Trade Jedd Gyorko to Diamondbacks for Josh Collmenter, a mid-level prospect
Gyorko is now expendable with the addition of rookie Devon Travis. Once touted as the best power-hitting second baseman in the game, Gyorko and his 5-year, $31 million salary can get a change of scenery in Arizona, while Collmenter can prove to be reliable as a spot starter and long reliever out of the 'pen if needed.
Fix #3: Retain and Re-Sign Key Players
Starting pitcher Ian Kennedy would be re-signed on a five-year, $40 million deal. Andrew Cashner would be re-signed on a five-year, $50 million deal. Tyson Ross would be re-signed on a five-year, $55 million deal. Locking these guys up is crucial to the future of the team, in my view.
Relievers Dale Thayer and Alex Torres will be re-signed on three-year, $9 million dollar deals.
Finally, Casey Kelly, who will be the fifth starter going into next season, will be re-signed on a five-year, $25 million deal.
Fix #4: Sign Key Free Agents
Catcher Kurt Suzuki, as well as outfielder/first baseman Nate Schierholtz, both of whom can be relatively cheap most likely, would be signed and would be important pieces to next year's roster.
Let The Transformation Begin!
As shown above, the lineup would look entirely different in 2015, with three rookies inserted as starters, including top Padres prospect Austin Hedges, and No. 6 overall prospect Jace Peterson taking over at shortstop. Newcomers Schierholtz and Almonte would take the four and five spots and Cecchini would take the seventh slot while manning the hot corner. The bench would also be much deeper.
As shown below, the Padres pitching staff will be very similar to this season, with the addition of prospect Casey Kelly into the starting rotation in the fifth slot, and with Rondon and Collmenter joining the bullpen.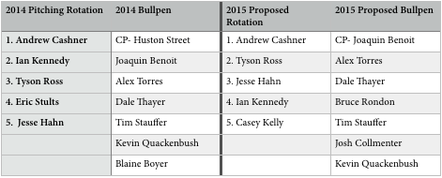 Padres fans, and baseball fans alike, do you think I could get the Padres into the playoffs in 2016 after making these changes? It would take a year for the team to mesh and develop, but I think this is a realistic and smart plan to take for the next Padres GM if they are able to pull off the moves.
Tradesports.com is the first and only fantasy sports experience where sports fans can play in real-time for real money. Follow @TradesportsUS.