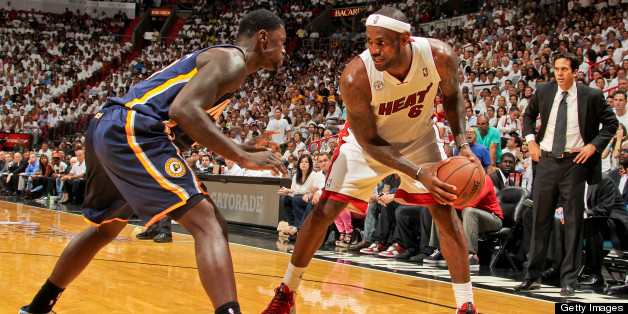 Reports are out that former Indiana Pacer Lance Stephenson has signed a three-year, $27 million deal to play for the Charlotte Hornets. Stephenson, who was offered a five-year, $44 million contract back on July 1 by the Pacers, declined the offer to stay in Indiana, claiming that this undervalued him. 
Former Pacers G Lance Stephenson has signed a 3-year, $27 million deal with the Charlotte Hornets. (via @Chris_Broussard)

— SportsCenter (@SportsCenter) July 16, 2014
That might not have been a very financially-saavy move for the former New York City hoops phenom, as Indiana's $8.8 million per year average isn't exactly that much different from the $9 million average he will receive in Charlotte. Plus, He's losing out on $17 million in guaranteed money. 
Leading the NBA with five triple-doubles last season, Stephenson had a breakout year, setting career-highs in minutes per game (35.3), points per game (13.8), field goal percentage (49.1%), rebounds per game (7.2), assists per game (4.6), win shares (7.4), and Player Efficiency Rating (14.7). 
But, with every yin, there is a yang.
In this case, the Hornets are getting a player who has the potential to put them over the edge on the court. But, they're receiving a living and breathing ticking time bomb.
If you can remember back to this past NBA Playoffs, something was wrong with the Indiana Pacers. Their demeanor, their collective attitude, their pride was amiss. The team had as much chemistry as Mentos and Diet Coke. 
At the center of this controversy and embarrassment was Stephenson, who became known for his on-court and off-court antics over the course of his young career. We all remember how he blew on LeBron James' cheek, as national media picked that up and ran with it for what seemed like weeks. You may also recall his reactions on the bench, and disregard for his teammates.
To me, there is no NBA player with more serious character issues than Stephenson.
What sometimes gets swept under the carpet is what happened on the early morning hours of August 16, 2010.
Just weeks after being drafted at the age of 19, Stephenson reportedly pushed his girlfriend (and mother of his child) down a flight of stairs, grabbed her, and hit her head on the bottom step deliberately. He was released without bail, and never served a day in jail. Also, don't forget about his previous alleged sexual assault of a 17-year old girl that occurred when he was being recruited to play college ball.
Do you really want to give a guy like that even a penny? Apparently, the Hornets (and every other team in the NBA) place basketball production over off-court issues, which is sad and maddening to the rest of us, but this is just the way the world works. 
Stephenson's departure is a blessing in disguise for the Pacers, though. 
While Stephenson did have a breakout regular season and was very effective in their first-round series against the Atlanta Hawks in the playoffs, I really thought that he played his way out of receiving a lucrative contract based on his awful play in the next two rounds. 
The focal point of a disjointed Indiana team, he managed just 11.2 points on 38.8 percent shooting during the series against the Washington Wizards. In their six-game series, he scored in single-digits three times. 
Next round against the Miami Heat, he redeemed himself slightly in the first two games, but scored 10 points on 3-of-9 shooting, nine points on 3-of-7 shooting, 12 points on 4-of-11 shooting, and 11 points on 4-of-9 shooting in the final four games of the series defeat. Most of all, he looked like he didn't give a damn. 
With players like Boston's Avery Bradley (4-years, $32 million), Orlando's Channing Frye (4-years, $32 million), and Utah's Gordon Hayward (4-years, $63 million) all signing seemingly inflated deals this offseason, Stephenson's salary makes sense based upon on-court production. However, if I was a GM, based upon his character, antics, and past, there's no way I'd offer Stephenson a dime. 
How will Stephenson bolting impact the Pacers?
Tradesports.com is the first and only fantasy sports experience where sports fans can play in real-time for real money. Follow @TradesportsUS.