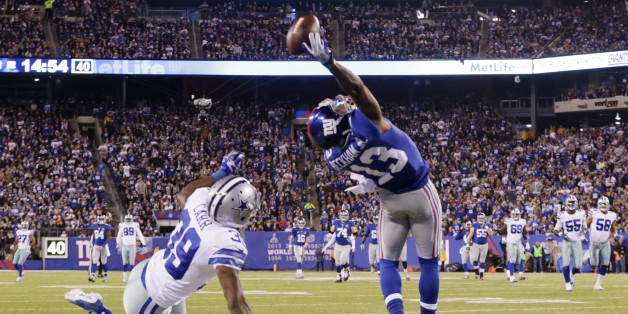 At 6-9, the New York Giants have missed the playoffs for the fifth time in the last six seasons. Tom Coughlin, who brought two Super Bowl victories to the city, might be on his way out. Eli Manning has not turned into the elite quarterback that he was once projected to be. Recent NFL Drafts have not provided many impact players on either end of the ball. The defense, a once-feared unit, is now laughable. However, all of that misfortune might be turned around with the emergence of rookie wide receiver Odell Beckham Jr.
In just 11 games played this season, Beckham has 79 receptions for 1,120 yards and 11 touchdowns. According to the Associated Press, his 79 catches are the most in NFL history for any player through his first 11 career games.
Listed at 5'11 and 198 pounds, the 22-year-old Beckham was the 12th pick in the 2014 NFL Draft. Despite his age, he has played well beyond his years in terms of ability and heart.
After three mediocre games in Weeks 6, 7 and 8 (his first games of the season after recovering from a hamstring injury), Beckham made his splash in Week 9 with a breakout performance against the Indianapolis Colts in which he caught eight passes for 156 yards. He continued with his expanded role in the New York offense in the following week, catching seven balls for 108 yards against a stingy Seattle Seahawks defense.
After a 93-yard performance in Week 11 against the 49ers, he found the endzone twice against the NFC East rival Dallas Cowboys in Week 12 (whom he has had four touchdowns against this season in just two games). He also made what is perhaps the best catch anyone will ever see in that game, in which he extended and twisted backwards with an incredible one-handed grab that reached every highlight reel in the country.
Following a 90-yard performance against the Jaguars in Week 13, Beckham has been on a tear over his last three games in which he has caught 11, 12, and 8 passes for 130, 143, and 148 yards on 15, 15, and 12 targets respectively. Most impressively, he has found the endzone six times in that span.
He has not only been the best player on the Giants in that span, but he has arguably been the best receiver in the entire NFL over those past three games.
With a receiving core of Beckham, Reuben Randle, and a healthy Victor Cruz next season, combined with a healthy Rashad Jennings and Andre Williams, the Giants should look towards having a bounce-back season. However, massive improvements must take place on the offensive line and on virtually every part of the defense in order for New York to become contenders.
While the Giants are, of course, out of contention for a playoff berth, it will be very exciting to see what kind of tricks are up Beckham's sleeve, especially amid reports that he recently dined with LeBron James and received some encouragement and advice on how to become truly great.
Let's see how many yards and touchdowns Beckham will put up in Week 17 against the Eagles!
Head over to Tradesports.com to join NFL prediction contests, including every Week 17 game!