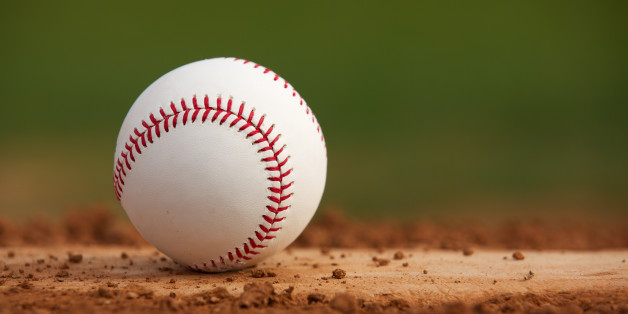 Throwing a no-hitter has long been one of the most coveted feats in the entire world of sports because of its rare occurrence. However, this significance has been lost in recent years. Why, you may ask? There have been 20 solo no-hitters since the beginning of the 2010 season. Let that soak in for a second.
By the way, by saying "solo no-hitter," I am referring to no-hitters that were not a collective effort, and therefore not thrown by multiple pitchers.
Since 1990, there have been some pretty odd no-hitters. In 2013, Tim Lincecum struck out 13 hitters and walked four in his historic outing. In 2008, Edwin Jackson struck out six and walked eight batters on his way to a no-hit accomplishment. In 2011, Francisco Liriano struck out two and walked six en route to his place in history. Nolan Ryan had 16 strikeouts in his 1991 performance when he was 44-years-old. But, a no-hitter is a no-hitter, no matter how you look at it.
Despite the increase in no-hitters, the odds of them occurring are still small. There are 4,860 regular-season baseball games every season. Between 2010 and 2013 (and counting those seasons), there were 19,440 total regular season games played. During that time, there were 58 regular-season no-hitters (not counting Roy Halladay's 2010 playoff no-hitter), which happened .003 percent of the time. This means that out of every 1,000 games played, there were approximately three no-hitters.
Between 1995 and 2005, there were 53,460 total regular season games and 15 total no-hitters. That amounted to a no-hitter happening .0003 percent of the time. This means that out of every 10,000 games played, there were approximately three no-hitters, 10 times more unlikely than from 2010 to 2013. Of course, these years fell directly in the span of the steroid era that accounted for insane offensive numbers all around the game of baseball, but it's still worth noting, due to the fact that it was a much rarer feat than it is today.
Despite these occurrences becoming more and more common, the value, especially in terms of contracts, for players who accomplish a no-hitter has skyrocketed. Homer Bailey cashed in on a 6-year, $105 million contract following tossing two no-hitters in 2012 and 2013. He went 13-10 with a 3.68 ERA in 2012 and 11-12 with a 3.49 ERA last season, yet landed that lucrative deal. Ubaldo Jimenez tossed a no-hitter in 2010 and after going 10-13 with a 4.68 ERA in 2011, 9-17 with a 5.40 ERA in 2012, and 13-9 with a 3.30 ERA in 2013, landed a 4-year, $50 million contract to play for the Baltimore Orioles this past offseason. Bailey's case is an example of a team overpaying in the moment, and Jimenez's deal is an example of a team overpaying based on his past, of which included a no-hitter.
Is there a way to predict what pitchers have a good shot of pitching a no hitter? Does age play a role? Are strikeout pitchers more liable to throw them? Let's take a look at the data.
Correlation Between Age and No-Hitters
In the 61 no-hitters that have occurred since the advent of the 1990 season, there has been a distinct age group that has dominated the total number: 24-to-27 year olds. As you can see below, before Clayton Kershaw's 15-strikeout no-hitter on June 18 of this season, 25 pitchers between the 24-to-27-year-old range have thrown no-hitters during this span of four-plus seasons, 41.7 percent of the entire group. Fifteen pitchers between the ages of 28 and 31 pitched "no-nos" during that span, accounting for 25 percent of the group. Combined, pitchers aged between 24 and 31 years old accounted for two-thirds of the total number thrown.
Five pitchers under the age of 25 accomplished the feat, most-recently including Henderson Alvarez, who at age 23, pitched a "no-no" in September of last season. Bud Smith in 2001 and Wilson Alvarez in 1991 were the youngest in the group, as they both did it at age 21.
There have been six pitchers over the age of 35 who have pitched no-hitters since 1990, including the amazing performances of Nolan Ryan. At age 43, MLB's all-time leading strikeout leader pitched a "no-no" in 1990, while he struck out 14 batters. He then did it again a year later this time striking out 16 at the ripe age of 44.
Overall, the average age over this time span has been 29.7 years old with a median age of 27.5 percent. Also, a standard deviation of 4.92 is present, noting that while the majority of no-hitters have fallen between the 24-to-27 year old range, there are some high and low outliers like Ryan (44 years old) and Smith or Alvarez (21 years old). If you subtract the ridiculous ability of Nolan Ryan at an older age from the equation, the mean decreases to 28.2 years old and standard deviation drops to 4.14.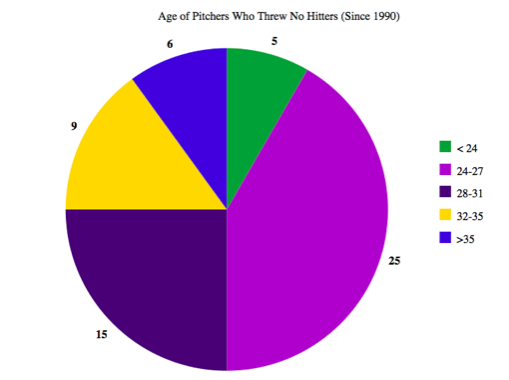 Correlation Between Strikeouts and No-Hitters
There is perhaps no more of a coveted asset to a MLB team than a strikeout pitcher. However, is there a relationship between an ability to strike out hitters and throwing a no-hitter?
According to BaseballReference.com, the MLB single-season record for strikeouts per nine innings of 13.4 lies with Randy Johnson, who threw no-hitters in 1990 and 2004. Other pitchers who have averaged over 10 strikeouts per nine innings in a single season during their careers and have pitched no-hitters since 1990 include Nolan Ryan (1990, 1991), Dwight Gooden (1996), Hideo Nomo (1996, 2001), Oliver Perez (2009), Johan Santana (2012), Tim Lincecum (2013), and David Cone (1999). These pitchers threw 11 of the 60 no-hitters thrown during this time span, which means that 49 no-hitters came from pitchers who did not have historic strikeout seasons at any point in their careers.
The average number of strikeouts during the no-hitters since 1990 is 8.35 and the median is eight. The most common numbers (the mode) of strikeouts has been six (happened nine times) and nine (happened nine times as well), which really doesn't tell us much.
There has been a huge range in strikeouts as well, ranging from Francisco Liriano's two strikeouts in 2011 to Nolan Ryan's 16 in 1991. This variance of 14 K's speaks volumes as to the different types of pitchers that have been able to get the job done -- thus making predicting who might be next on the list a very difficult task. Despite the high and low outliers, a 2.94 standard deviation accounts for some statistical significance.
Nearly one-third of the no-hitters thrown since 1990 have included double-digit strikeouts.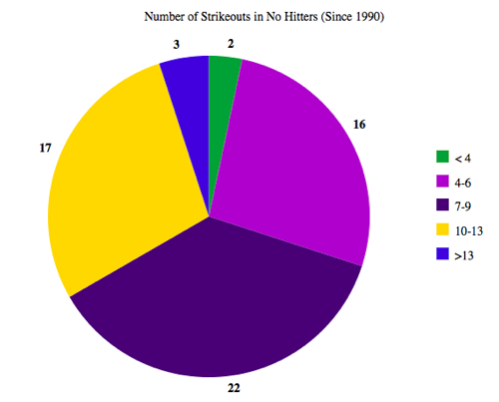 So, who will throw a no-hitter next?
Let's review the findings so far. The majority of pitchers who have thrown no-hitters since 1990 have been between the ages of 24 and 31, most particularly between 24 and 27 years old.
Secondly, two-thirds of no-hitters in that time span have not included double-digit strikeouts. Therefore, a pitcher with strikeout-heavy numbers is not necessary. More-so, a starter with an effective all-around arsenal who can use all of his pitches might be more valuable in this conversation.
Finally, and possibly most importantly, pitchers who are already considered some of the best in the game have shown that they can live up to their billing, but do not dominate the list. If you look at the list below the article, you'll recognize many familiar names, including Felix Hernandez, Jered Weaver, Justin Verlander, Jon Lester, Dwight Gooden, Nolan Ryan, Randy Johnson, Tim Lincecum, Johan Santana, and Roy Halladay, all of which already are or have a shot at becoming a Hall of Famer. However, the majority of the list included second-tier or third-tier pitchers with great stuff, who simply can't put up solid numbers for the duration of a season. We have also seen quite a few surprising names that came out of nowhere, like Philip Humber in 2012, Henderson Alvarez last season, and Bud Smith in 2001, for example.
To add, just four out of the 20 no-hitters since the start of the 2010 season have been from the hands of a left-hander, including Kershaw's most-recent one.
Therefore, let's review the criteria before we move on to the top three candidates to throw a no-hitter in the near-future, using the general trends explained above.
Between 24 and 31 years old (preferably around median of 28 years old)
Right-handed
Has the ability to strike out hitters, but is not primarily a strikeout hitter
Is a tier-two or tier-three pitcher who has good stuff
Candidate No. 1: Corey Kluber, Cleveland Indians
At 28 years old, Kluber sits right at the median of the pitchers who have accomplished no-hitters since 1990. The Indians pitcher is having a solid start to the season, and MLB.com projects him to finish with a 12-9 record, 3.97 ERA and 195 strikeouts. He is the perfect candidate as an under-the-radar, yet very talented right-handed pitcher who can dominate on any given night. He went 11-5 with a 3.85 ERA and 136 strikeouts in 24 starts last season for the Tribe.
Candidate No. 2: Mike Leake, Cincinnati Reds
At 26 years old, Leake is right in the most common range of those who threw no-hitters since 1990. Despite having two-time no-hitter specialist Homer Bailey on the same pitching staff, Leake has shown the ability to annoy hitters and pitched a two-hit eight inning no-decision earlier this season. MLB.com projects him to finish at 9-11 with a 3.55 ERA while giving up 11 less hits than innings pitched (174 hits and 185.0 innings pitched). Last season, he went 14-7 with a 3.37 ERA for the Reds.
Candidate No 3: Tyson Ross, San Diego Padres
At 27 years old, Ross is right in the sweet spot for the most common age to throw a no-hitter in recent years. After going 3-8 with a 3.17 ERA last season while allowing just 100 hits in 125.0 innings pitched combined with 119 strikeouts, Ross is projected to go 12-10 with a 3.53 ERA this season while allowing a 13 less hits than innings pitched (158 projected hits to 171.0 innings). He is also projected to have 150 strikeouts.
Let's see if any of these three candidates celebrate the feat sometime soon!
Tradesports.com is the first and only fantasy sports experience where sports fans can play in real-time for real money. Follow @TradesportsUS