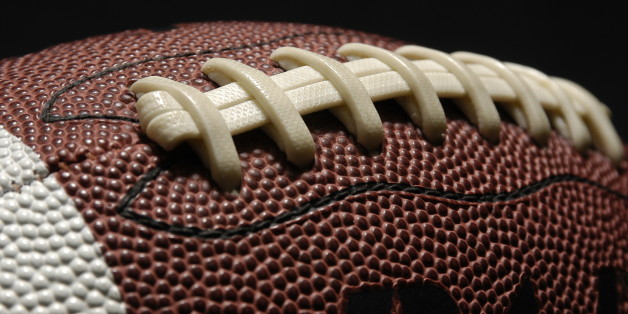 Every NFL offseason, video game fans from around the United States and beyond await the next installment of EA Sports' Madden NFL video game. Currently on all next-generation systems including Xbox 1 and Playstation 4, EA Sports puts out a freakishly-realistic interpretation of real life and provides football fans with the ability to take the field as their favorite players and teams. Electronic Arts has sold more than a whopping 100 million copies of the game in its illustrious 26 years of existence, generating over $4 billion in revenue.
According to CNN.com, EA pays the NFL and the NFL Players Association a total of $50 million per season to be the exclusive video game licensee and the company pays former coach and broadcaster John Madden an additional $2 million for the rights to his name.
The Madden cover athlete is chosen out of all polarizing athletes in the league, and most times features a player who is coming off of an outstanding season. However, the "Madden Curse" is a phenomenon that has been risen over the past half-decade. According to this train of thought, players who are featured on the cover of the Madden video game either 1. suffer injuries; or 2. have disappointing seasons. As you are about to find out, this "curse" is more of a fact than a mere hypothesis.
In this analysis, I will be using a metric called AV, or "approximate value." Formulated by Pro-Football-Reference.com founder Doug Drinen, AV is an attempt to assign a single number at any position which sums up the player's value to his team. Players with higher AV's of 16 and above, for example, are Pro Bowl-caliber players, whereas players who land in the 10-15 range are above-average to solid players. Players are given this value based on their personal performance and the performance of their particular team during the course of the season.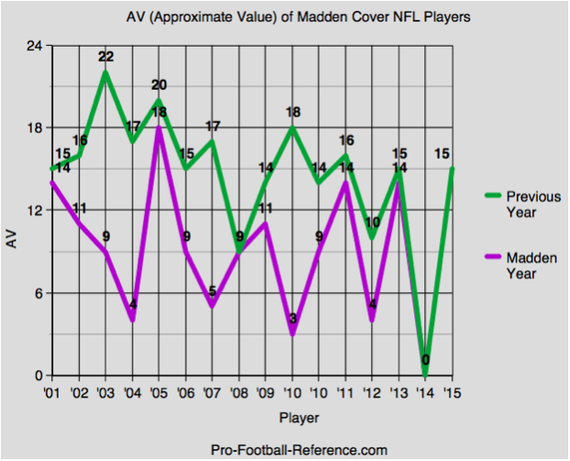 Quarterbacks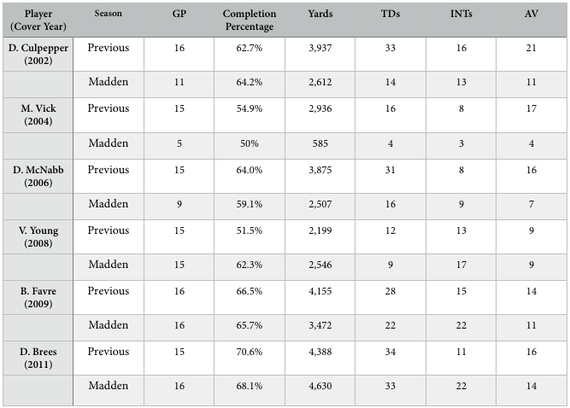 Daunte Culpepper had a breakout season in the 2000-2001 season, starting all 16 games for the Minnesota Vikings while racking up 3,937 yards to go along with 33 touchdowns. For his efforts, he was awarded to be the cover athlete on Madden 2002. And thus began the Madden curse for the next five quarterbacks to end up on the cover of the popular game.
In the 2001-2002 season in which he was featured on the cover of the game, Culpepper missed five games due to injury, threw for less than 1,300 yards than the year before, and threw 19 less touchdowns. His AV dropped from 21 the year before to 11 that season.
The injury bug also hit the next two quarterbacks on the list: Michael Vick (on the 2004 cover) and Donovan McNabb (on the 2006 cover). Vick played in 10 less games due to injury during his Madden year, while McNabb played in six less games.
The interception bug plagued the next two quarterbacks. Brett Favre threw 15 interceptions in the 2007-2008 season, but 22 in his Madden year. Drew Brees threw 11 in 2009-2010 and doubled that number to 22 in his Madden season.
Every quarterback on this list except for Vince Young had their AV decline (and in a few cases drastically) during the year they were awarded the Madden cover. Maybe that's why there haven't been any quarterbacks on the cover since Brees in 2011.
Running Backs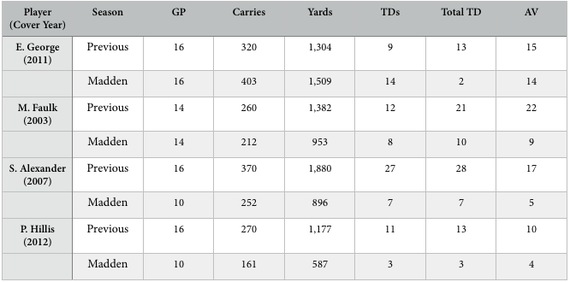 Eddie George is the only player on this list that did not exponentially regress during his Madden season, despite his AV decreasing by one. Each of the four running backs that were featured on the cover of Madden decreased in AV during their Madden season. Faulk, Alexander, and Hillis markedly struggled, with Alexander and Hillis catching the injury bug. Alexander's career took a downward spiral after his Madden year (due to his broken foot that year) and Hillis was released by the Giants following a disappointing season last year and is currently a free agent looking for a job.
Wide Receivers

Wide receivers didn't take as much of a hit from the curse. Larry Johnson turned in two solid seasons, but despite catching one more ball and one more touchdown during his Madden year, he racked up more than 300 less yards, therefore decreasing his AV by five points.
Calvin Johnson's AV decreased by one due to his touchdown production decreasing from 16 in 2011-2012 to just five in 2012-2013, despite putting up an incredible 1,964 yards receiving.
In subtle ways, the Madden curse also impacted these receivers, but luckily for them, not as much as other positions.
Defensive Players

Richard Sherman was named the next Madden cover athlete, most likely in reaction to his antics and popularity following last season's Super Bowl win by the Seattle Seahawks. He beat out Cam Newton in a bracket-styled fan vote online. Sherman becomes just the third defensive player to be featured on the game's cover.
Ray Lewis missed a game and didn't record a single interceptions after posting six the year prior to his Madden cover. Troy Polamalu had the most disappointing season of his career during the 2009-2010 season, in which he shared the cover with Larry Fitzgerald. As you can see above, his AV dropped from 18 to 3 due to the fact that he missed 11 games to injury.
Earlier this offseason, Sherman signed a $57 million contract. All Seahawks fans out there are hoping he doesn't break his foot like their beloved Alexander did when he was on the cover. One thing is for certain, though: the Madden Curse is not only a curse, but it has been a certainty. Brace yourselves, Seattle!
Tradesports.com is the first and only fantasy sports experience where you can play in real-time for real money. While waiting for NFL season to begin, check out the other daily sports offerings by CLICKING HERE to sign up!