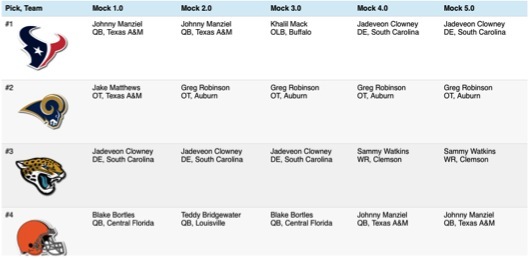 ESPN NFL Draft guru Mel Kiper Jr. generally releases four versions of mock drafts prior to the actual NFL Draft each year. As noted in Part One and Part Two of this series, projecting not only where each player will go, but how they will translate as NFL players is a quite demanding task, even for the undisputed expert.
The NFL prospects in this year's class involve some high-profile names, including Johnny "Football" Manziel and freakish athlete Jadeveon Clowney, both of whom the media love to cover due to their controversial actions and statements. However, Kiper generally stays away from media influence, and seems to honestly slot each player where he thinks they will and should be selected.
Every draft features players falling or rising unexpectedly. In 2013 it was Geno Smith. Slated as the No. 4 pick in Kiper's mock draft 4.0, he fell all the way down to No. 48, famously vowing that he would not return for Day Two after he sat in the Draft room for the whole first round on Day One-- only to be passed up by every team. He did end up staying for the next day, and was greeted by a myriad of boos from Jets fans who made it to Radio City Music Hall for the event.
In order to limit these draft day surprises, Kiper releases multiple versions of his mock draft every offseason. His mock 1.0 comes after the college football season, when he takes his notes and analysis from the season and is able to rank each player while determining the best need for each team in the NFL.
His mock 2.0 takes place after the Super Bowl and before the Combine, after he is able to talk with his sources, look back at more game tape to evaluate talent, and has more of a sense of what teams need. Kiper also begins to evaluate and create his Big Board, determining which players are the "best available," and incorporates some of that analysis into his mock draft.
Kiper's mock 3.0 is a reflection of what happens as a result of free agency. For example, the Denver Broncos needed a pass rusher at the beginning of the offseason. Instead of waiting for the draft, they ended up signing DeMarcus Ware in free agency, therefore erasing the need for a defensive end. Instead of projecting a pass rusher to go in the first round to the Broncos, Kiper is able to more accurately predict what's going to happen between May 8 and May 10, given the most recent free agent developments in mock 3.0.
Mock 4.0 has been released a few days before the Draft in past years, but since Draft Day was pushed back two weeks this season, he also released a 5.0 version as well. In these versions, a culmination of talking to his league sources, the Combine, pro days, and all of his analysis from college form his final picks.
Of course, Kiper pointed out that he cannot predict or reflect what trades will happen in the draft. But, what players have risen and fallen in his projections this offseason and why have they done so? Let's explore.
Mock 1.0
Kiper released his "Mock Draft 1.0" on January 16. Following yet another storied season at Texas A&M, quarterback Johnny Manziel was rewarded with the No. 1 selection in Kiper's mock 1.0. Noting his ties to the state of Texas-- where he starred in high school and college-- combined with his elusive ability to escape pass rushers and create with his legs and his arm, Kiper initially thought Manziel to the Texans was the right fit. This came just months after famously not ranking Manziel as a top prospect in September of 2013, the offseason after he won his Heisman Trophy.
This was from September of 2013.
This was from January of 2014.
Coming in at No. 2 was Manziel's teammate Jake Matthews, an offensive lineman who has been a pro prospect for a few years now.
After almost sitting out his junior season entirely in fear of getting injured, physical specimen Jadeveon Clowney, defensive end out of South Carolina, was slated in the No. 3 spot, which came as a bit of a shock to people, who had assumed since his freshman season that Clowney would eventually be the No. 1 pick.
Blake Bortles, quarterback out of UCF was listed at No. 4, while Clemson wide receiver Sammy Watkins came in at No. 5, UCLA linebacker Anthony Barr at No. 6, Buffalo outside linebacker Khalil Mack at No. 7, Louisville quarterback Teddy Bridgewater at No. 8, Auburn offensive tackle Greg Robinson at No. 9, and Oklahoma State cornerback Justin Gilbert at No. 10.
As Kiper noted, he was "just getting started with these guys." Two post-season All-Star games were looming, the Senior Bowl was approaching, and it was still a month from the NFL Combine. Regardless, mock 1.0 was released and published for the public to take in and Manziel was at the top of the world.
Mock 2.0
Following the postseason All-Star games, the Senior Bowl, and talking to more people around the league, mock 2.0 was released on February 6. This draft looked very familiar to 1.0, but certainly had a few shake-ups, including Teddy Bridgewater moving to No. 4 from No. 8, replacing Blake Bortles, who switched spots with him. Why did this happen?
There were seemingly no new developments in terms of showcasing talent for either Bortles or Bridgewater. However, based most likely on Kiper's league sources, he was able to come to the conclusion that Bridgewater, at that moment, should be projected higher than Bortles.
Greg Robinson also made a huge jump from No. 9 to No. 2, swapping spots with Jake Matthews.
Those two swaps were the only changes from Pick 1 to Pick 18.
Cyrus Kouandijo and Zack Martin switched spots, with Martin going at No. 19 and Kouandijo falling to No. 20. While Kiper didn't elaborate on why or how this switch was made, one can assume that his source within the Miami Dolphins organization elaborated that the organization was higher on Martin.
Ohio State running back Carlos Hyde and Oregon State defensive end Scott Crichton were dropped from Kiper's first round, while Fresno State wide receiver Davante Adams came in at No. 26 while LSU wide receiver Jarvis Landry arrived at No. 30.
Kiper projected eight of the 32 picks to be wide receivers, which has never happened in NFL history. Manziel still held on to the No. 1 spot, but that was about to change.
Mock 3.0
The NFL Combine is one of the tools NFL GMs and decision-makers use to determine form and physical ability. Held between February 19 and February 25, the 2014 NFL Combine opened some eyes --both positively and negatively-- including those of Kiper. Free agency also played a part in these newer projections.
Mack certainly impressed Kiper the most, being bumped all the way up to No. 1 from No. 7. Measuring in at 6-feet, 3-inches and 251 pounds, the three-time All-Mac selection impressed at the Combine, placing at or near the top of this positional performers in the 40-yard dash, with a time of 4.65 seconds, vertical jump at 40.0 inches, broad jump at 128.0 inches, and 20-yard shuttle at 4.18 seconds. He immediately shot up Kiper's draft board, and most likely the draft boards of GMs across the league. Already in the top-10 at No. 7, Kiper felt his dominance at the Combine was enough to make him the No. 1 overall pick to the Houston Texans. But, this pick didn't solve the Texans' major need for a quarterback. Mack's talent, according to Kiper, outweighed the need for a signal-caller.
Bortles re-claimed his No. 4 position that he owned in 1.0, while Bridgewater moved to No. 5. Bortles, projected to go No. 8 to the Minnesota Vikings in Kiper's 2.0, was now projected to go No. 4 to the Cleveland Browns. Why the jump over Bridgewater? It could have something to do with Bortles measuring in at over 6-feet, 5-inches, while Bridgewater measured in at just under 6-feet, 3-inches. Height, especially at the quarterback position, can definitely be a major pro or major con for a prospect. But, as we have seen, quarterbacks like Russell Wilson, who is under the 6-foot mark, can thrive, as he is coming off a Super Bowl victory.
Jake Matthews rose to No. 6 to the Atlanta Falcons from No. 9 to the Buffalo Bills. The Falcons, with many needs, might not have a greater one than keeping their franchise quarterback Matt Ryan upright. Matthews provides that ability, especially because they didn't sign an offensive tackle during free agency this offseason. Having signed some defensive linemen, as well as cornerback Javier Arenas, and re-tooling parts of their O-line, signing center Joe Hawley and guard Jon Asamoah, the important left tackle position is an area of need, and Matthews can fill that need for a decade, barring injury.
A few stars fell from the top five, including Sammy Watkins, who fell from No. 5 to the Raiders to No. 7 to the Buccaneers. Teddy Bridgewater was slated in that No. 5 position in 3.0, but this was before his disappointing Pro Day, and before the Raiders signed quarterback Matt Shaub, therefore perhaps eliminating the possibility of Oakland selecting a quarterback with their first-round pick.
Watkins dropped a few slots following an above-average, but not breathtaking, performance at the Combine, posing a solid 4.43 40-yard dash, among other slightly above-average times. His college career accolades will keep him high on the draft board, though.
Perhaps the most shocking regression in Mock Draft 3.0 is Johnny Manziel falling to No. 8 to the Minnesota Vikings, after leading quarterbacks in every major category in the Combine, including a 4.68 40-yard dash, 31.5 inch vertical jump, 113.0 inch broad jump, 6.75 second 3-cone drill, and 4.03 second 20-yard shuttle. Perhaps in part of Mack's dominant showing, Manziel was bound to slip, but slipping past both Bortles and Bridgewater was a surprise to everyone.
Offensive tackle Taylor Lewan rose from No. 11 to the Titans to No. 9 to the Bills, due to Matthews being projected to go No. 6. Factors like the Bills' need for an offensive lineman, are reflected. If Robinson and Matthews go before No. 9, the Bills are likely to go with the third-best option at that position, and by most accounts, that's Lewan.
The New York Giants had major needs to fill this offseason, and among the top were middle linebacker and tight end. After Alabama inside linebacker CJ Mosley was projected to go No. 12 to the Giants, the G-Men signed free agent middle linebacker Jon Beason to a 3-year, $19 million contract, therefore dispelling the notion that they will select a middle linebacker in the first round, especially since they are known to run a 4-3 defense. Therefore, North Carolina tight end Eric Ebron moved up from No. 16 to fill the need at No. 12. Mosley dropped nine spots.
Mike Evans rising from No. 13 to No. 10 to the Detroit Lions is yet another example of how predicting the draft is so difficult. Despite signing wide receiver Golden Tate in the offseason to play alongside Calvin Johnson, Kiper believes that Evans is too good to pass up on at No. 10. This is an example of a team not drafting on a particular need, but rather taking the best player available.
Some prospects really benefitted from the Combine, including Aaron Donald, Dee Ford, Ra'Shade Hageman, Kyle Fuller, Chris Borland, and Stephon Tuitt, who were featured for the first time. Donald was immediately slated at No. 14 to the Chicago Bears for his showing in the Combine.
The Combine can also hurt a player's stock immensely, as it did with Louis Nix III, who dropped from No. 14 all the way out of the first round, based in part to his well below-average 40-yard dash time.
These were just some of the scenarios that changed between Mock Draft 2.0 and 3.0. As you can see, free agency and the Combine add a whole different dynamic to the draft process.

Mock Draft 4.0
Usually his last version of his yearly mock draft series, Kiper releases 4.0 after pro days take place and teams are gearing up for the Draft. There were some pretty big changes at the top of the draft board.
Jadeveon Clowney moved to the No. 1 overall pick, as he has emerged as the consensus top prospect in this year's class.
Sammy Watkins moved from No. 7 to the Buccaneers to No. 3 to the Jaguars, as he has also emerged as a top prospect, perhaps No. 2 to Clowney.
Khalil Mack, who Kiper has going No. 1 in Mock 3.0, fell to Mock 4.0, mainly due to the lack of need of his position from picks two through four.
Perhaps the athlete that's had a bit of a roller coaster ride in Kiper's analysis is the polarizing Johnny Manziel. After being projected No. 1 in 1.0 and 2.0, Kiper dropped him to No. 8 in 3.0. However, after a wildly impressive pro day, in which he completed 62 of 65 passes, he is now projected at No. 4 to the Cleveland Browns.
Teddy Bridgewater took a huge fall, going from No. 5 overall in 3.0 to all the way out of the first round to No. 33 overall, the first pick in the second round to the Texans. This comes on the heels of a terrible pro day at Louisville, where major flaws were showcased in his arm slot and fundamentals. Taking his place in the first round was Derek Carr, the former Fresno State quarterback who threw for an astonishing 5,082 yards and 50 touchdowns last season.
Mock Draft 5.0
Kiper released Mock Draft 5.0 on April 29, most likely his last version leading up to the draft on May 8. There were no changes in the top 9 picks.
However, Odell Beckham Jr. moved up, despite the proclamation by Kiper that the Lions don't need a wide receiver -- but might want another one.
Also, Darqueze Dennard moved up to be the first cornerback taken at No. 11 to the Tennessee Titans, who Kiper say needs an experienced, versatile defender who can step in and play right away.
Aaron Donald moved up two spots to the New York Giants as he continues his rise, while Eric Ebron, who was previously at No. 12 to the G-Men dropped to No. 17 to the Ravens.
Kony Ealy moved into the first round, while Bradley Roby fell out of the top 32, most likely due to his recent arrest on suspicion of OVI.
===================
In Part Four of the series, you will see the First Round projections of Kiper and of myself. Best of all, you'll be able to get involved in the action!
Tradesports.com is the first and only fantasy sports experience where sports fans can play in real-time for real money. Follow @TradesportsUS