Predicting the NFL draft order is particularly difficult since three variables must align: pick number, player and team. As noted, draft trades and draft philosophy can sometimes skew an entire mock draft. Mel Kiper Jr. is the preeminent expert on the NFL draft. Often times being able to recite player stats and physical attributes off-hand on television, Kiper knows each prospect inside and out, and each year, he creates a "Big Board," in which he lists his top 25 players in terms of who he thinks are the best players in the draft, regardless of where he thinks they will be selected.
Is projecting NFL talent a more do-able task than mock selecting the NFL draft picks?
Evaluating Talent
Teams evaluate talent differently and employ scouts from different backgrounds -- some scouts may think higher or lower of players than others. Scouts come from three areas: the old school, new school and somewhere in between. Old school scouts might be more concerned with footwork, fundamentals and production. New school scouts might be more concerned with physicality, size and potential. Many scouts fall somewhere in between.
Let's explore which of the 2010 NFL prospects would appeal to each of these schools of thought. Gerald McCoy, out of Oklahoma, who Kiper tabbed as possibly the "best all-around talent in the draft," was described as a "gap-penetrating, three-technique DT who fits Tampa's system beautifully." He would appeal very strongly to the old school scouts.
Jason Pierre-Paul, out of South Florida, was noted to have "off-the-charts physical attributes" and would "have every defensive-minded coach in the league excited to work with him." Therefore, he would appeal more to new school scouts, as he was deemed a work-in-progress with a huge upside.
Then there are those, like Ndamukong Suh out of Nebraska, who are a mesh between the old school and new school, as a physical specimen who has proven to be fundamentally sound and dominant in the college game. The new school and old school converge on players who are consensus top players.
But scouts do not have direct authority on who's selected. Depending on the organization, coaches or GMs have the final call.
Head coach/GM Bill Belichick of the New England Patriots has been known to consistently trade down in the draft, since most of his selections have fallen at the end of the first round due to the immense success of his team.
The Oakland Raiders have been known to draft the fastest wide receivers on the board early in the first round, a strategy that hasn't worked.
Other relationships like the John Harbaugh/Ozzie Newsome bond between coach and general manager have resulted in very successful drafts.
These differences in evaluating talent result directly in what players get drafted where.
Role of the Media
We have all seen the highlight. Jadeveon Clowney breaks through the line in the 2013 Outback Bowl and removes both the helmet and the ball from the unfortunate Michigan running back. Undoubtedly the hit on the college football season, the clip was played over and over for weeks and months and absolutely defines Clowney to this day. When the average sports fan thinks of Clowney, they automatically think of that play.
The question becomes, what role will that one play have in his draft projection? What power does the media have?
Tim Tebow, quite possibly the most polarizing figure in college athletics during his time at Florida, received praise and attention from the media following his senior season, but fell to the end of the first round, which is now, after a body of work, thought of as having been way too early for him to be selected.
Johnny Manziel is receiving that same amount of attention. But at what level does the attention and ability intersect?
Clowney is a physical beast who has a handful of plays that warrant a YouTube clip. Manziel had highlight clips from the remarkable things he did each game. But, so did Tebow. Manziel, yet presented in a negative light sometimes, has produced similar numbers throwing the football and on the ground running during his two seasons at Texas A&M as Tebow did during his first two seasons. Tebow is bigger and stronger than Manziel. So how can Manziel be projected high at the next level? How can Clowney, who has potential to be a star, as noted by many experts, be defined by one play, which overshadowed him seemingly not giving any effort in his 2013-2014 college season?
At what point do we look at a player's complete body of work in college as an indicator of potential? Can we even do so?
Great College Career... But Does It Matter?
To what extent does personal success in college matter? Let's use Tim Tebow and Matt Leinart for examples.
Tim Tebow had 88 passing touchdowns to just 16 interceptions at the University of Florida. He threw for over 2,746 yards each of his last three seasons, including 3,286 during his sophomore season. Add in 57 rushing touchdowns and 2,947 career rushing yards, and Tebow can arguably be considered the best college quarterback of all time, since he won two national titles on top of his personal accolades, which included a Heisman Trophy in 2007.
After unsuccessful stints for the Denver Broncos, after being selected No. 25 in the 2010 NFL draft, and then the New York Jets, and New England Patriots, Tebow has not garnered any interest from NFL teams and is currently an analyst for ESPN's new SEC Network. In his NFL career, he completed just 47.9 percent of his passes, throwing 17 touchdowns and nine interceptions in 35 games. His lack of fundamentals when it came to passing the football is what turned NFL teams away from him and why he's out of the game -- even though he was one of the most prolific passers in the college game in a pro-style offense.
Matt Leinart won the Heisman in 2004 and enjoyed three dominant seasons as the quarterback of the USC Trojans under Pete Carroll. He threw for over 3,322 yards in each season and had 38, 33 and 28 touchdowns respectively never getting into double digits when it comes to interceptions in each of the three years. After being selected No. 10 overall by the Arizona Cardinals, his career NFL numbers include 15 passing touchdowns and 21 interceptions. Like Tebow, Leinart played in a pro system in college and was largely successful, winning two national championships of his own. He is now jobless as an unrestricted free agent.
Others, like Vince Young, have experienced success at the highest level in college, but for some reason cannot get it together at the next level. Whether it's work ethic, a lack of elite athleticism, mentality, or any other reason, some of the best quarterbacks in the history of college football simply couldn't get it done at the next level.
Effect of the NFL Combine
Prior to the draft, the NFL combine is held every season. In this combine, players are asked to work out in front of representatives of every NFL team and are measured in terms of height, weight, 40-yard dash time, 225-pound bench press, vertical jump, broad jump, shuttle time and three-cone drill time.
While the combine usually doesn't completely make or break a player, it can certainly create a positive or negative interpretation of what that player can bring to the table from a physical level. In other words, it can validate or create questions about a player.
CJ Spiller had the third-fastest 40-yard dash time at 4.27 seconds, and even put up 18 reps on the 225 pound bench press as a running back. Another running back, Ryan Mathews, put up a 4.37 40-time and 19 reps on the bench, which could be a reason why he was traded up for.
Spiller, who ran second in this clip, clearly stood out above his fellow running back prospects in terms of explosive speed in his combine:
Eric Berry put in a very well-rounded workout, clocking at 4.40 on his 40 yard dash, putting up 19 reps on the bench, having a 43-inch vertical leap, 130 inch broad jump, and clocking in at 4.23 on the shuttle run -- all of which were near or at the top of the board for his position.
Russell Okung's combine might have had a positive effect on Mel Kiper's projection of him, as he put up 38 on the bench press and ran a respectable 5.18 in his 40-yard dash.
Then there was Derrick Morgan, who put up a 4.77 time in his 40-yard dash and was in the middle of the pack when it came to leaping and jumping ability, yet was still placed high in Mel Kiper's mock draft.
It seems like players who choose to attend and work out at the combine are usually benefitted more than hurt in respect to their draft stock for their performances, but there isn't enough evidence to assume a correlation.
Mel Kiper's 2010 Big Board: Results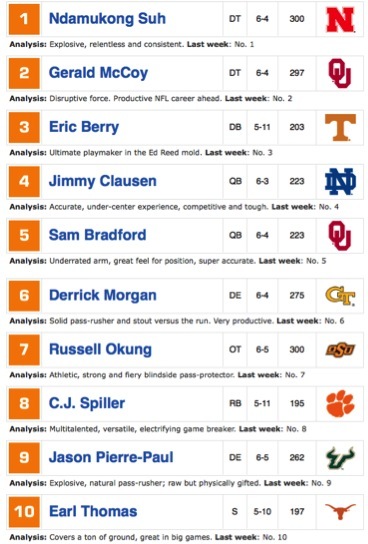 At the top of Kiper's 2010 big board was the 6-foot, 4-inch, 300-pound defensive tackle Ndamukong Suh out of Nebraska. He was described by Kiper as being "explosive, relentless, and consistent" and came in at No. 2 on Kiper's mock draft, going to the Lions, which was an accurate prediction. His regular season numbers through four full seasons are as follows: 62 games, 196 tackles, 27.5 sacks and two forced fumbles.
Next on the list at No. 2 was Gerald McCoy, a 6-foot, 4-inch, 297 pound defensive tackle out of Oklahoma. He was described as a "disruptive force" with a "productive NFL career ahead." He was projected at No. 3 on Kiper's mock draft to the Buccaneers, which was an accurate projection. Through four seasons, he has played in 51 games, had 119 tackles, 18.5 sacks and had three forced fumbles.
Coming in at No. 3 was Eric Berry. A 5-foot, 11-inch, 203 pound defensive back out of Texas, Berry was touted as the "ultimate playmaker in the Ed Reed mold." Kiper had him going at No. 5 to the Kansas City Chiefs, which he did. He has had a productive NFL career when he has been on the field, totaling 47 games, 252 tackles and eight interceptions.
Jimmy Clausen took the No. 4 slot, who Kiper projected as being taken with the No. 8 pick in his final mock draft, famously fell to No. 48 in the second round. The 6-foot, 3-inch, 223 pound quarterback out of Notre Dame was described as "accurate," with a lot of experience, as well as being "competitive and tough." This was a complete bust of a pick by Kiper. Through four seasons, he started 13 games and threw for just 1,558 yards with three touchdowns, nine interceptions, with a quarterback rating of 58.4, while completing 52.5 percent of his passes. He is currently a free agent.
Sam Bradford, quarterback out of Oklahoma, was projected as the first overall pick to the St. Louis Rams by Kiper, which he turned out to be. However, Kiper ranked him below Clausen in the No. 5 spot on his big board. The 6-foot, 4-inch, 223 pound quarterback was said to have an "underrated arm, great feel for the position" and for being "super accurate." Bradford has shown that he is very injury-adept, starting just 49 games, passing for 11,065 yards, 59 touchdowns, 38 interceptions, and putting up a 79.3 rating while completing 58.6 percent of his passes.
Derrick Morgan, the 6-foot, 4-inch defensive end out of Georgia Tech came in at No. 6 on Kiper's Big Board. Noted as "very productive," Kiper also noted that he was a "solid pass-rusher and stout versus the run." Morgan fell to the No. 16 pick after being projected to go at No. 7 by Kiper. Morgan has played in 50 games, made 128 tackles, 16.5 sacks and two forced fumbles in his NFL career.
Russell Okung came in at No. 7 on Kiper's Big Board. The 6-foot, 5-inch 300-pound offensive tackle out of Oklahoma State was described as an athletic, "strong and fiery blindside pass-protector." He was projected by Kiper to go to the Seattle Seahawks with the No. 6 pick in the draft, which he did. Okung has played in 45 games for the Seahawks and was a part of their offensive line in last season's Super Bowl run.
CJ Spiller, the 5-foot, 11-inch 195-pound running back out of Clemson came in at No. 8 on Kiper's big board. While Kiper projected him to go No. 10 to the Jaguars, Spiller went at No. 9 to the Buffalo Bills. He was characterized as a "multitalented, versatile, electrifying game breaker." Spiller has played in 61 games, rushed for 3,031 yards at 5.1 yards per carry, and has scored 12 touchdowns on the ground. But, he has also had 10 fumbles.
Jason Pierre-Paul, who was projected to go at No. 16 in the draft to the Tennessee Titans, jumped up one spot and went No. 15 to the New York Giants. Coming in at No. 9 on Kiper's Big Board, the 6-foot, 5-inch, 262-pound defensive end was tabbed as "explosive" and "raw but physically gifted." Pierre-Paul is a Super Bowl winner who has played in 59 games, recording 209 tackles, 29.5 sacks and five forced fumbles.
Finally, rounding out Kiper's top 10 on his 2010 Big Board was Earl Thomas, the 5-foot, 10-inch, 197-pound safety out of Texas. Kiper noted that Thomas covers a lot of ground and is "great in big games". Kiper accurately predicted Thomas to go No. 14 to the Seahawks in the draft. Thomas has played in every possible game of his NFL career, starting all 64 contests, and has made 345 tackles, had 15 interceptions and caused five forced fumbles.
In all, Kiper's top 10 was largely successful, but looking back from now, who did he leave out? Hindsight is always 20/20.
Who Slipped Kiper's Radar?
Dez Bryant has played in 59 games for the Dallas Cowboys and has caught 293 passes for 4,104 yards and 40 touchdowns.
Joe Haden has recorded 13 INT and 234 tackles in 57 games for the Cleveland Browns and is considered by some to be a shutdown cornerback.
Demaryius Thomas has played in 53 games for the Broncos and has caught 240 passes for 3,698 yards and 30 touchdowns.
Geno Atkins, who went 120th overall, has played in 57 games for the Cincinnati Bengals, and has recorded 136 tackles, 29 sacks, and has caused six forced fumbles. He is widely regarded as a top-three defensive tackle in the NFL right now.
Jimmy Graham, who went 95th overall, is considered the best tight end in football right now, and has played in 62 regular season games for the New Orleans Saints, catching 301 balls for 3,863 yards and an astounding 41 touchdowns. Many believe he will be considered the best tight end of all-time at the end of his career.
A fellow star tight end, Rob Gronkowski, went 42nd overall to the Patriots and, while only playing in 50 games, has caught 226 balls for 3,255 yards and 42 touchdowns.
NaVorro Bowman went 91st overall and has played in all 64 games for the San Francisco 49ers, amazing an amazing 482 tackles, nine sacks, five forced fumbles, and three interceptions.
Finally, Victor Cruz went undrafted and under everyone's radar. Since 2011, after not playing in 2010 because of a lack of interest, he has played in 46 games for the Giants after they invited him to training camp and he impressed them. Since, he has caught 241 balls for 3,626 yards and 23 touchdowns.
Get the picture? Projecting NFL talent, and in particular those who will thrive, is an incredibly difficult process for the draft gurus like Kiper and for coaches and front offices.
Barriers to Projecting Success
What are the roadblocks for projecting talent? First, let's start with injuries -- especially those of once-durable players who never caught the injury bug. Nagging injuries, such as hamstring issues or knee problems can linger throughout one's NFL career and completely damage someone's potential success. Not everyone heals as quickly as Adrian Peterson.
Next, we don't know if the player will fit in on the team. While the Jonathan Martin situation is definitely one-of-a-kind, rookies not fitting in on certain teams is evident in production numbers. If a player does not espouse the "ride or die" mentality of playing for a brotherhood, his career might take a hit.
Trouble with the law is an obvious barrier to success. As we have seen with Aaron Hernandez, Rolando McClain, Aldon Smith, and Ray Rice -- just to name a few of the most severe cases -- NFL players are the worst when it comes to staying out of trouble with the law.
Finally, big time college players who simply don't produce at the next level inexplicably make this discussion arise. Let's take Jimmy Clausen as an example. Clausen threw 60 touchdowns to 27 interceptions while starting three seasons for Notre Dame. At 6-foot, 2-inches, and 210 pounds, he didn't possess an elite frame, but he certainly had the arm strength and pedigree to take his game to the next level and produce. If you remember, Kiper believed in him so much that he listed him at No. 4 on his Big Board, ahead of No. 5 Sam Bradford, who he had at No. 1 on his final mock draft. After being largely ineffective, as mentioned earlier, he doesn't have a job at the moment.
So many other variables, including disruptive player-coach relationships, a lack of playing time, and distracting contract discussions also play an integral part in hampering success.
What the 2010 Big Board Top 10 Would Look Like Now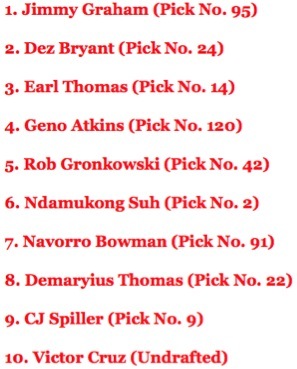 Five out of this new top-10 were first round picks and only two were top-10 selections.
Jimmy Graham flew way under everyone's radar, including experts like Kiper. Bryant, Thomas, Suh, and Spiller were included on Kiper's Big Board, but Suh and Spiller were the only two who landed in the Top 10 of his Big Board.
Victor Cruz is a living example of what hard work and dedication can do. Coming out of UMass, a non-traditional football school, hard work, skill and determination all played into him getting an opportunity with the Giants, and to this point, he has made the most of that opportunity.
This new example of what the 2010 Big Board would now be is yet another example of how painfully hard it is for organizations to accurately project talent from the college level to the pro ranks.
===================
In Part Three of the series, we will take a look at this year's draft and why and how there have been progressions and regressions in Mel Kiper's mock drafts and Big Board. If you missed Part One, click here to check it out.
*(Source: ESPN Insider)
Tradesports.com is the first and only fantasy sports experience where sports fans can play in real-time for real money. Follow @TradesportsUS