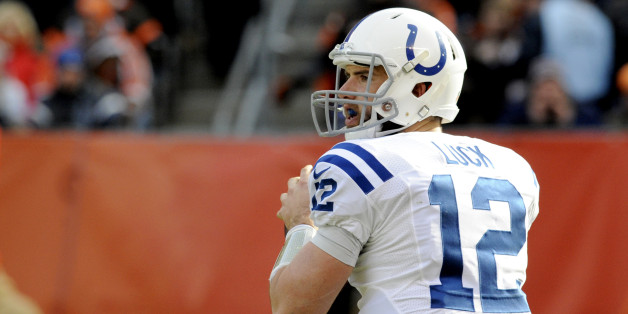 Indianpolis Colts third-year quarterback Andrew Luck is considered by many to be the next superstar quarterback in the NFL. Taking over for Peyton Manning in Indy, Luck has made the playoffs in both of his two seasons and has put up some productive passing statistics while doing so, throwing 23 touchdowns in his rookie and sophomore campaigns to go along with 4,374 and 3,822 yards respectively. However, no one in the media likes to point out the fact that he's had a lot of difficulty when it comes to turning the ball over.
Luck will likely surpass career-highs in completion percentage, passing yards, quarterback rating, and already has 36 touchdowns, which is 13 more than his output in either of his first two seasons. His 4,305 passing yards lead all NFL quarterbacks and he's tied for first in touchdown passes with Peyton Manning.
But, his numbers aren't all fantastic.
While the numbers above are impressive, it's important to note that Luck has been picked off 13 times and has fumbled a shocking 11 times this season, thus putting him among the league leaders in giveaways.
Part of being an elite quarterback is being able to make smart decisions with the ball, not forcing it into tight windows, and being able to hang on to it while being tackled. Luck simply has not drastically improved in those areas.
In his team's nine wins this season, Luck has been sensational, throwing for 3,060 yards, 26 touchdowns, and just seven interceptions with a 103.7 rating. However, in Indy's four losses, he has been human, throwing 10 touchdowns to six interceptions for an 88.0 rating.
Among the NFL's top seven quarterbacks in terms of passing statistics (along with Manning, Rodgers, Tom Brady, Ben Roethlisberger, Drew Brees, and Philip Rivers), Luck has the lowest completion percentage (61.9) and quarterback rating (98.8) of the bunch. This comes in part due to his passing volume, but nonetheless, it's important to point out.
Luck is coming off of a 24-for-53 performance in a 25-24 victory over the Cleveland Browns on Sunday. In that game, he passed for just 294 yards (which isn't great considering he threw the ball so many times), 2 touchdowns, 2 interceptions, and a fumble for a rating of just 59.8... his worst game of the season so far. For much of the first half, he and the Colts offense looked confused and panicked. But, I guess everyone is entitled to a bad game here and there.
In my opinion, Luck is supremely talented and has all of the ability to be an elite quarterback, but I wouldn't quite classify him above the aforementioned quarterbacks who have arguably performed better than Luck this season when keeping turnovers in mind with the same weight as touchdowns and passing yards.
Do you consider Luck to be an elite quarterback?
Play daily fantasy NFL prediction contests on Tradesports.com!