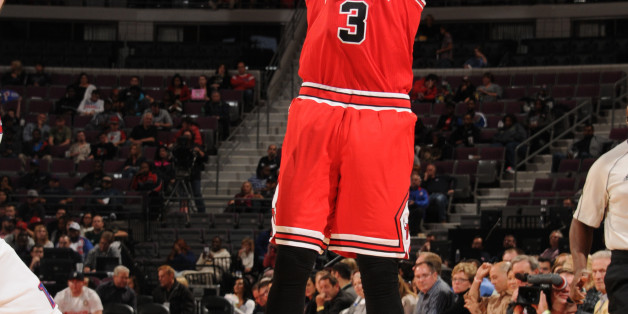 Let's take a trip down memory lane.
Adam Morrison, the mustached, grizzly-looking Gonzaga Bulldogs star junior had just finished putting together one of the best college basketball seasons in recent memory, averaging 28.1 points per game, and led his west coast school into the NCAA Tournament. Gonzaga had made it to the national stage, due to Morrison's dominance.
However, the final picture of his final college season was of him lying face-first on the floor, crying uncontrollably, as he realized that his last college game had just ended in a painful loss to UCLA in the Sweet 16.
Unquestionably the most popular player in all of college basketball that season, gracing the cover newspapers and magazines, the man with a knack for scoring the basketball ended his college chapter and declared for the NBA Draft.
That picture of him mourning the Sweet 16 loss foreshadowed what his NBA career ended up being: a sob story.
Selected as the third overall pick by the Charlotte Bobcats in the 2006 NBA Draft, Morrison averaged 11.8 points per game as a rookie, but his career spiraled downwards from then on, as injuries and a lack of ability limited him, as he never put up more than 4.5 points per game in a season in the final four of his short career. He moved on from playing the game, and is now a coach on Gonzaga's bench.
Someone who has drawn comparisons to Morrison is Chicago Bulls rookie Doug McDermott. At 6'8 and 225 pounds, McDermott is slightly heavier than what Morrison was listed at, but is the same height, and is coming off a college season in which he put up 26.7 points per game and suffered an emotional loss in the NCAA Tournament. Both players won multiple player-of-the-year awards in their final college season. Both went to non-traditional basketball powerhouses, as McDermott played for Creighton, and brought them to national-attention. Both were the most popular players in the country during their final seasons, hands-down.
But, NBA fans have learned from the career of Morrison, who entered the league with extremely-high expectations to continue his college success. No one expects McDermott to produce at an elite level right away. No one expects him to make an All-Star team anytime soon, if at all. It seems as though we all don't want to get our dreams dashed... again.
But, here are some reasons why McDermott will be extremely successful in the NBA, compared to Morrison's dud of a career.
First, he's coming into a much better situation in terms of what team he was drafted to, compared to Morrison joining the expansion Bobcats and becoming the most leaned-on player right away with the highest expectations. The Bulls have a talented roster, with the likes of Derrick Rose, Pau Gasol, Joakim Noah, Jimmy Butler, and Taj Gibson a part of it. Their head coach, Tom Thibodeau, is among the best in the NBA. He will largely benefit from a complimentary role, in which he is the third, fourth, or fifth option on the court, as Rose, Gasol, and possibly Noah will demand more of a defensive focus from the opposition.
Secondly, McDermott has an uncanny ability to shoot the ball accurately from the outside. A career 45.8 percent shooter from three-point range in college, McDermott made an incredible 598 three-pointers during his time at Creighton. His ability to stretch the floor, with the bulk of being able to play the "four" spot, in addition to the "three" spot, will only bode well for him and Chicago's offense. Morrison proved he could shoot the deep ball in his final season at Gonzaga, but McDermott has a much better track record, dating all the way back to his freshman season.
Next, "McBuckets" spent some time in the post in college. During his four years, he averaged 7.5 rebounds per game, and developed a strong, underrated offensive post game as well, as he was used to playing as one of the biggest men on the court for the slightly-undersized Blue Jays. Morrison lived on the wing, and his game was limited to that spot. McDermott can play on the wing or on the post, thus proving to be more developed offensively and defensively.
Finally, as coach Thibodeau recently noted to the media, McDermott has a ton of swag. As an NBA player, you need to be able to walk the walk and talk the talk to be an elite player. The last time I checked, LeBron James and Kobe Bryant are not some of the most humble guys in the world. Confidence is not something you can teach, it's an innate ability to believe in yourself, even when you're struggling. Following McDermott's career since he was a freshman in college, all the way through the NBA's Summer League, it's evident that McDermott is one of the most confident players in the NBA already, which, as a potentially high-volume shooter, is an important attribute to have.
If McDermott can average between 14 and 16 points a game, as I project him to be around by the end of the season, everyone better watch out for the Bulls, if and only if Derrick Rose stays healthy. But, that's another debate for a different day.
Do you believe in Chicago? The Bulls are trading at 6 percent to win the NBA Championship on Tradesports.com. CLICK HERE to sign up for an account or HERE to view and join that exact contest!