Thanks to David Simon, ordinary citizens -- or at least the ones with premium cable -- are now more likely to know what a second line is. Simon's HBO show Treme shines a light on the lives of working musicians in New Orleans and gives a new kind of exposure to the brassy amalgamation of jazz, bebop, blues and funk associated with the Crescent City. Few bands today embody this sound and lifestyle as wholly as Dirty Dozen Brass Band.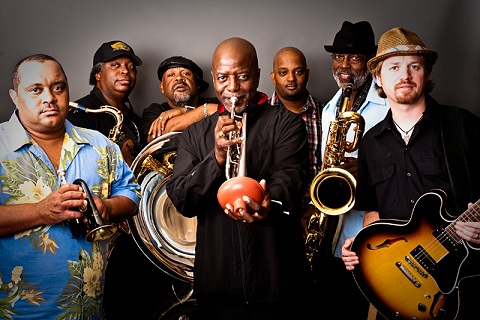 Photo by Michael Weintrob, used by permission
Speaking from his home in New Orleans, founding member and baritone sax player Roger Lewis recalls,
"When we started hitting the streets, of course, we were playing all the traditional music that everybody else was playing: hymns, a march. We started practicing the original music that people had and we started playing that, too. We started playing cover tunes like Michael Jackson. We were also playing a lot of bebop like Charlie Parker. We just kind of mixed it all in. People loved it, but we got a lot of static in the beginning. We just played what we wanted to play and had fun."
Most brass bands at the time employed clarinets, rather than the more burdensome baritone sax. "Who but Roger Lewis would want to carry a baritone sax in a parade for four hours?" says tenor saxophonist Kevin Harris, who was actually making gumbo when I reached him. "I did it in high school, and that was more than enough. I don't remember the exact weight, but it's heavy enough to give you back problems."