Debate has erupted over a recent AdAge article focused on Coca-Cola's analysis of how social has -- or has not -- affected its bottom line. Eric Schmidt, the senior manager of marketing strategy and insights at Coca-Cola, contends there was no direct correlation between social "buzz" and short-term sales. The article prompted a direct response from Coke's CMO, Wendy Clarke criticizing this analysis.
The fact that Coca-Cola, one of the most successful brands in the world, would take either stance is startling.
I agree with Wendy Clarke. Social engagement does drive sales.
In our work with clients in the smartphone, beer and consumer goods categories, Networked Insights has seen a direct connection between social engagement and consumers moving down the purchase funnel to buy.
How does this happen?
The buzz starts with the influencer, who attracts the general audience, who ultimately buys in volume. The chart below shows the effect that tech enthusiasts had on the general public when Instagram released its app on Android. The influencer spikes are followed by the general public spikes, which in turn prompted widespread downloads.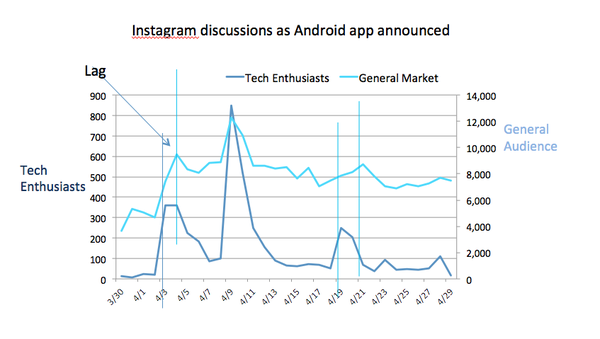 But the true marketing value of social data comes from the socially engaged buyers. From them, marketers can identify the audience, content and media that will engage their targets (both online and offline) and drive long-term success for their brands.
What the Coke conversation misses is the strategic value of social to inform the full spectrum of marketing activities and provide smarter, faster insights that drive more sales sooner. From audience targeting to content development to advertising creation and media selection, the data available in the social stream is so vast, rich and immediately available to pre-inform marketing.
The revolution is not about the last mile -- from post to purchase -- but about the first mile, in which marketing innovators are using social insights to reimagine how they stay a step ahead of their consumers with an Always On approach to moving their merchandise off the shelf.