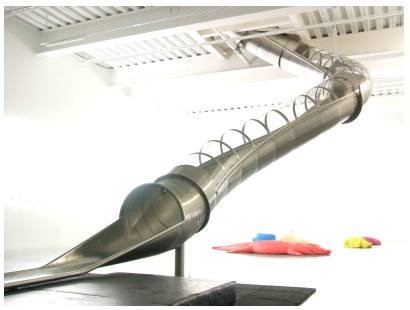 I'm a lucky guy. I've wanted a reason to break out of my cramped, unkempt studio and check out Carsten Höller: Experience, the new exhibit at the New Museum that provides a comprehensive survey of the German-born artist known for his immersive, sensory-confounding -- and sometimes adrenaline-pumping -- installations, and fortunately the museum was happy to invite me in to get a look at the show.
Carsten Holler is certainly deserving of the attention. Having left a career in science in the early 90's, Höller has translated his clinical background into works that range from the grandly whimsical -- the lobby of the New Museum boasts a garden of oversized mushrooms that Lewis Carroll would have felt right at home in -- to the powerfully immersive. "Viewers" rarely remain passive observers in the artist's efforts: Included in the exhibit are such works as Experience Corridor, a series of rooms containing strange, sensory experiments (most curious: The Pinocchio Effect, in which strategic application of a medical vibrator convinces one that one's nose is growing); Giant Psycho Tank, a sensory deprivation pool; Mirror Carousel, in which the glistening replication of a stock, amusement park thrill-ride is paradoxically trimmed to a serene pace; and -- the big draw for this exhibition -- Untitled (Slide), a corkscrewing tube that briskly transports daring visitors from the museum's fourth floor down to the second, landing them into the visual bombardment of a pulsing, Höller light installation.
The works have a singularly unique way of cutting through intellectual concerns to provoke pure, emotional responses -- interesting for pieces that frequently present themselves as the products of an especially fanciful laboratory. I wanted to find out more about Höller's motivations, so in addition to getting some interesting pics of the exhibit, I also spoke with associate curator Gary Carrion-Murayari. Click on the player to hear the discussion, and check out the slide show below that.
CARSTEN HÖLLER: EXPERIENCE
Interview with New Museum Associate Curator Gary Carrion-Murayari
PHOTO GALLERY
Carsten H%uFFFDller: Experience at New Museum