This week, the Cinefantastique Horror, Fantasy & Science Fiction Podcast scrutinizes a pair of sequels that seem to have nothing in common: Shrek Forever After, the latest family-friendly CGI fantasy from DreamWorks Animation; and Survival of the Dead, the latest horrifying episode in George A. Romero's on-going zombie apocalypse, which began way back in 1968 with Night of the Living Dead. What's the connection? Although each film has its worthwhile moments, both raise the question of whether their franchises are tapped out and in need of a hiatus to recharge their batteries. Also on the menu: a round-up of recent news, a preview of the week's home video releases, including True Blood: The Complete Second Season and The Road; and listener mail.
Click on the player to hear the show.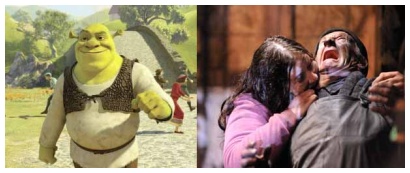 Check out previous episodes of the CFQ Podcast
v1n14 - Metropolis
v1n13 - Iron Man 2
v1n12 - A Nightmare on Elm Street
For the latest news on horror, fantasy, and science fiction film and television, visit Cinefantastique online.