With theaters offering no new genre films this weekend, The Cinefantastique Podcast turns its all-seeing gaze back through the mists of time to a 50th anniversary examination of Eyes without a Face, director George Franju's moody masterpiece of art house horror. Imagine a dream of lyrical black-and-white images, of a lonely young woman, flitting through her home like a silent spectre. Her face, hidden behind a placid, mannequin-like mask, is a ruined mess. Her father, a brilliant but monomaniacal surgeon, is trying to restore her beauty -- a process that involves kidnapping look-alike victims and transplanting their faces onto hers. When you see the operation in full view of the unblinking camera, you realize that your dream has erupted into a nightmare whose shock derives from the horrendous manner that the graphic imagery violates the poetic beauty of the film. The result is a classic not only of the genre but of cinema, easily one of the greatest horror films ever made. Follow Dan Persons, Lawrence French, and Steve Biodrowski as they dare to look beneath the mask - it's all part of Cinefantastique's ongoing Celebration of the science fiction, fantasy, and horror films of 1960.
IN THIS EPISODE:
1. News
2. Opening in Theaters
3. 50th Anniversary Discussion: Eyes Without a Face
4. New on Home Video
5. New at cfqmag.com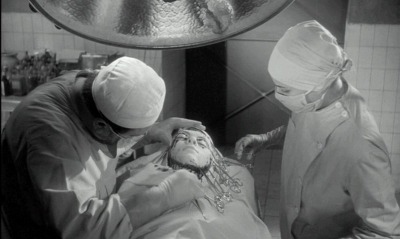 Check out previous episodes of the CFQ Podcast
v1n23 - Inception
v1n22 - Predators
v1n21 - The Twilight Saga: Eclipse and The Last Airbender
For the latest news on horror, fantasy, and science fiction film and television, visit Cinefantastique online.