This week, the CFQ Podcasters Dan Persons, Lawrence French, and Steve Biodrowski suffer the flames of perdition as they go for a horrifying elevator ride to Hell in Devil, the new horror film "from the mind of M. Night Shyamalan." The first in what is being billed as "The Night Chronicles," Devil takes a Twilight Zone premise and spins it out to feature length, with five characters trapped in an elevator, one of whom may be the Evil One himself, out to claim the souls of the damned. Is Devil a trip into terror? Listen in and find out. Also this week: a final farewell to the late Kevin McCarthy, the actor who starred in the 1956 science fiction classic, Invasion of the Body Snatchers. All this, plus the usual round-up of news, upcoming events, and home video releases.
IN THIS EPISODE:
1. News
2. Opening in Theaters
3. Discussion: Devil
4. New on Home Video
5. New at cfqmag.com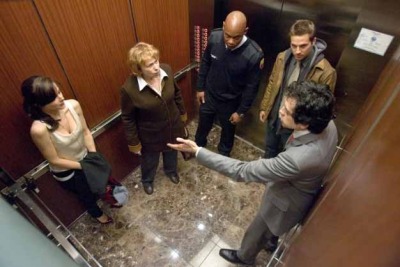 Check out previous episodes of the CFQ Podcast
v1n31 - Resident Evil: Afterlife 3D
v1n30 - 2010 Summer Wrap-Up
v1n28 - The Last Exorcism
For the latest news on horror, fantasy, and science fiction film and television, visit Cinefantastique online.