This week, the Cinefantastique Podcast watches the skies - or, rather, the Skyline. Tune in as Dan Persons and Steve Biodrowski (minus the missing-in-action Lawrence French) take a stand against brain-eating aliens intent on taking over Tinsel Town - and apparently the rest of the world. It's a special effects-filled mash-up of War of the Worlds, Cloverfield, Independence Day, and other alien invasion films, one that again poses the age-old genre question that has been on the minds of characters at least since Night of the Living Dead (with all due apologies to the Clash): "Should I stay, or should I go?" Also this week: the death of Dino DeLaurentiis, plus the usual round-up of news, events, and home video releases.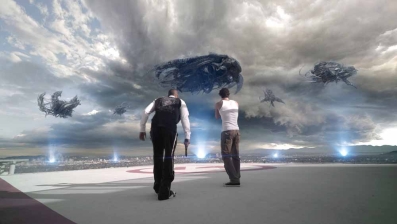 Check out previous episodes of the CFQ Podcast
v1n39 - Megamind
v1n38 - Paranormal Activity 2
v1n37 - Hereafter

For the latest news on horror, fantasy, and science fiction film and television, visit Cinefantastique online.