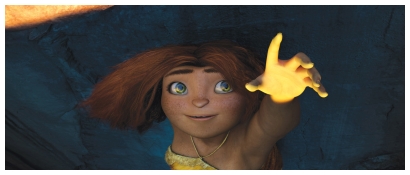 We should be grateful that mainstream entertainment has evolved enough for an animated tale of a prehistoric family not to be solely defined by how many times the work "rock" is prefixed to other nouns. The new DreamWorks film, The Croods, is about a primitive clan -- led by cautious father Nicolas Cage -- facing their own evolutionary upheavals, including a rebellious teen daughter (Emma Stone), a brainy stranger -- he's got shoes! (Ryan Reynolds), and a little thing called the continental drift. Cinefantastique Online's Steve Biodrowski, Lawrence French, and I saw this fanciful tale of survival, and got together to discuss the awesome production design, the occasionally-serviceable, occasionally-better comedy, and when we'll see it's-all-about-family plotting finally collapse from total exhaustion.
Plus: I discuss the low-budget horror film, A Resurrection; what's coming to theaters; and Steve vanishes into a temporal rift, only to emerge later in the week for a Laserblast episode.
Click on the player button to hear the show, or right-click the title to download.
Cinefantastique Spotlight Podcast: The Croods